'Thousands of ISIS jihadists from Mosul looking to enter EU'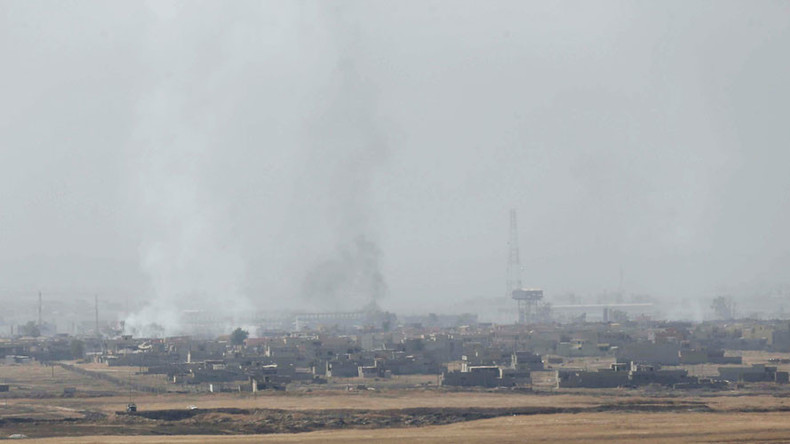 Those militants have been told to get through the borders in Europe, and we're just a sitting target, waiting for them to come back into Europe, Janice Atkinson, Member of the European Parliament, told RT.
The Red Cross said the operation in Mosul, Iraq, will create up to a million more displaced civilians. There is also concern that retaking Mosul may cause many of its fighters to flee back to Europe.
EU's Security Commissioner Sir Julian King told Die Welt that Islamists can easily make it into Europe, even with fake IDs.
RT: Should we be concerned about the threat of extremists coming back to Europe?
Janice Atkinson: Absolutely we should do, but all this is too little, too late. I questioned Sir Julian King in Strasbourg two months ago and said root cause of them getting through the borders in the first place and returning back to their countries of origin – and we think there is about 5 thousand that have now returned back from fighting in places like Mosul and Syria - is because of Schengen and because of open borders (…)
RT: The White House says that the idea "the Iraqi security forces should delay this operation" because of the "concern about the humanitarian situation in Mosul" doesn't make sense. However, when we heard the same White House representatives talking about the operation in Aleppo, Syria, they bash Russia and tell them to stop airstrikes on terrorists due to humanitarian concerns. Why the double standards?
JA: Across Europe and across the Middle East we've got double standards. You've got Saudi Arabia interfering; Iran and Iraq interfering; and you've got two superpowers at loggerheads over this. It is time that everybody sat round the table.
Luckily, we're going to have a new president in the US in a few weeks' time. I hope to God it is Donald Trump rather than Hillary, because I can see us marching forward to a third world war and actually nuclear warheads being deployed. That is what frightens me. In the meantime, we have got this Middle East war. We're not going to win this until they all sit around the table and talk about it.
We've got 300,000 Syrian migrants sitting in Germany at the moment that are going unprocessed. Yesterday we took in hundreds of so-called 'migrant young boys' without paperwork. This report from Julian King is all very too little, too late. As I pointed out two months ago, the jihadists are already here. We've had hundreds returned to our country [UK.] Some estimates say it's a thousand. We can't monitor the people that are here. So, it is really important that they sit round the table, because there are potentially 9,000 ISIS jihadists sitting in Mosul at the moment, who are also looking to move across. The modus operandi: they have been told that, "because you're winning in the Middle East, and so is America winning in the Middle East against ISIS, as we've seen various cities that have been taken back." Those people have been told to get through the borders in Europe, and we're just a sitting target, waiting for them to come back into Europe. That is the most pressing issue.
RT: Foreign Minister Lavrov also just warned the terrorists may simply move from Iraq to neighboring Syria. What's your take on his words?
JA: Well, it's not only Russia that has to respond to this; it's also the US and the British media. A few days ago i9t was reported that a dirty deal had been done with Saudi Arabia and the US to allow these jihadis to get through to Syria. Then they get through to Syria and they start leaving there because the European Union and [the United Kingdom] are sympathetic to Syrians coming across the borders. We've got 5,000 people sitting over in Calais at the moment, quite a few of those are Syrian so-called refugees; they're migrants. And when you talk to the aid agencies (…) they're enabling these people coming through from Syria and across the borders to call themselves 'refugees' rather 'economic migrants,' so there's a juxtaposition argument going on that is working against our interests.
The statements, views and opinions expressed in this column are solely those of the author and do not necessarily represent those of RT.
You can share this story on social media: