'Syria could become another Libya' - Baroness Caroline Cox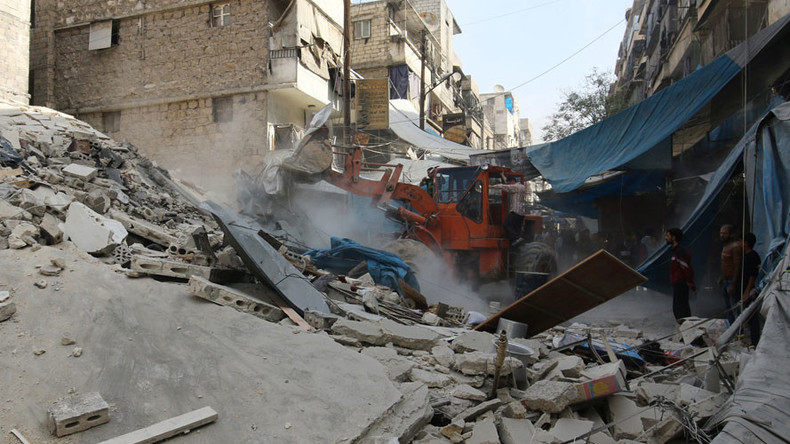 There is growing concern in the UK that regime change in Syria would lead to a takeover by ISIS-related groups, and it would become another Libya and it would be a disaster according to Baroness Caroline Cox, member of the UK's House of Lords.
Foreign Secretary Boris Johnson told the Foreign Affairs Committee the UK should consider more "kinetic action" in Syria. However, later on Thursday, Prime Minister Theresa May's office said Britain has no plans for military action.
READ MORE: No UK plans for military force in Syria – PM May contradicts Johnson
Baroness Caroline Cox, member of the UK's House of Lords says she doesn't understand Johnson's stance and why he seems keener to deploy the military than the diplomats.
"I argued against this in the House of Lords this morning. The minister was very robust with fierce criticism of President Assad. But a lot of support among members of the House of Lords who are very worried about two things. One is about the way the situation is represented in the media here in the West. You always hear about the attacks by the Syrian army, about their use of barrel bombs or chemical weapons. You don't hear about the use of cluster bombs and chemical weapons, and attacks by the Islamic rebel groups," she said.
"There are two sides of the question. I think people in Britain are beginning to wonder why. There is growing concern that an intervention, which would overthrow the president and the regime would lead to takeover by hard-line ISIS-related groups, and it would become another Libya and it would be a disaster," Baroness Cox added.
'No-fly zone would be like declaring war on Syria and Russia'
On Thursday, a government-controlled area in the embattled city of Aleppo was hit by rebel mortar shells, killing five children, an RT crew reported from the local hospital.
The victims of the daily shelling of government-controlled western Aleppo are largely ignored by the Western media. According to Jonathan Steele, international affairs commentator, the reason for that is "ideological."
"There's no doubt that the media seems to be supporting the anti-Assad forces. So they heighten things being done by Assad in terms of casualties and minimize what's being done by the rebel groups," he told RT. When people know only one side of the story, "it creates imbalance" and a "desire for intervention," he added.
A no-fly zone over Syria, that's being pushed for by Western powers "would be absolutely catastrophic," Steele said.
"It is really sad that Hillary Clinton, who looks likely to become the next American president, is in favor of it – she repeated yet again in her presidential TV debate with Trump on Sunday. It would risk WWIII quite frankly, because it would be illegal and it would never get a UN mandate. So it would be like declaring war on Syria… and declaring war on Russia. Russian planes are active above Aleppo and a no-fly zone would mean – you would have to try and shoot down Russian planes and tell them they couldn't fly," he added.
The statements, views and opinions expressed in this column are solely those of the author and do not necessarily represent those of RT.