'German government's witch hunt against own population' – anti-immigrant AfD member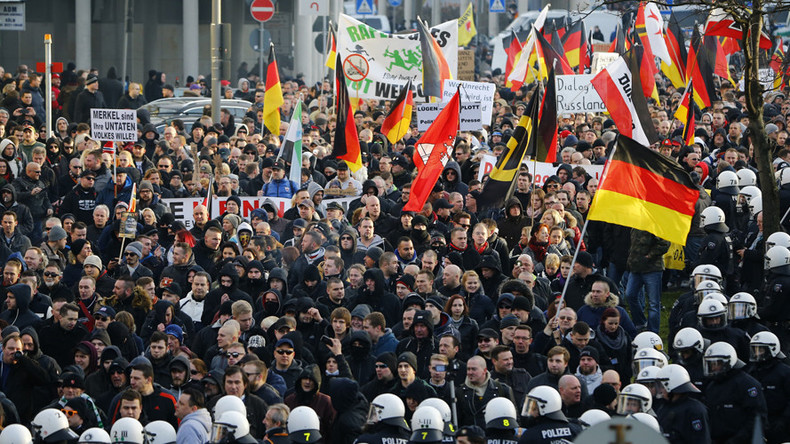 Germany's native Christian population is being replaced by Muslim immigrants, who are embezzling taxpayers money, according to Hansjorg Mueller of the Alternative for Germany (AfD) party.
Germany is a year away from going to the polls for the country's general election, which looks to be dominated the migrant issue. A new opinion poll shows the far-right anti-immigration AfD party would win 16 percent of the vote, if the election was held today. This would potentially make the AfD the third strongest political force in the country.
However, there's also fury at what some perceive as a growing witch hunt against asylum seekers. On Thursday, scores of Germans took to the streets to vent their frustration at the far-right policies of the anti-immigrant AfD party.
Read more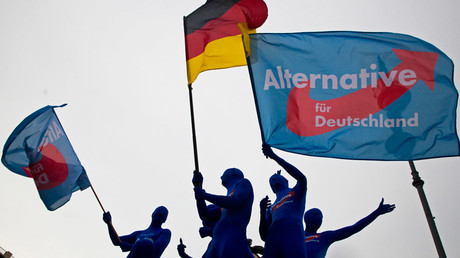 The head of the AfD's economic forum Hansjorg Mueller argues that the real "witch hunt" is the attitude of the German government towards their own citizens. He says that their policies are "replacing [the] native Christian population with Muslim immigrants," while they are using taxpayers money to deal with the migrant crisis.
Earlier this week, the AfD leader, Frauke Petry slammed those who sympathize with migrants saying that the "refugees welcome" attitude has become a new religion for Germany.
Mueller says that he personally has always been "sympathetic towards migrants" and added that his wife is a migrant too. However, he said, "When I speak about migrants, I mean people who show respect for the country that they are coming into."
"That's a key issue. A real asylum seeker, who really is a refugee, he shows respect for the country that feeds him, he shows respect for the culture, he tries to learn the language, he tries to integrate into the society and to give back something good to the society he has received good from," he told RT.
He agreed that immigrants must be given a chance, but added that the majority of those coming to Germany are not people who fled war zones, rather they are only seeking a better way of life.
"They come and do not hide [the fact] that they come [here] to get money and to be fed by the taxpayers. That's what I am really fed up with," he said, adding that this kind of attitude is "unhuman" towards a host country.
He believes the only solution is to close the borders for "economic migrants." In regards to those immigrants who are already in Germany, the AfD politician says that they should be "given a choice," of whether they are willing to integrate and learn German, or if not, they should be "sent back immediately."
"I don't have 100 percent solution," Mueller said, adding that he would like to address questions regarding migrants to Chancellor Angela Merkel whose "open door" policy saw over a million immigrants and refugees to come to Germany.
The statements, views and opinions expressed in this column are solely those of the author and do not necessarily represent those of RT.