'Made in China' US military boots a boon for Donald Trump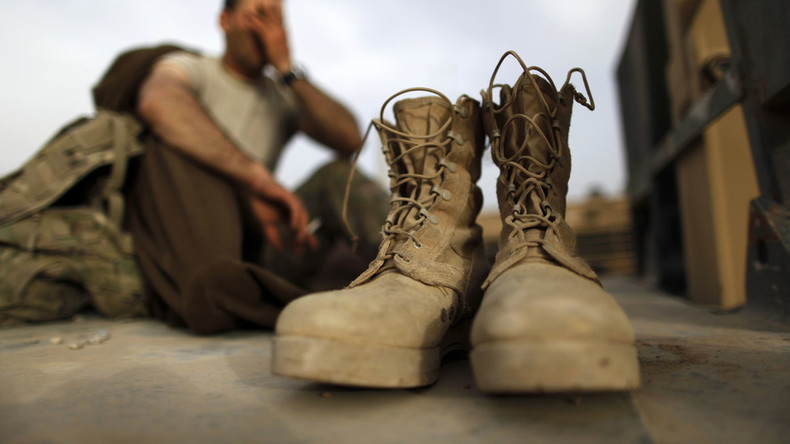 Our brave soldiers are wearing boots that - instead of being 100 percent American-made - seem to be imported from China and at the tax-payers' expense. This news could not have come at a worst time, Lionel, political and media analyst, told RT.
Wellco Enterprises has sold thousands of boots worth millions of dollars to the US military for decades.
It turns out, however, the famous 'Made in USA' military footwear might actually be coming from China. Wellco stands accused of allegedly removing 'Made in China' labels from its products.
And with the presidential elections just around the corner, media and political analyst Lionel says this scandal could not have happened at a better time for Republican candidate Donald Trump.
RT: What do you make of the situation around counterfeit boots in the context of the election year in the US?
Lionel: Right now especially during the election when patriotism is higher than ever, this could not have come at a worst time. Because not only do these boots represent not American productivity and manufacture, but [they are] foreign and military. So, our brave military wearing boots that instead of being 100 percent American are made elsewhere in China and South American countries and at the tax-payers' expense. This could not have come at a worst time; the symbolism of this and the optics speak for themselves.
RT: Were you surprised with Wellco Enterprises trying to rip off the US government?
Lionel: The company was for years involved nobly with equipping American soldiers with footwear. Later on they were taken over and you have a new regime who is in charge, then of course to cut corners. But the cutting of corners apparently seems to be so blatant. This is the part that I find the most interesting. If you told people today, if you told the American viewers that counterfeit AIDS medicine was sold to various countries, the poor were somehow bamboozled or defrauded, people would say "Well, you know… " But American troops and their boots, they ripped that China label off and passed them over as American goods. That just strikes a chord!
RT: What can you say about the actual quality of this particular Chinese product?
Lionel: We are presuming that the quality of this footwear is not up to par. I can't even imagine that somebody would make an allegation that they are actually better or cheaper. We are not even suggesting that. But it goes to show you that this is what happens when you have competition, but this is just fraud. This is not Watergate, this is not Enron, it is not the worst catastrophe… but it is the symbolism. You are going to have an average American voter think. If I were Donald Trump, I'd be all over this… Donald Trump or Hillary Clinton could use this and say "This is why trade deals are bad," and he could somehow work NAFTA into it.
It shows you the inferiority of these trade agreements and how American jobs were yet again stolen. And defrauding the government and defrauding the troops. This is the ultimate in barbarism.
The statements, views and opinions expressed in this column are solely those of the author and do not necessarily represent those of RT.
You can share this story on social media: