'Refugees stuck in Greece feel like prisoners, act like prisoners'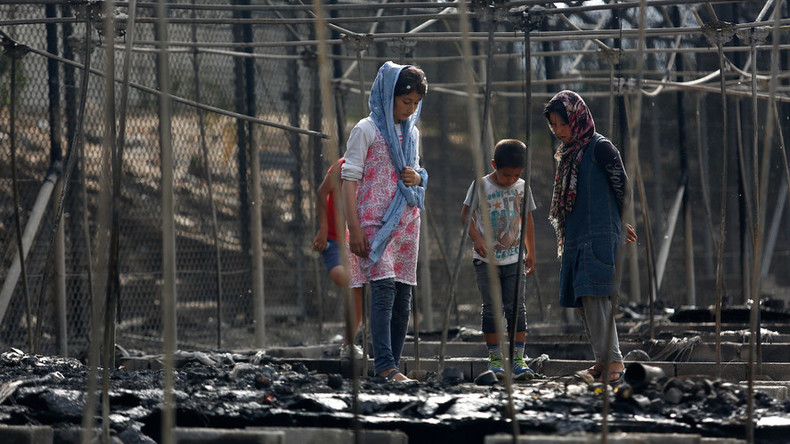 Refugees in Greece don't want to stay in Greece, they feel like prisoners, therefore they act like prisoners. This situation is going to deteriorate unless the EU, as promised, takes thousands of refugees, says former Greek diplomat Leonidas Chrysanthopoulos.
A huge fire forced thousands of migrants to flee a refugee camp on the Greek Island of Lesbos on Monday night. Up to 4,000 refugees were safely evacuated.
At least 30 people were injured as a result of the incident, according to the UN refugee agency (UNHCR).
Almost 60 percent of the Moria camp, including tents and metal-roofed cabins were destroyed a police official said, as cited by Reuters.
The police are investigating whether the fire was started deliberately in protest against the conditions. Nine people have been arrested.
RT: There is tension between migrants and locals. How dangerous is this situation?
Leonidas Chrysanthopoulos: Incidents in the refugee camps started because there were rumors that they would all be returned to Turkey. That created a panic among the refugees. So, they started fighting among themselves. The other thing is that they started fires. And they were able to get out, children were evacuated earlier. But now the situation is under control. But the situation in general, not only in Lesbos but in Greece is becoming serious particularly after the Bratislava announcement taken at the EU summit which takes a very hard line on the refugee issue - wanting to close any further entry of refugees into EU countries. This also could have sparked the anxiety and create the situation that we saw which I think will continue in other refugee camps also.
RT: What do you think the Greek government's response will be? Will they become more sympathetic to the refugees plight or will they take a harsher stance?
LC: [On the one hand], the government is trying to do everything. But on the other hand, there is an obligation from the European Union that was taken on July 22-23 when they had anticipated taking 160,000 refugees from Greece and Italy. And they have not done so. The Greek government has not been pushing hard enough the other member states to do what they had decided to do.
Costas Panayotakis, Professor of Sociology at New York City College of Technology, commented on the issue: "The situation [in Greece] is serious because camps are overcrowded, refugees are living in very difficult conditions and they have to wait for a long time for the asylum applications to be processed. And this creates lots of tension and this sort of spills over to residents who are negatively affected by people who are trying to survive any way they can. It is also complicated by the fact that under the agreement between the EU and Turkey many of these people will be sent back to Turkey which is not a safe country for them to be."
RT: Why do you think that is? Isn't it strange? Doesn't Greece want the thing to keep moving?
LC: Refugees in Greece don't want to stay in Greece. If they don't want to stay in Greece, they feel like prisoners. And when they feel like prisoners, they act like prisoners. Their money is running out. In other places they have started stealing chickens to get food for themselves because they are not very satisfied with the food that is given to them. This situation is going to deteriorate unless the EU makes the decision to take 60,000 people which are blocked in Greece and Italy.
The statements, views and opinions expressed in this column are solely those of the author and do not necessarily represent those of RT.