'Divorced from reality: IPC disables Russian Paralympic athletes from excelling in sport'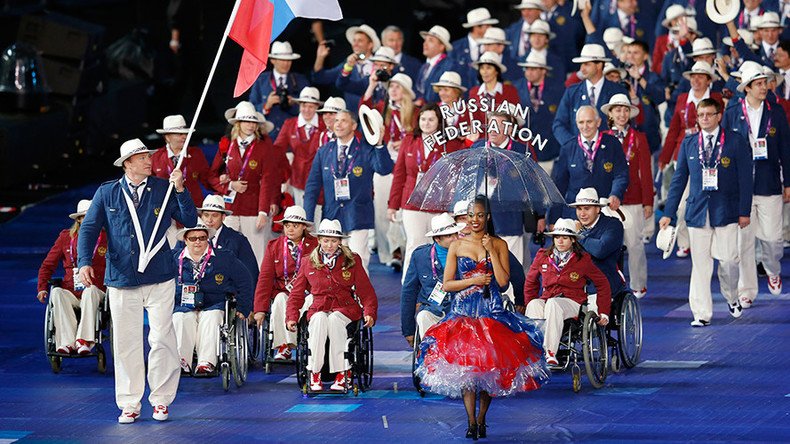 Imposing a blanket ban on Russian Paralympians from Olympic competition may create a chaotic situation in international sports as we had in the early 80s, Ron Katz, contributor to Forbes magazine, Distinguished Career Institute Fellow at Stanford University, told RT.
The Court of Arbitration for Sport upheld the disqualification of Russia's Paralympic team from the Rio Games with all 267 athletes suspended for state-sponsored cheating.
The International Paralympic Committee welcomed the decision.
The Russian Paralympic Committee (RPC) is set to learn on Monday the results of its appeal against the decision by the International Paralympic Committee (IPC) to ban all Russian athletes from the Rio 2016 Paralympics. The appeal process will be reviewed at the Federal Supreme Court of Switzerland on August 29.
RT: What do you think about the ban placed on the Russian Paralympic team?
Ron Katz: I think it is immoral, unethical and indecent.
RT:Is the Paralympic case in anyway different from the Olympic case? Shouldn't all athletes be treated equally?
RK: The IOC had a slightly better policy although it was somewhat of a confused policy. But they did not do a total ban as the IPC has done.
RT: The Court of Arbitration for Sport said the ban was 'proportionate'. Surely that verdict must be respected. Is collective punishment ever appropriate?
RK: They said it was proportionate, but I don't know how they could say that, for several reasons. One is that there is no proof that each and every one of these athletes did something bad, so if you didn't do anything bad, there could be no proportionate punishment. They also did not cite any precedents and that makes sense because there are no precedents. And I think that these people, private people, are really sort of divorced from reality. If you look at their headquarters, it looks like the Palace of Versailles. They are so sort of issuing these dictates that affect people who had been working every day before an important goal. They don't really have any credibility, legitimacy or authority in my opinion.
RT: Why do you think a blanket ban was imposed?
RK: I don't know. You would have to ask the IPC. It makes no sense whatsoever in my opinion. Of course, there are allegations of state-sponsored doping. But in my opinion, individual doping is worse than state-sponsored doping. Because with individual doping people have free will; with the alleged state-sponsored doping we don't know whether people had free will or not. But it doesn't matter, doping is doping and there is a system to detect who dopes. And they should just use that system. They should use a testing system and if someone fails a test, then they should be punished. And if they don't fail the test, they should be rewarded or permitted to compete.
RT: So how should Russia have been punished for its state-sponsored doping program?
RK: That is something that has to be worked out between Russia as a sovereign country and with the other sporting organizations. But I think the appropriate thing to do would be to conduct an investigation, for the Russian authorities themselves to conduct an investigation and to find out who, if anyone, committed a wrong. And if they find people who have committed wrong, then they should issue an appropriate punishment. The only way to figure out whether the system is better or not is just through testing. And what has happened in this situation, what makes it so bad, is that these athletes are not even going to be tested to see if they passed the test. That's the real unfairness that they just never really had a chance.
RT: Other countries have had their cheats exposed without receiving blanket bans. Is the fact that the cheating was state-sponsored not enough to justify ban in Russia's case?
RK: As I said individual doping is worse than state-sponsored doping. All doping is bad. But the fact that it is state-sponsored or not, I don't think it is really relevant. Either someone passes the test, or they don't pass the test. There is a very stringent protocol for testing these athletes and that should be the final word. You don't punish somebody who may not have done anything wrong and of course Russian athletes are born in Russia, that's not their fault, that's just an accident of birth, just like the US athletes are born in the US and Mongolian athletes are born in Mongolia. That has nothing to do with whether they should be allowed to compete or not. The mission statement of the IPC [International Paralympic Committee] is to enable Paralympic athletes to excel in sport. And they are not doing that. They are doing the opposite – they are disabling Paralympic athletes from excelling in sport.
RT: How successful do you think the blanket ban will be in deterring future cheats/state-level corruption?
RK: I don't think it will be successful at all. I think it will cause chaos because Russia is a sovereign country. And if it feels that it has been treated unfairly, then it may take actions. And then we will have a chaotic situation in international sports as we did in the early 80s and that will serve nobody.
The statements, views and opinions expressed in this column are solely those of the author and do not necessarily represent those of RT.
You can share this story on social media: