Is burkini a symbol of oppression - or freedom of expression?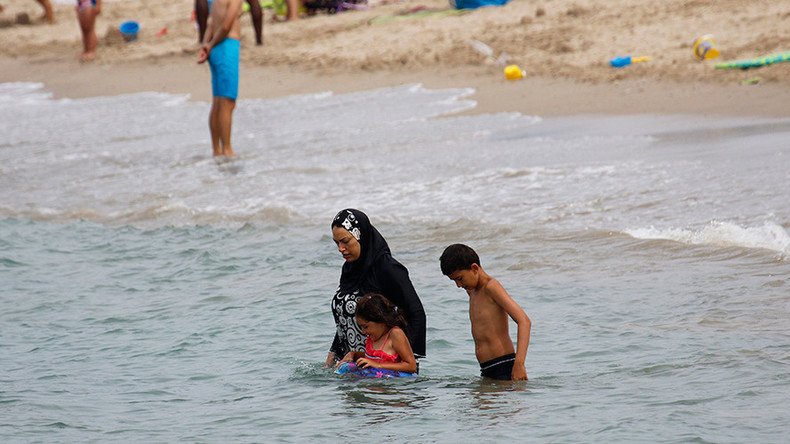 Enforcing women to "strip" is a violation of fundamental rights and freedoms and a continuation of French decades-long "obsession" with Muslims, say opponents of the burkini ban. Supporters argue it's a dress code that in fact violates women's freedom.
France's highest administrative court has temporarily suspended a ban on burkinis in Villeneuve-Loubet, a town near Nice. The decision, seen as a test case, is now pending a final ruling.
The ruling triggered debates in France, but was welcomed by the UN. It applies only to the ban imposed by Villeneuve-Loubet and was dismissed by several other towns, including Nice, which witnessed last month a horrible terror attack that claimed the lives of 84 people. Those towns vowed to keep the restrictions in place and continue imposing fines on women who wear the full-body swimsuit.
RT discussed the issue with experts who welcomed the decision and those who are against it.
Asif Arif, director of the website Cultures & Beliefs, said the court's decision was "a relief." "Muslims were totally waiting for some solution and we were waiting first for some political solution," he said.
Earlier in the week, Arif recalled, French Prime Minister Manuel Valls backed the ban on burkinis, saying that "burkini are against the values of the Republic".
"Actually, the fact that some mayors are banning the burkinis is against the fundamental values that are insured in our country and which include the freedom of expression," he said, adding that the freedom of expression means people are allowed to wear whatever they want.
"Of course, there is 2010 law which prohibits any person from wearing an outfit which covered the face. But this is the only exception to the liberty to wear whatever clothes you want in the public space," Arif said.
Liberty campaigner Paul Wiffen, however, says he doesn't see the court's decision as victory for the Muslim community.
"Because it is not about what the women themselves want to wear," he explained. "It is a dress code which is being forced on them."
He also noted that "this is a temporary suspension of the ban while the court debates it properly and that is quite correct." According to Wiffen, this kind of wear on a beach is "absurd."
"It is a flagrant public display of the refusal to integrate, refusal to respect Western culture and the whingeing of the Islamic community every time they are asked to obey the law in countries where they are essentially guests," he said. "We wouldn't flagrantly go against the dress codes in Saudi Arabia."
"The other thing is of course, that many Islamic countries have banned this form of dress because it is not traditional Muslim costume, that is something that has been brought in by the same people in Saudi Arabia who want to ban women from driving cars, want women to walk behind men. And it is a fundamental symbol of the oppression of women by the males in Islamic community," he added.
Arif hit back, saying that France, which is a country that respects civil and fundamental rights, shouldn't be compared to Saudi Arabia, where "there are no such rights at all."
Patricia Chagnon, a member of the National Front and regional parliament, told RT she believes fundamentally in women's freedom.
"We are the country of Brigitte Bardot. We very much believe that the religious debate should not be taken in the public sphere. And this is why for us, at Front National, this issue is not a new issue," she said.
"We are against any signs of religion in the public sphere – be it at schools, at universities, be it in the public work space or on the beach," she said.
One of the arguments is support of the ban has been that it would increase safety and decrease the risk of public disorder. Arzu Merali, Director of Research at the Islamic Human Rights Commission, she wouldn't buy it even if this ban happened out of the blue.
"But we've seen obsession of the French state with Muslims, Islam and particularly Muslim women going back decades. I don't think there's anybody in the world whether they are for or against the ban who buys this argument," Merali said.
She called the French court's ruling "very welcome" and quite surprising for many. She also called it "a bit of a blow for the far-right groups" and to the French establishment.
"But let's see what's going to happen," Merali added.
She noted that there a "naughty" point in the burkini argument.
"Basically, every country in the world sets a minimum limit in terms of how much clothing should wear, both men in women. Unfortunately, whether you like it or not pretty much every country in the world has a different rule for men and a different rule for women. We can have an argument on whether that's right or wrong," she said.
What happens in France though isn't par for the course as it's "enforcing the maximum amount of clothing people can wear."
"It's a huge deal," she said. If today you enforce Muslims and tomorrow Catholic or Orthodox nuns "to strip at the end of a gun then we are on a very dangerous route."
The statements, views and opinions expressed in this column are solely those of the author and do not necessarily represent those of RT.
You can share this story on social media: