Burkini ban in France sparks worldwide sales, incl among non-Muslims, designer says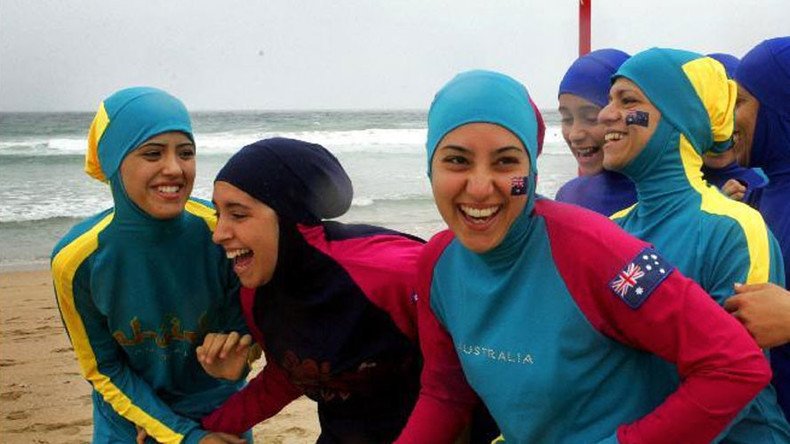 News that several French cities have recently banned the now infamous "burkini" has sparked sales worldwide, even among non-Muslim women, including cancer survivors and those wanting to protect their skin, the designer of the controversial swimsuit said.
"It's just been so hectic… I can tell you that online on Sunday, we received 60 orders [for burkinis] – all of them non-Muslim," Aheda Zanetti, a Lebanese-born Australian fashion designer for Muslim women who claims to have developed the burkini, told AFP, adding that she usually receives 10 to 12 orders on Sundays.
The 48-year-old designer says she has received a lot of letters from women of diverse backgrounds since the "burkini issue" came under the spotlight. Some were cancer survivors and others just wanted to protect their skin from the sun.
"A lot of the correspondence... was that they are survivors of skin cancer and they've always been looking for something like this, saying, 'Thank god we've found someone like this producing such a swimsuit,'" she said.
However, there have also been critical e-mails, Zanetti said. One asked the designer why she wanted to cover up women, claiming that the French "prefer our women to be naked."
READ MORE: French PM supports 'burkini' ban as 3 more towns set to follow suit
Zanetti reportedly launched a series of swimsuits and sportswear especially for Muslim women under the trademark Ahiida back in 2004, and has sold more than 700,000 garments since 2008.
Earlier on Saturday, Zanetti told the Sydney Morning Herald that 45 percent of her clients are non-Muslim women.
The designer has slammed the decision of French mayors to ban the swimwear.
"It's nonsense and it's silly," she says of the new rules. "They have not thought hard enough; they are using a piece of fabric as a political item. Little do they know a lot of non-Muslims are wearing it."
The burkini issue has recently become the topic of the day. One after another, more than a dozen French cities have banned it, including Cannes, Nice, and several towns near Calais.
READ MORE: Nice joins 10 more French towns in burkini ban
Cannes has even begun fining women for wearing burkinis on the beach. At least 10 women have been approached by police for wearing the bathing suits, of whom six left the beach and four were fined €38, a Cannes spokeswoman said.
French Prime Minister Manuel Valls has supported the burkini-banning mayors, saying the swimwear is "not compatible with the values" of the country.
French-Algerian businessman Rachid Nekkaz, who has vowed to pay the fines of women cited for wearing burkinis, told RT that France "is trying step by step to dramatically limit the civil liberties of its citizens, particularly Muslims."
"With these new [burkini] bans, I see what actually bothers French politicians – the very presence of Muslims in the country," he said.
Nekkaz believes that the current justifications for banning burkinis "are very weak."
"They told us that it is necessary to see people' faces in public areas. Burkinis are not hiding people's faces and still they [politicians] banned them," he observed.
Though he is personally opposed to burkinis, he says that he is against limiting the freedom of people who "don't pose a threat and don't affect the liberties of others."
In the meantime, the Nice tribunal rejected an appeal filed by two human rights groups on Monday, ruling that the ban in French Riviera town Villeneuve-Loubet was "necessary, appropriate and proportionate."
The burkini was "liable to offend the religious convictions or [religious] non-convictions of other users of the beach," and "be felt as a defiance or a provocation exacerbating tensions felt by" the town, the tribunal concluded in its statement.
You can share this story on social media: