'News blackout prevents Americans from knowing what is happening in Yemen'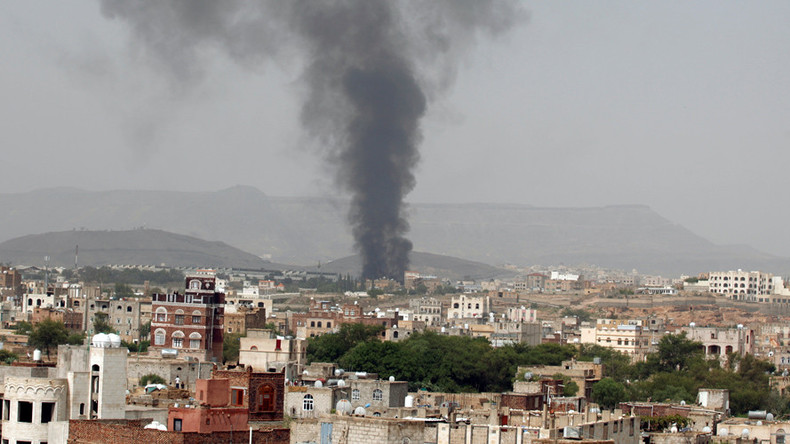 Barack Obama was betting that whatever the Saudis did in Yemen would not backfire inside of the US, Said Sadek, political sociologist, told RT.
US personnel assisting the Saudi-led coalition in coordinating air strikes in Yemen have largely pulled out from Riyadh in an apparent effort to distance themselves from the mounting civilian death toll in the 17-month long conflict, Reuters has learned.
In addition to withdrawing air support personnel, Lieutenant Ian McConnaughey, a US Navy spokesman in Bahrain told Reuters that the Pentagon also "sharply reduced" its "Joint Combined Planning Cell" (JCPC) staff to under five people.
RT: What will the withdrawal of some U.S. staff mean for the Saudi-led campaign in Yemen?
Said Sadek: It is symbolic. You have to remember that the United States had sent 45 advisers and we had almost one year and a half of fighting and there was no decisive conclusion of this war. You have to ask why did the Americans support the Saudis in Yemen in the first place? They wanted to allay the fears of the Saudis that they had abandoned them and went for Iran and replaced the alliance with Tehran. So they let the Saudis do what they wanted in Yemen and gave limited support behind the wings. The coalition that is fighting in Yemen is armed with US weapons, as well as weapons from Qatar, Emirate pilots, and still it is indecisive.
RT: The U.S. also says it's selling more than a billion dollars' worth of tanks, armored vehicles and other equipment to the Saudis. How does that square with the notion of reducing help for the coalition?
SS: Of course they will not reduce anything. They are just saying such things for the domestic situation in America because not many people are aware as to what is happening in Yemen in the international media. The US is protecting Saudi Arabia from criticism in the United Nations, and among human rights organizations. So symbolically [the US] was doing some advising work and at the same time selling weapons to Saudi Arabia. They appear to be independent and separate from what is happening in Yemen. No, they are involved totally in Yemen.
You also have to take into consideration that the Saudi foreign policy in the region had been suffering failure since they supported the weapons in Syria. That failed, and so they tried to do something in Yemen and that is another failure. The regime in Saudi Arabia cannot declare its failure because it would lead to a big collapse inside the royal family. And so they have to continue this war and America is just a symbolic, saying they are not helping but in actuality they are and continuing to support the Saudi regime.
RT: Saudi-led coalition air strikes are causing a humanitarian catastrophe in Yemen, with thousands of deaths. These actions are condemned by the wider international community, but nothing seems to be done to stop them. Why is that?
SS: Well, the only option is that the international media would pay the same attention to Yemen as they do in Syria. This is not happening today. Only if international media and public opinion are mobilized to see that the situation in Yemen is also as bad – if not worse – than what is happening in Syria. This is a neglected war. Deliberately there is a news blackout on what is happening in Yemen… Obama was betting that whatever the Saudis would do in Yemen will not backfire inside of the US.
American public opinion is unaware what is happening in Yemen and will not put any pressure on the lame-duck President Obama to do anything about it. International media needs to shock the people, like it did in the case of the Syrian boy that we have seen in Aleppo. We want to show the people of the world what is happening in Yemen, otherwise this carnage will continue.
The statements, views and opinions expressed in this column are solely those of the author and do not necessarily represent those of RT.
You can share this story on social media: