'Russia anti-ISIS airstrikes from Iran base show model cooperation lacking in West'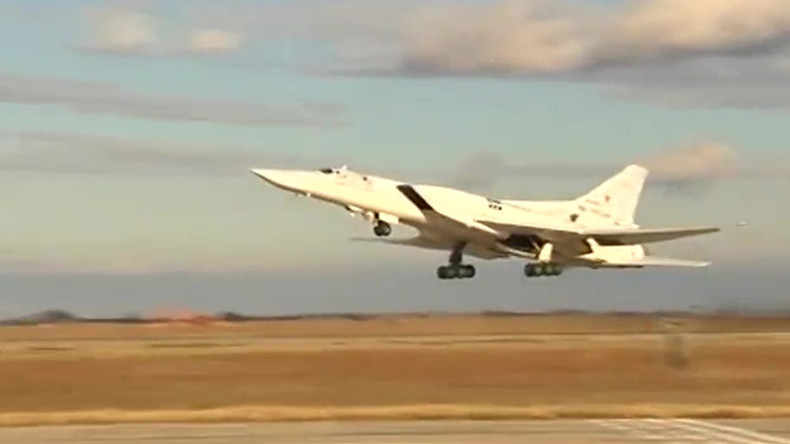 Russia's new partnership with Iran is a model kind of military cooperation which has been lacking so far in the West regarding the Syrian conflict, and is the type of action needed to defeat the menace of Islamic State, says political commentator John Wight.
Russia bombed terrorist positions in Syria using an Iranian air base to launch its missions for the first time on Tuesday. Tu-22M3 and Su-34 bombers took off from the Hamedan air base, striking Islamic State (IS, formerly ISIS/ISIL) and Al-Nusra Front facilities in the provinces of Aleppo, Deir ez-Zor and Idlib, the Russian Ministry of Defense reported on its website.
RT: Iran allows Russia the use of its Hamadan air field for operations in Syria. Who needs whom more here – Iran needs Russia, or Russia needs Iran?
John Wight: They need each other equally. This is a model of the kind of cooperation required to defeat this [terrorist] menace in Syria, and that is a kind of cooperation that is lacking in the West, when it comes to its efforts to fight this menace. Western governments refusing to cooperate with Russia, Iran, Syria in this conflict have been trying to locate and cultivate moderate rebels in the conflict, which is a complete oxymoron – in 2016 there are no moderates fighting in Syria except the airmen of the Russian air force, except the soldiers of the non-sectarian Syrian Arab Army, and except the militia of Iran, and their Lebanese allies…
RT: Iran is allowing Russia the use of its Hamadan air field. In recent days, Syria gave Russia the use of its Khmeimim airfield on a permanent basis. A few weeks ago, Turkey said it could allow Russia the use of its Incirlik airfield. In February 2015, Cyprus made a similar offer to Russia as well. Are we witnessing a change in the balance of power in the region?
JW: Certainly there has been a seismic shift in recent weeks. A lot of it continued upon the failed coup attempt in Turkey, where Erdogan now realizes that his best allies and those who have the interest of the region at heart are Russia… Turkey has to deal with an ever-increasing refugee crisis. Its previous policy of trying to help rebel factions in the Syrian conflict has only blown back in the face a number of terrorist attacks taking place on Turkish soil…
RT: What would you expect Washington's reaction to be, considering that it's a long-term powerbroker in the Middle East region?
JW: The US will be very, very unhappy with this [and] will feed its ongoing attempts to demonize Russia, to demonize Vladimir Putin, to use it to demonize the Trump campaign – Donald Trump is now being accused of being a Russian agent, which is complete idiocy… [The US] will be very angry at this because they will see their influence waning away even more. And deservedly so.
Until the US understands the nature of its threat and that Russia should be a partner in this struggle, rather than an enemy to be demonized, it will continue to be a diminishing power in the region…
More and more countries in the region are realizing that Russia offers the best way forward in terms of the raw survival and in terms of meeting what, as I say, is an equal opportunities menace that has to be defeated.
RT: When Russia started operations in Syria, Israel quickly scaled back its air force incursions in Syria. Now, in Iran if Russian jets were hypothetically to stay there permanently, what would Israel's position be after years of rhetoric about pre-emptively striking Iran? Is Iran now potentially protected by Russia?
JW: Definitely, all we can see the Syrian government is protected by Russia, and of course Iran has been protected by Russia. It is not only Russia's aircraft, it is also Russia's advanced facilities in terms of missile defense systems, which are more advanced than any other in the world today, which cover a wide radius. And no aircraft will be able to breach this defense missile system. So of course Russia's use of Iranian airfields does by extension protect Iran from the saber-rattling that has been emanating from Tel Aviv in recent years.
The statements, views and opinions expressed in this column are solely those of the author and do not necessarily represent those of RT.