'US needs Erdogan as ally to put pressure on Russia,' but will never hand over Gulen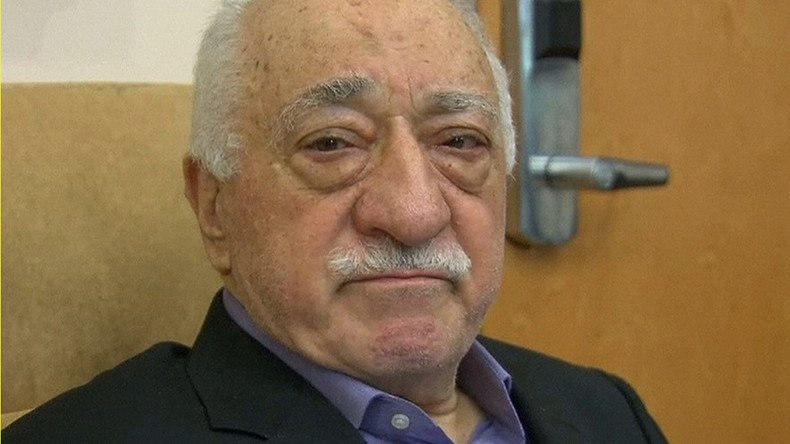 Could Fethullah Gulen be behind the recent coup attempt in Turkey? Is the cleric's extradition by Washington likely? Will US-Turkish relations be affected by the incident? Experts talked to RT and answered these and other questions.
On Saturday, Turkish President Recep Erdogan accused Islamic cleric Muhammed Fethullah Gulen of being behind the failed coup attempt carried out by a faction in Turkey's military. Gulen denies any involvement.
Justin Dargin, a Middle East energy and geopolitics analyst, said that Erdogan's allegations of Gulen's complicity are just that so far – allegations.
He believes that the coup attempt was very strange and different from those that have previously occurred throughout Turkey's history.
"The previous coups came from the highest levels of Turkey's military," Dargin told RT. "This particular coup attempt was quite amateurish, it was incompetent and did not involve some of the highest figures of the military elite," the analyst added.
According to Dargin, it is not clear who was behind it.
"As we know, Mr. Gulen attributed this coup attempt – he said it has all the finger prints from Mr. Erdogan's loyalists," he said.
Gulen has been living in the US in the state of Pennsylvania for many years. He is the leader of the Hizmet movement, which unites Turks who support Gulen's ideas on Islam and democracy. American intelligence services have allegedly been keeping a close eye on him.
Daniel Patrick Welch, a writer and political analyst, argues that the cleric could also be "a patsy for US intelligence services, or working with them."
According to Welch, there have been other reports from anti-Erdogan groups within Turkey claiming that the coup attempt was a Saudi and Gulen backed scheme "to push back against Erdogan for his recent rapprochement with Russia and proposals to normalize relations with Syria."
Dargin said that Gulen has been in the US since the late 1990s and has set up many schools and charities there.
"As a matter of fact, in the South he has one of the largest charter schools. His schools have been investigated in terms of visa frauds and perhaps other allegations," he told RT.
Analysts argue that the US government will not get involved in the falling out between Erdogan and Gulen for political reasons.
"The US government has repeatedly rebuffed Turkey's efforts to have Mr. Gulen extradited to Turkey. The US government would be quite aware if something of this nature were to transpire in the US," Dargin concluded.
Turkey has demanded the cleric's extradition from the US and branded his group a terrorist organization.
Welch said that the American government will never grant his request.
"I would bet my life that they would not do that," he told RT. "They are not hiding him, they can never admit to that. Therefore they couldn't give him over, because that would be admitting that there was something to extradite," he continued.
Welch added that Washington will pretend that they have nothing to do with Gulen.
The political analyst also argues that there are rumors of ties between Gulan and the Clinton foundation.
"Clinton herself has promised him a muscular foreign policy. This could be shades of a Clinton Presidency to come," Welch told RT.
While Turkish Prime Minister Binali Yildirim warned that a nation that harbors Gulen cannot be considered an ally of Turkey, US Secretary of State John Kerry countered by saying Turkey would have to provide legitimate evidence implicating the cleric in the military uprising.
During his visit in Luxembourg, Kerry said: "Obviously we invited the government of Turkey, as we always do, to present us with any legitimate evidence that withstands scrutiny, and the United States will accept that and look at it and make judgments about it appropriately."
Jan Oberg from the Transnational Foundation for Peace and Future Research believes that the Turkish PM's words are something that the whole of NATO should pay attention to.
"That is a very strong statement coming from the country in NATO that has the second largest standing army, and is strategically extremely important these days for NATO," Oberg told RT.
When asked whether there was a danger of a major diplomatic rift developing between Ankara and Washington over Gulen, Welch said that "the US desperately wants and needs a belligerent Russophobic Turkey on Syria's borders and on the Bosporus."
"They want to keep the pressure on Russia, so they need Erdogan as an ally," he added.
The statements, views and opinions expressed in this column are solely those of the author and do not necessarily represent those of RT.
You can share this story on social media: