Turkey-Germany row over Incirlik base visit: 'Provocation by Erdogan'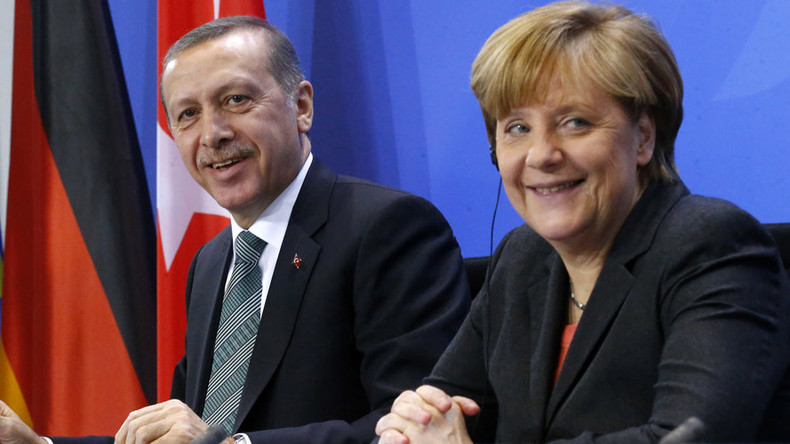 With growing criticism of his regime Turkish President Recep Tayyip Erdogan needs scandals and grounds to strengthen his internal power, says Michael Opperskalski, international affairs expert from Geheim Magazine.
Ankara has blocked a delegation headed by Germany's deputy defense minister from visiting the Incirlik air base in Turkey. The base, mainly used by the US and Turkish air forces for strikes against ISIS, is home to 250 German soldiers.
Turkey's Foreign Minister Mevlut Cavusoglu said visits to the base by non-military delegations and politicians "are not appropriate". He added that military and technical delegations were free to come to the air base, Reuters reported.
READ MORE: Ankara bans German MPs from visiting own troops on Turkey airbase
In response, German MPs called on the government to protest and raise the issue at NATO headquarters in Brussels.
The decision was "unacceptable" said Christian Democratic Union's foreign policy spokesman Jurgen Hardt, adding that German officials needed to have access to their troops abroad.
The German media branded the situation "a political scandal" and "a diplomatic spat".
Michael Opperskalski, journalist and expert on international affairs from Geheim Magazine agrees "it's a serious scandal."
He said this latest development is a continuation of a whole range of "scandals" the "Erdogan regime" has sparked with Germany and other European countries.
"There are threats against German parliamentarians with Turkish origin, and these threats are not coming from anonymous – some of them are anonymous - but from sources close to the official federation of Turkish people in Germany. It is run by the Turkish state, it is financed by the Turkish state, and even the mullahs of this federation are paid and directed by the Turkish state…," he told RT.
By blocking the German delegation from visiting the air base, Ankara has violated an agreement with Berlin, said Opperskalski. In his words it is "a clear provocation."
"There is an agreement between Turkey and the German government that there should be regular visits from Germany, not only by military personnel, but also politicians who oversee the military … in Germany to the base in Turkey," he told RT.
The dispute comes a few weeks after the resolution on recognizing the Armenian massacre of 1915 as genocide. However, a connection between the two is unlikely suggests Opperskalski.
"This resolution didn't come out of thin air. It was clear for months, even for one or two years [that] this resolution was going to come; that the majority of [German] parties and parliamentarians were going to support it, etc," he said. "There were many, many possibilities between German government and parliamentarians and institutions to discuss the issue seriously with the Turkish regime, but it never materialized."
According to the analyst, Recep Tayyip Erdogan is trying to use the scandal for domestic political purposes, "to bolster his internal ruling system" as it's facing criticism from a growing number of critics.
"Self-proclaimed sultan" Erdogan "needs this kind of provocation to be stronger internally," Opperskalski said.
The statements, views and opinions expressed in this column are solely those of the author and do not necessarily represent those of RT.