Ankara bans German MPs from visiting own troops on Turkey airbase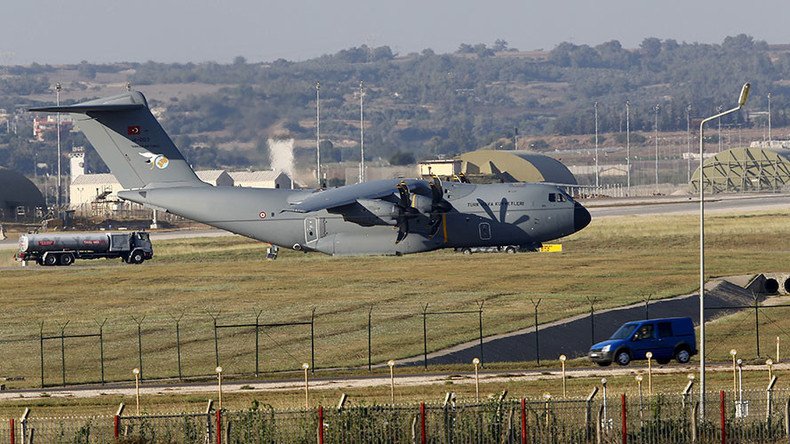 Ankara has forbidden German MPs from visiting an airbase used by the anti-Islamic State coalition, where Germany has forces and aircraft. Berlin suspects the move was prompted by Turkey's anger at the Bundestag for passing the Armenian genocide resolution.
Turkish authorities canceled the visit by Germany's State Secretary for Defense Ralf Brauksiepe and other lawmakers, who had planned to visit the Incirlik Air Base in July, German media reported on Wednesday.
"The Turkish authorities at the moment are not approving the travel plans," said a German Defense Ministry spokesman. "There is no written statement on the reason."
While Ankara says it does not believe politicians should visit the base, the Turkish government says that military and technical delegations are free to visit.
According to Der Spiegel, a ministry official said Turkey had blocked the visit because of the Armenian genocide resolution recently passed by the Bundestag.
Last year, Germany agreed to send surveillance jets and other aircraft to the base to assist the coalition in the battle against the Islamic State (IS, formerly ISIS/ISIL) terror group. Currently, Germany has some 250 soldiers, six Tornado reconnaissance jets and a refueling plane stationed at the base.
Ankara's decision comes just days after a German Defense Ministry spokesman said the two countries were putting the finishing touches to a deal to construct new housing and aircraft facilities for German forces at the base.
Tension between Ankara and Berlin has been mounting in the past few months due to a free-speech row. It began in April after a German comedian read an insulting poem about President Recep Tayyip Erdogan on air. Germany has been also critical of Ankara's clampdown on journalists, academics and media outlets, urging Turkey to reconsider its controversial laws.
READ MORE: 'Stab in the back': Turkey responds fiercely to Germany's 'disgraceful' Armenia genocide vote
Relations between the two countries were strained even further after the Bundestag passed a resolution recognizing the 1915 mass killings of Armenians committed by Turkey as "genocide."
Following the Armenia genocide vote, Erdogan accused German MPs of hypocrisy, saying they had no right to state their opinion on the issue and needed to atone for the Holocaust first. He also said German politicians of Turkish origin who voted in favor of the resolution had "tainted blood" and should undergo blood tests for 'Turkishness'.
You can share this story on social media: