'Stab in the back': Turkey responds fiercely to Germany's 'disgraceful' Armenia genocide vote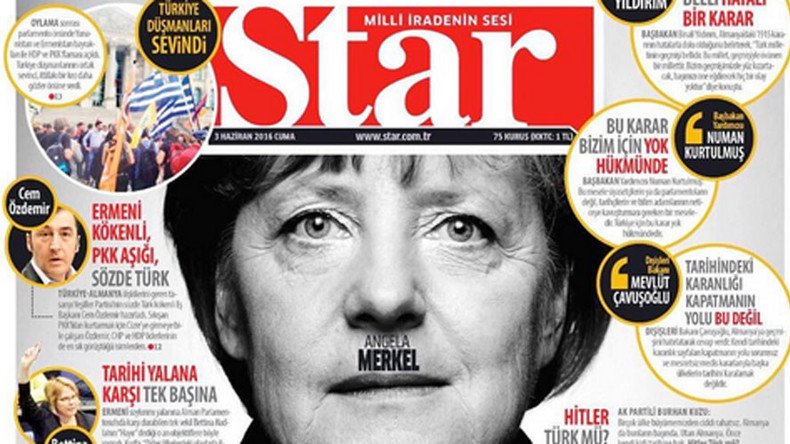 Turkish media and government figures have condemned Germany's vote to recognize the 1915 massacre of Armenians by Ottoman Turkish forces as a genocide.
Multiple Turkish news sources made comparisons between German President Angela Merkel and Adolf Hitler, drawing comparisons between the Armenian genocide and Nazi Germany's Holocaust.
"Comrade stabs us in the back", "Turkey will not forget" and "Open the gates" are just some of the headlines splashed across Turkey's newspapers Friday morning, reports Turkish Anadolu Agency.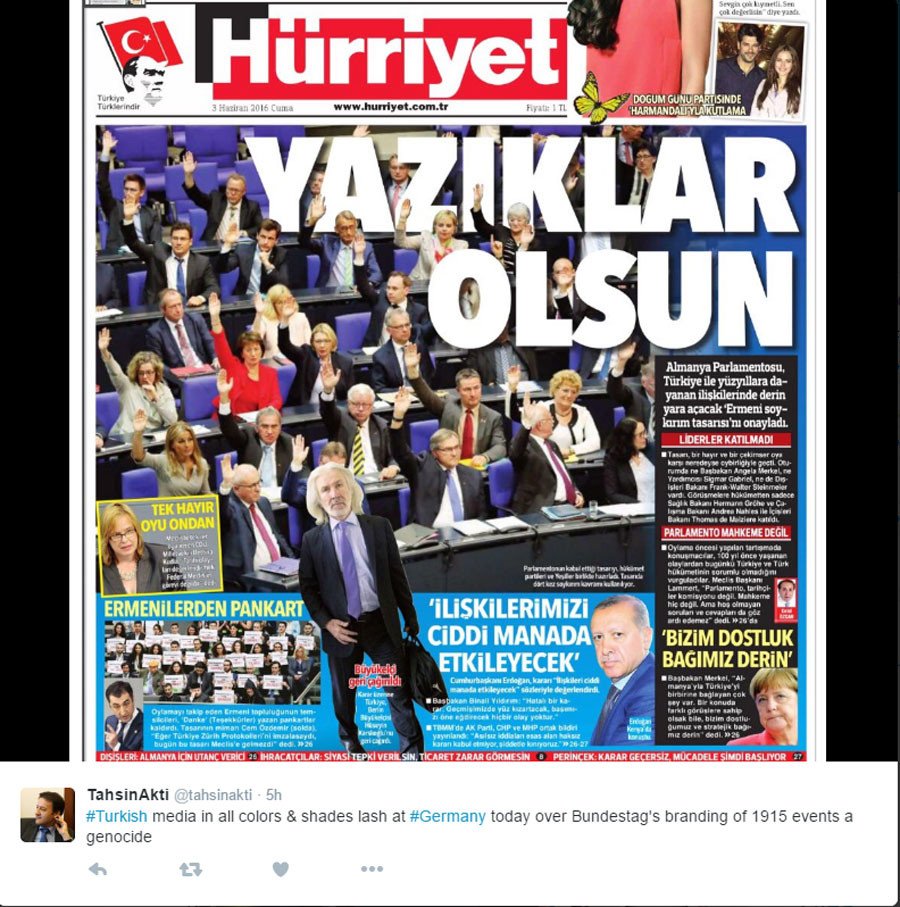 "Shame on You" screams the non-government funded Hurriyet along with a picture of the voting German parliament.
Sozcu, a secular-nationalist newspaper writes: "The grandchildren of Hitler accusing Turkey of genocide" accompanied by a photo of Merkel outfitted with a Hitler mustache and swastika flag.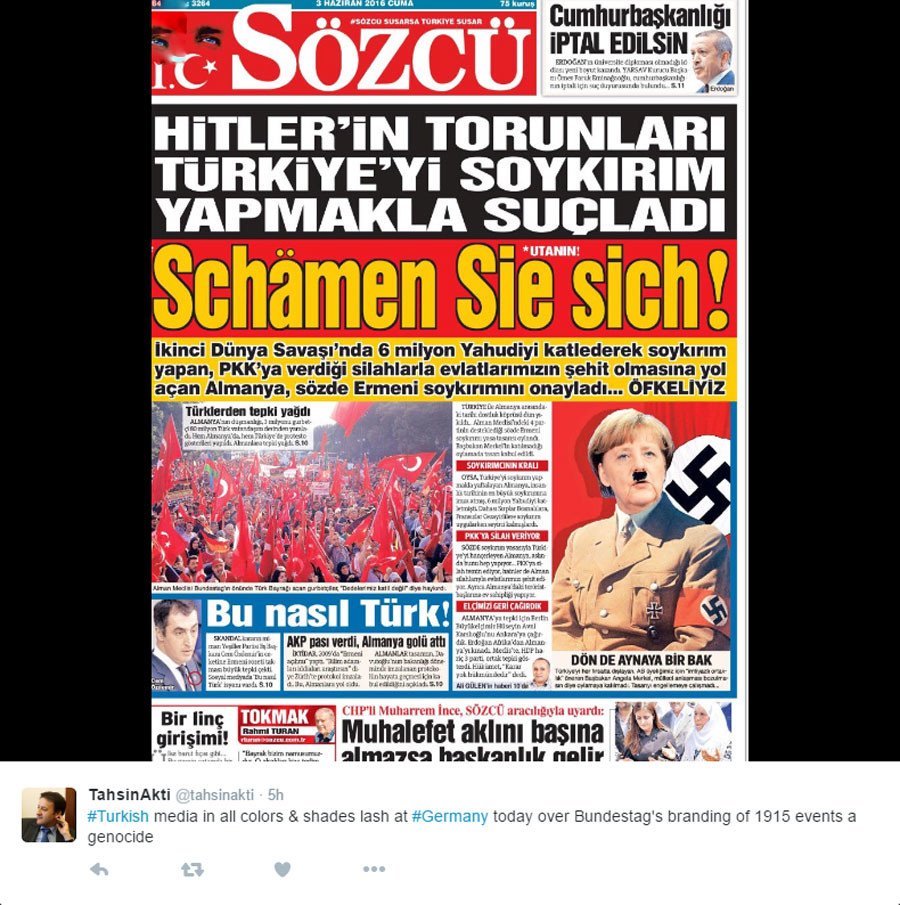 The strongest cover came from the AK Party-related journal, Star, which devoted a full page to Merkel with a Hitler mustache with the headline: "Everything for the PKK", referring to the Kurdistan Workers Party (PKK). Turkish security forces are currently engaged in operations against the PKK in southeast Turkey.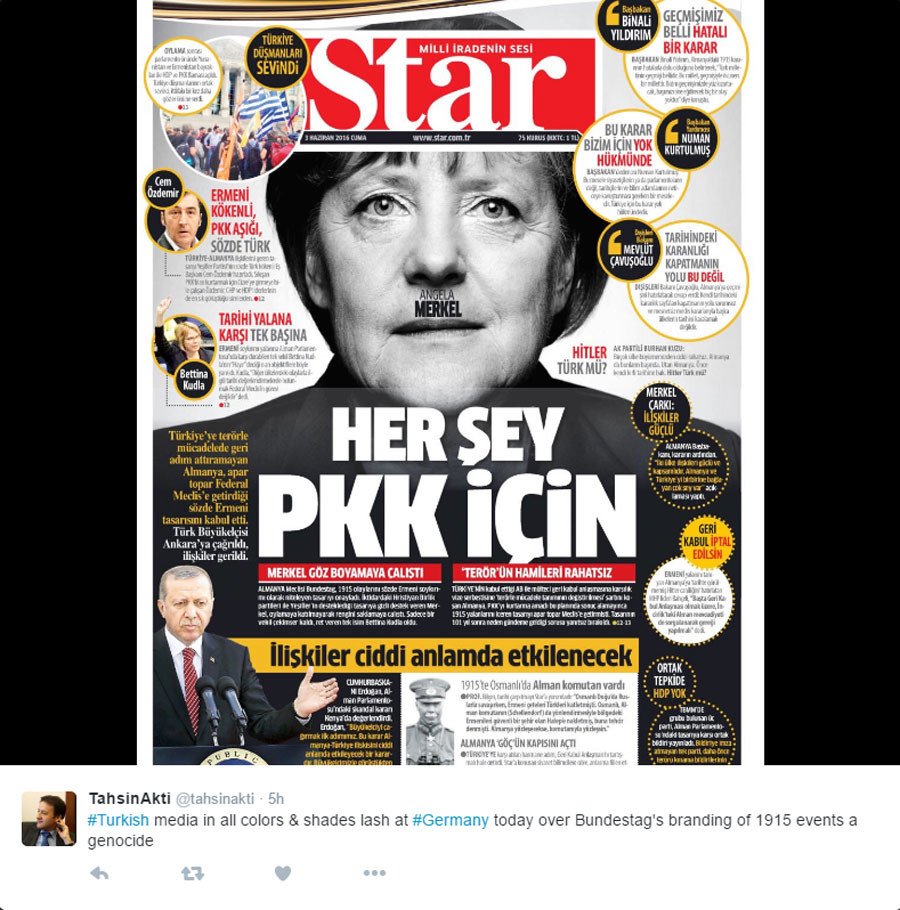 Holocaust comparisons to match those harsh words came from within the Turkish government too.
READ MORE: Armenian genocide vote: Turkey vows to take steps in response, recalls ambassador from Germany
"They burned Jews in furnaces and now they slander the Turkish people by accusing us of some genocide. Why don't you look at your own history first," Justice Minister Bekir Bozdağ was quoted by the Anadolu Agency.
On Friday the Turkish foreign ministry responded to the German vote in a written statement, published on their official website and translated by AA, where they describe the motion as "an example of ignorance" and "disgraceful."
"This resolution is an example of ignorance and disrespect for the law, politicizing history, preventing free discussion on historical issues and trying to impose the self-created taboo of the Armenian narrative as an indisputable fact," said the ministry.
"There is nothing that Turkey will learn from the parliament of the Federal Republic of Germany," they added.
Turkey denies allegations of genocide, instead acknowledging that there were "casualties on both sides." Prime Minister Binali Yildirim said these were "Ordinary events that could take place in any society or any country… in 1915, under conditions of World War I," when speaking to the press on Thursday, Hurriyet reported.
"The history of the Turkish nation is clear. There is no single event in our history that we feel ashamed of," said Yildrim to the Star as cited by AA.
Despite Turkish President Recep Tayyip Erdogan saying relations between Germany and Turkey will be "seriously affected", by Friday PM Yildirim had adopted a less severe approach.
"Nobody should expect that our relations with Germany to get worse completely and suddenly due to such resolutions," he said.
You can share this story on social media: