'US govt, MSM give no evidence to confirm ex-Gitmo detainees reengage in terrorist activities'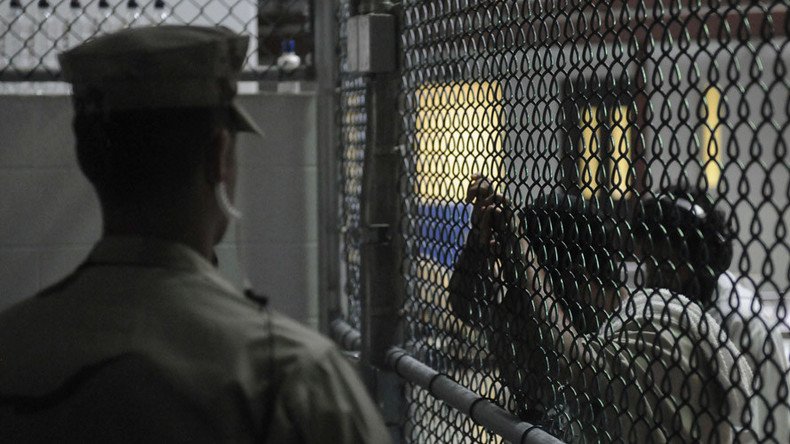 The US government isn't providing any evidence to confirm reengagement of former Guantanamo detainees in terrorist activities. They give numbers they allege are accurate but provide no facts, said Andy Worthington of the Close Guantanamo group.
The US government's greatest fears about releasing Guantanamo Bay prisoners are that inmates might re-emerge on the 'battlefield' and re-engage in terrorist activities. Seventeen percent of former detainees, or 118, are confirmed to have re-engaged in militant activity, while 13 percent, or 86, are suspected of re-engaging.
Author of "The Guantanamo Files" and co-founder of the group Close Guantanamo, Andy Worthington, told RT America's Simone Del Rosario that the US government isn't supplying any evidence to confirm their fears.
RT: You've dedicated a chunk of your life to documenting files and stories from Guantanamo not as an attorney, but as an investigative journalist. After all of your research, what do you consider to be the most pressing reason to close Guantanamo for good?
Andy Worthington: From the very beginning it's been a bad idea. If you're going to deprive people of liberty, there are only two ways to do that, if you claim to respect the rule of law. That is that you either charge them with a criminal offence and put them on trial in a Federal court - that would be in the US; or they're soldiers protected by the Geneva conventions and you can hold them until the end of hostilities.
But after 9/11 the US did neither of those things. So the men held in Guantanamo were held initially without any rights whatsoever. Human beings deprived of all rights, which is a really shocking thing. Although, over the years there have been various efforts to give them legal rights – going up to the Supreme Court, the situation still is that the people held in Guantanamo are effectively prisoners of the political system – we can almost describe them as political prisoners. There is no recognizable justice in their cases. The releases from Guantanamo end up being down to a political process. That is just an unfair way for a country like the US, which claims to be founded on the rule of law and to respect the rule of law, to behave.
RT: As Obama's term comes to a close are you finding yourself more or less hopeful that he will fulfill his promise to close Guantanamo Bay?
AW: I am certainly more hopeful than I was a few years ago. There was a period in the middle of Obama's presidency when he'd faced a lot of abstraction from Congress; he was unwilling to spend political capital overcoming that. And for a period of nearly three years only five men were released from Guantanamo.
In 2013, a massive prison-wide hunger strike brought Guantanamo back into sharp focus and put pressure on President Obama to do something about it. Since then he has been releasing many prisoners. We are now in the best position that we've been in during his presidency - only one tenth of the men held in Guantanamo is still held there – just 80 men. Thirty of those men have been approved for release by a variety of review processes under President Obama. We have a promise from the administration that they will be released by the end of the summer. Of the rest of the men – so the other 50 – just 10 are facing trials, or have had trials. The other 40 are undergoing this latest review process called the periodic review boards. We don't know how many of those are going to be approved for release, but at the current rate of the reviews three out of four of the men have been recommended for release – there are currently 24 out of 33 men recommended for release.
Now these are men who were initially described as "too dangerous to release," but the Task Force that looked at their cases said there was insufficient evidence to put them on trial; or they are men who were initially put forward for prosecution by a Task Force that President Obama set up in his first year in office. But the basis for prosecution has since collapsed. Appeals Court judges ruled that the war crimes for which the majority of the men were being convicted had actually been invented by Congress and were not internationally recognized. That is just a little summing up of the extraordinary ways in which Guantanamo is a shame and embarrassment on every level.
RT: A Washington Post article came out citing the Obama administration and the Pentagon saying that at least 12 released Guantanamo detainees are implicated in attacks on Americans that have resulted in American deaths. Do some of those Congressional members, who are against the closure, have a point in wanting to keep some of these men locked up?
AW: I think, first of all, they would have to provide us with evidence and they never do. In the early days of the defense department providing information on prisoners who they said have returned to the battlefield, or … have engaged in some kind of anti-American activity. They would provide information about who these men were. For around five years now they have provided nothing. They tell us numbers that they allege accurate, but they don't provide any further information so that people can do some investigation to judge whether the information is correct or not. They have people that they say are confirmed of engaging in anti-American activities and ones that are suspected. Those figures generally get lumped together by the right-wing lawmakers and by most parts of the mainstream media – very irresponsibly…But, as I said, they don't provide the information. This latest article in the Washington Post is unfortunately yet another lazy example of propaganda masquerading as journalism, without giving us the facts how are we supposed to accept that there is any truth to this.
The statements, views and opinions expressed in this column are solely those of the author and do not necessarily represent those of RT.
You can share this story on social media: