'West promoting lie of Russian aggression to boost NATO forces in Europe'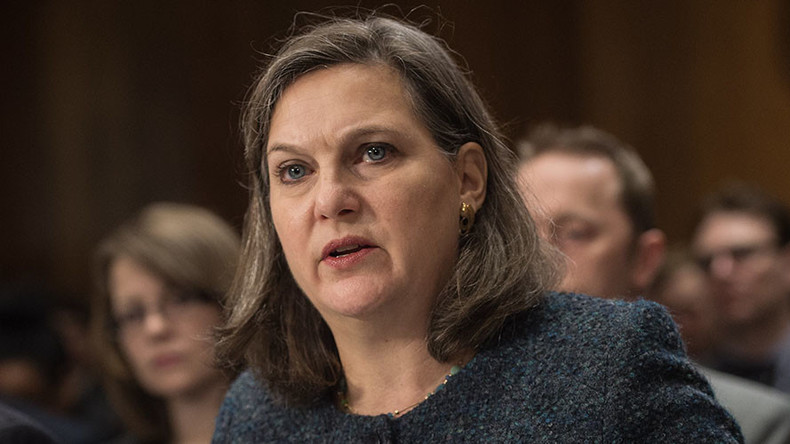 Even in the US many people are looking outside to get more objective information and analysis, Abayomi Azikiwe, editor of the Pan-African News Wire, told RT. The US media is not a free press; it is corporate-controlled, he added.
The US Senate held a series of hearings on Tuesday with the aim of information gathering for future policymaking. A number of key domestic issues were supposed to be discussed.
However, federal officials seemed to care more about another "headache" for the US, and that's Russian aggression. Addressing Russian "aggression", US officials went the extra mile to break down the threat of "Russia's mass disinformation". They even namedropped RT as one of the means of Russian propaganda.
RT: Why are US officials and Victoria Nuland in particular so obsessed with Russia?
Abayomi Azikiwe: Because stations like RT and other media sources outside of the US are getting hundreds of millions of viewers and readers; even inside the US many people are looking outside to get more objective information and analysis. The US media is not a free press; it is a corporate-controlled media. Even the so-called National Public media in the US – if you look – most of the people who speak in that media come from the corporate sector. They are very concerned about controlling information.
It is not unusual that Victoria Nuland would come with a pack of lies. She is quite accustomed to doing that. Remember, this is the same Mrs. Nuland who was... giving away cookies to extremist Ukrainians during the so-called revolt in Ukraine, which had been financed and had been supported by the forces and the money of George Soros and others in order to pull Ukraine away from Russia and create really a pre-war situation in the East... It is not true what Nuland said they have tried for 20 years to get a good relationship with Russia. - William Jones from Executive Intelligence Review to RT
RT: US officials continue to talk about so-called Russian aggression... Where is this aggression that Russia poses such a threat to the US
AA: They don't clearly spell it out because the US and NATO have Russia surrounded on many fronts: In Europe, in Eastern Europe. That continuing encirclement is spreading to other parts of the world, including Asia and Africa. They have the US-Africa Command. So, it is the US, the State Department, the CIA, NATO – these are the military alliances that have more bases than any other country throughout the world and they are in fact escalating aggression against Russia and other countries that don't toe the line of the State Department.
RT: Do all these hearings and discussions between American officials on propaganda mean that they are losing this battle?
AA: I believe they are. Because particularly among a lot of young people inside the US they are looking for information outside the corporate media. Most of them do not get their news from the major media outlets that are promoted by the corporate interests and by the government. So, they are concerned that you don't have this type of anti-Russian, anti-Chinese, anti-Iranian type of slant to the media orientation. So, when you have people inside the US that are watching RT, and are watching other stations outside the US, this poses a challenge to their control of information and how people view the world.
Mrs. Nuland is one of the real perpetrators of this because she has been in it from the get go. And she is taking a personal responsibility in trying to really destroy Russia as a powerful nation. And that is why there is an obsession here that President Putin has reacted and has reacted strongly because he wants to defend the sovereignty of Russia. And therefore the US and people like Nuland - not the entire US, but some of the leadership - are reacting very strongly to this... " - William Jones from Executive Intelligence Review to RT.
RT: Is it possible to repair ties with another country if you are always claiming them to be a threat to you?
AA: It is very difficult to establish any type of fair and just relations when this intense competition is being fostered even on a mass communications level. So, this is something the US State Department has to look at seriously but they are still in all appearances, committed to world hegemony.
The statements, views and opinions expressed in this column are solely those of the author and do not necessarily represent those of RT.