'Erdogan not emperor of Europe, we should recognize Armenian genocide' – German activist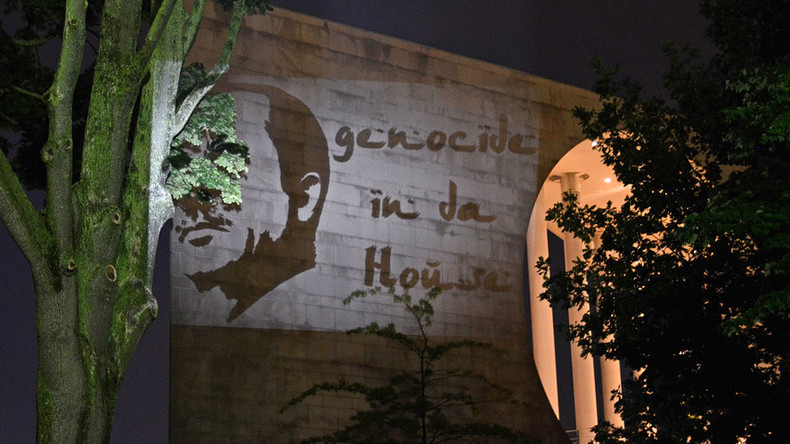 Berlin should recognize the Ottoman Empire's genocide of Armenians and not give in to Turkey's pressure leveraged by the migrant deal, PixelHELPER, the group that projected light images of the Armenian genocide onto German Chancellor Angela Merkel's offices, told RT.
Thomas Murgia, spokesperson for the PixelHELPER Foundation, believes there should be no trading of democracy and freedom of speech in exchange for Turkey's help on the refugee crisis gripping Europe, and questions the funding of Ankara as part of the migrant deal.
READ MORE: German MPs receive threatening emails over plans to recognize Armenian genocide
The group was behind Tuesday's protest that projected references to the Armenian genocide on the German Federal Chancellery in central Berlin, including images and a picture of Turkish President Recep Tayyip Erdogan next to writing that read: "Genocide in da House." The action was in support of the bill being voted on in the German parliament Thursday that, if passed, would recognize the Armenian genocide by the Ottoman Empire in 1915.
Read more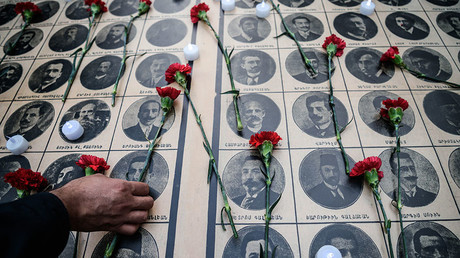 "We want to send a message of what the Ottoman Empire carried out against Armenians, Pontiac Greeks and Assyrians in 1915 is actually a genocide, even though it hasn't been recognized officially by any major Western country… it has been proven that it led up to the death of 1.5 million people," Murgia said.
Before sending the message to German Chancellor Angela Merkel, the artists staged provocative protests at the Turkish embassy that "compared Hitler with Erdogan." An image of Hitler was projected right next to that of Erdogan's on the diplomatic premises, which the group said was to protest the abuse of press freedom in Turkey.
While Murgia admits that such a parallel "might seem pretty harsh to many people and to him [Erdogan]," he adds that it "actually seems pretty accurate to us."
In particular, the PixelHELPER activist said he saw parallels in the Turkish president's actions and the Nazi Germany dictator's treatment of the media. "What he is doing is exactly what Hitler was doing in 1933, which is to shut up… any voice that goes against his thought."
The activist insisted that Erdogan does not have the right to dictate in Germany, where "the freedom and independency of the artist is protected by German law."
Read more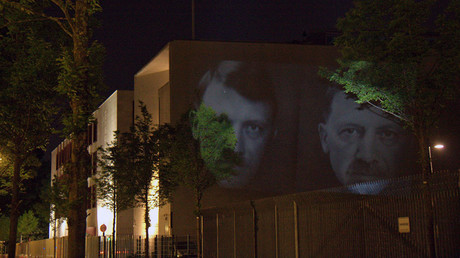 "Since Erdogan is not the emperor of Germany and of Europe, we are pretty safe and we feel safe to say our opinion."
Moreover, according to Murgia, the European Union and Germany should not hand out funds to Turkey, even for the sake of a successful refugee deal, as neither the EU nor Germany should "give money and ask for help to solve this issue, which is a human rights issue, to a nation which itself doesn't respect basic human rights like the freedom of speech."
Murgia said he hoped that "common sense" will prevail in the Bundestag and MPs will "be able to think about the humans who are involved or were involved in this case, which were the Armenians and that deserve that at least what happen to them is recognized officially and not that every country shuts up just because there are some economic ties with Turkey."
In the wake of the vote on recognizing the Armenian genocide, a German MP of Turkish origin, Sevim Dağdelen, also spoke in favor of the bill in an interview to RT.
READ MORE: Turkish embassy wants Swedish channel to withdraw film on Assyrian genocide
"I hope the Bundestag won't crack under pressure from Turkish President Erdogan, unlike the government and Chancellor Merkel, and will recognize the genocide of Armenians in 1915 as a genocide, which is long overdue."
She added that the "complicity" of the German Reich, an Ottoman ally in World War I, "is also a truth that should have been recognized here a long time ago."
READ MORE: Thousands worldwide demand that Turkey recognize Armenian genocide on 101st anniversary
The statements, views and opinions expressed in this column are solely those of the author and do not necessarily represent those of RT.