Thousands worldwide demand that Turkey recognize Armenian genocide on 101st anniversary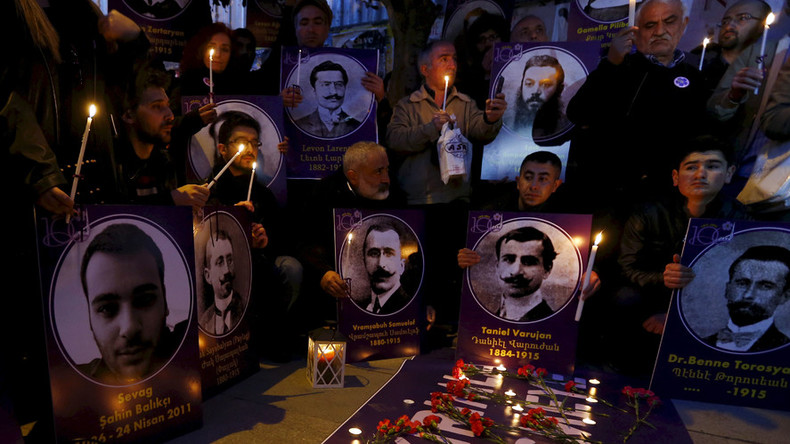 Thousands of people around the globe took to the streets on Sunday to commemorate the 1915 massacre of up to 1.5 million Armenians at the hands of the Ottoman Empire, demanding that Turkey recognize the atrocity as genocide.
Armenian President Serzh Sargsyan and First Lady Rita Sargsyan laid flowers at the Armenian Genocide Memorial in the country's capital, Yerevan.
The event in memory of the victims was attended by Hollywood star George Clooney and renowned French singer Charles Aznavour, who is of Armenian descent.
Sargsyan used the 101st anniversary to draw international attention to a recent flare up in hostilities in the disputed Nagorno-Karabakh region. The multi-ethnic enclave populated by Armenians and Azerbaijanis has been in political limbo since a conflict between the groups involving tens of thousands of casualties ended in 1994 with the region self-declaring independence. Turkish ally Azerbaijan, however, still claims it as its own, and has not backed off its intention to take back control of the territory.
READ MORE: Armenia, Azeri General Staff chiefs agreed Nagorno-Karabakh ceasefire in Moscow
"I declare for the entire world to hear: there will be no purging or deportation of the Armenians of Artsakh (Nagorno-Karabakh). We will not allow another Armenian Genocide. We – means the Armenian nation, all its segments, we – means our Armenian consolidation," the president said in a statement.
Several thousand people gathered in Moscow carrying Armenian and Russian flags to mark the somber anniversary.
"The memory of the victims of the genocide will live on forever," read a huge black banner displayed in Russia's capital.

A group of teens participating in a flash mob removed red bands from their mouths as an Armenian girl passed by in a symbolic gesture meaning that it is impossible to hush up the genocide any longer.
READ MORE: Did Wall Street Journal ad denying Armenian Genocide cross the line?
In Greece, hundreds of ethnic Armenians and sympathizers marched through Athens to denounce Turkey and slam Azerbaijan for allegedly escalating the conflict over the disputed Nagorno-Karabakh region.
The protesters marched to the Turkish and Azeri embassies in center of the Greek capital waving Armenian flags and carrying signs reading: "Truth will Triumph,""Azerbaijan Land of Crimes," and "Hands off Armenia."
Meanwhile, thousands of demonstrators in Iran participated in an event at Tehran's St. Sarkis Cathedral, in which they also urged Ankara to recognize the genocide of Armenians and condemned the recent uptick in hostilities in the Nagorno-Karabakh region.
"Our demand is that Turkey recognizes the historical truth and accepts legal responsibility for it," Karen Khanlari, an Iranian-Armenian lawmaker, told RT's Ruptly video agency.
In 1914, at the beginning of World War I, around 2 million Armenians were living in the Ottoman Empire, but that number decreased to less than half a million over the next eight years.
READ MORE: 'Death to Armenian dogs:' Turkish leader in Sweden steps down after call for killings
The mass killings began on April 24, 1915, when 250 Armenian intellectuals were detained by Ottoman authorities and later executed in their capital, Constantinople, which is now present-day Istanbul.
Most of the Ottoman Empire's Armenians were subsequently displaced, deported, or placed in concentration camps, ostensibly for rebelling against the Ottomans and siding with the Russians during World War I.
READ MORE: California city 1st to mark Armenian Genocide with school holiday
Turkey – the successor of the Ottoman Empire – admits that many Armenians were mistreated at the time, but claims that the number of victims has been grossly exaggerated and that there was no "genocide" or official systematic effort to eliminate the Armenian minority.
Acknowledging crimes against humanity would not only damage Ankara's international reputation, but also leave it liable for reparations, which some Armenian human rights groups estimate should be worth trillions of dollars.
READ MORE: Armenia, Turkey still at odds a century after 1915 massacre
On April 25 of last year, Turkey held a celebration to mark 100 years since the Gallipoli Landings, the Ottoman Empire's greatest success in World War I, in order to distract attention from the 100th anniversary of the genocide, angering many in Armenia.
You can share this story on social media: