Did Wall Street Journal ad denying Armenian Genocide cross the line?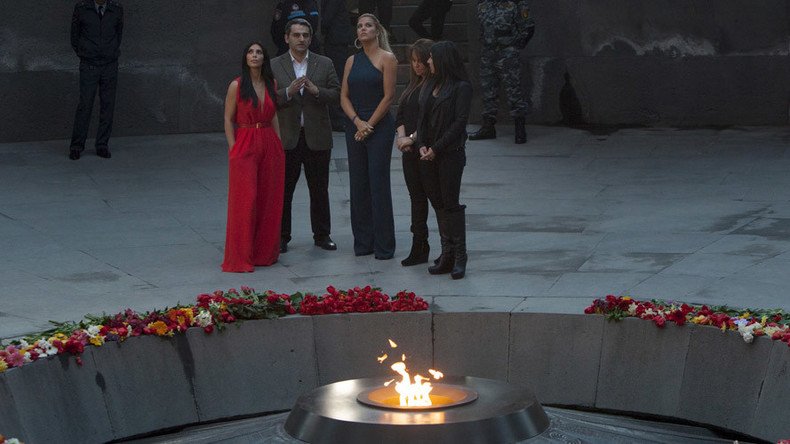 The decision by the WSJ to run an advertisement denying the Armenian Genocide was a judgment call, but it certainly seems to be pushing the limits of free speech, political cartoonist Ted Rall told RT.
Just days before Armenian Genocide Remembrance Day on April 24, the WSJ courted controversy by publishing an advert by a Turkish group denying genocide occurred. Armenia claims over one and a half million Armenians living in the Ottoman Empire were killed by Turks in 1915. Turkey admits Armenians were mistreated but denies any genocide took place.
RT: What are your thoughts on the WSJ publishing this kind of ad? Will it print any commercial as long as it gets paid?
Ted Rall: This certainly pushes the limits about what a newspaper will publish. They don't have to publish any ad that is presented to them ever since a famous case called Sullivan v. The New Times Co., which is an old Supreme Court decision. They've been exempt from having to publish what they don't want to. So, this was obviously a judgment call. I wonder if they would print something by e.g. a Holocaust denial group, I don't know, but it certainly seems to be pushing the limits.
RT: If for instance an advert denying the Jewish Holocaust was sent to the paper, would it have any chance of getting in print?
TR: Not if I was the editor, and I think not if many people were the editors. I think, generally speaking, the Jewish Holocaust is widely universally accepted by thinking people around the world. I think the Armenian genocide should be the same. I mean, as a student of history myself, there is no doubt in my mind or in the mind of anyone who is knowledgeable on the topic that this really did happen just the way it has been described. There is no denying it. And what is particularly perplexing is why the Turkish government feels that it is so important to try to run interference on this matter, considering the fact that this happened under the Ottoman Empire, which wasn't even the current government of Turkey at the time. In fact, Turkey was only a small part of the Ottoman Empire. So, it is especially perplexing for a government to try to deny the crimes of its predecessor regime.
RT: Do you think printing this ad could in any way damage the paper's reputation?
TR: I don't think it looks good for them. I mean, I am very pro-free speech. And I think in general, more ideas are fine and even stupid ideas have the right to be published. But when you are talking about something that is just explosive, when you are talking about something that is very clearly in total denial of the facts and is trying to deny a monstrous murder of over a million people, I would draw the line there.
RT: Why did Turkey choose a New York-based newspaper to promote this campaign? Who's Ankara's target audience?
TR: The Wall Street Journal like the New York Times is a national newspaper read all over the country and I think that's the first and major explanation. Certainly, New York City is the home to a huge minority population. Probably, one of the largest Armenian-American and Turkish-American populations in the US. So, I would think that that is part of it. What a waste of money. Who do they think they are fooling here? Does anyone really think that someone is going to read this and say: "Oh, yeah, I used to think that the Armenian genocide happened and now I don't think it happened." I mean, there is no doubt that it happened.
The statements, views and opinions expressed in this column are solely those of the author and do not necessarily represent those of RT.
You can share this story on social media: