'Turkey in organic relationship with ISIS' – pro-Kurdish HDP party
Erdogan wants to purge the pro-Kurdish Peoples' Democratic Party (HDP) from parliament. As Turkey's main opposition it's trying to call the government to account, says co-chair Figen Yuksekdag. Members are attacked, stripped of political immunity, and killed, she adds.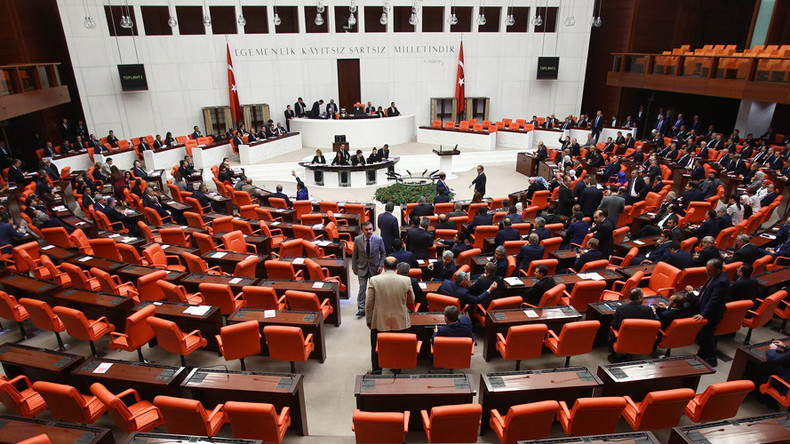 German Chancellor Angela Merkel said she told Turkish President Recep Tayyip Erdogan that Ankara must fulfill all the EU's conditions - including revisions to anti-terror laws - to secure visa-free travel for its citizens, reported AP.
Speaking after a meeting with the Turkish leader in Istanbul, Merkel said she is concerned about Turkey's decision to strip over a hundred of lawmakers of their parliamentary immunity. A controversial bill that enables Ankara to prosecute opposition politicians was passed by the parliament on Friday.
Before travelling to Turkey, Chancellor Merkel said recent developments in Turkey were a serious cause for concern; a view shared by a number of other high-profile Germans.
Kurdish MPs fear the proposal targets them - as President Erdogan has accused the HDP party of supporting Kurdish militants whom Ankara dubs terrorists. The majority of MPs facing investigation belong to the pro-Kurdish party.
The People's Democratic Party is an opposition left-wing party. It's also the third biggest in the Turkish parliament. The party supports the Kurds as well as other minorities whose members have angered President Erdogan.
Co-chair of the pro-Kurdish Peoples' Democratic Party Figen Yuksekdag spoke to RT about Ankara's crackdown on the Kurds among other things.
"They want to kick us from the parliament because of the fact that we became the main opposition in Turkey. That's the only reason for passing this law. The government and Erdogan prefer to ban democratic parties like HDP instead of having political discussions with them. Every time when he looks at us, he sees democratic legitimacy and resistance. And he wants to push us away from the parliament," she said.
"The People's Democratic Party is the only party charged and being investigated for saying something or engaging in politics. All the investigations are over our speeches, the things we said in the parliament or everywhere we go, because of all the political work we have done or our approach as a whole. That's why the investigations against us have begun," the party's co-chair said.
However, Figen Yuksekdag said, HDP won't leave the parliament.

"If they won't to throw us out – we will resist and continue being the voice of our people," she said.
'Ankara can kill Kurdish civilians and no one has the courage to condemn it'
"The last three years the palace has pushed the militarization. Thousands of new police stations were built in the Kurdish cities, in the mountains and everywhere you can imagine. Military prisons were built. We went through this at a time of peace. During those three years a lot of civilians, innocent people were killed. There were a lot of operations against the people and all kind of democratic civil unrest," Figen Yuksekdag said.
The HDP leader described the alleged atrocities in the town of Cizre in southeast Turkey as "a war crime." Reportedly, more than 100 people were burned to death in Cizre while sheltering in basements surrounded by Turkish forces. RT appealed to the UN in March, starting a petition urging the organization to investigate the claims of mass killings of Kurdish civilians.
"It's a war crime what happened in Cizre. There have been examples like this in other countries around the world and they were mostly condemned as war crimes. But in Turkey, a ruling power can easily commit such things and no one has the courage to condemn it," she said.
'Turkish govt and ISIS have an organic relationship'
Figen Yuksekdag said that for years her party has been claiming the ruling power in Turkey supports Islamic State.
"We said they have an organic relationship. We have been saying this for years but there is still no fair judgment mechanism in Turkey, no consistent and decisive mechanism of pressure. In general, we are the ones who try to call the government to account and in return we get attacked, massacred, stripped of our political immunity and thrown out of the parliament," she told RT.
"We were isolated in a significant way for our assertions. The other opposition in Turkey stayed quiet; the international powers remained silent as well. They support Turkey's actions by remaining silent. They have different relationships, collaborations and deals with Turkey. It would be appropriate to call on them to stop dealing with Ankara because all agreements made in a bloody political process are dirty and blooded ones," Yuksekdag told RT.
The statements, views and opinions expressed in this column are solely those of the author and do not necessarily represent those of RT.
You can share this story on social media: