'Muslims should want to integrate, this is not one way street' – German AfD party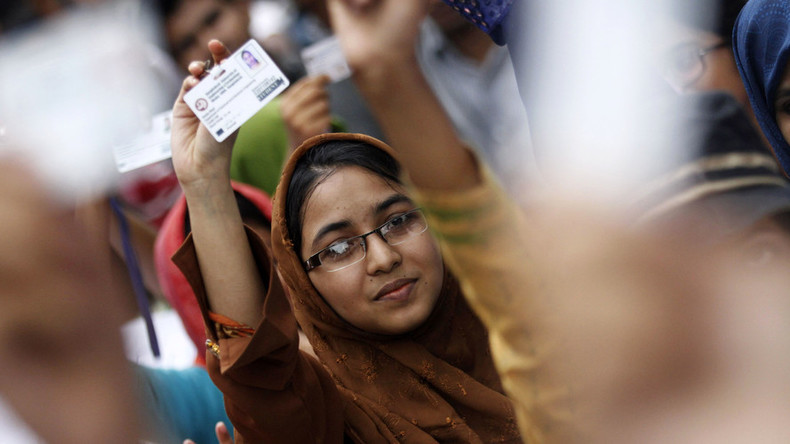 AfD (Alternative für Deutschland) is not anti-migration party, it is for controlled immigration, member Hugh Bronson told RT. We have to know people who seek asylum in Germany and these people have to be ready to be integrated, he adds.
"Alternative for Germany" officially adopted an anti-Islam stance in its new election manifesto. The party has rapidly gained popularity on its strong anti-migrant agenda and threatens to cause a real headache to Chancellor Angela Merkel in next year's general election.
The manifesto now demands a ban on minarets and calls for prayer, and would forbid women from wearing burqas in public. It also rejects the possibility of a so-called westernization or enlightenment of Islam, warning that the religion is becoming increasingly radicalized instead. The document was adopted at the party's two-day conference in Stuttgart, accompanied by protests and mass arrests among the left-wing demonstrators.
RT: Europe has always been defined by its freedoms, including the freedom of religion. Why is Alternative for Germany going against this European value?
Hugh Bronson: We have no problem with that at all. By the way, we are not an anti-migration party, we are for controlled immigration. That is a huge difference. Of course, we cannot allow for the borders and gates just to be open for everybody who wants to come in and settle down here. No other country does that. We have to have it controlled. We have to have an overview of the number of people who want to live here. We have to have an overview of the people who seek asylum in Germany. We are a very welcoming country and we are a very Christian country who wants to help everybody in need.
RT: There are around four million Muslims in Germany. The country's Chancellor has repeatedly highlighted the importance of the community. Aren't Muslim women free to wear what they want?
HB: They have to comply with German law… If you go to a town hall, if you apply for a driving license, if you complete some forms, it you have to appear in court – of course, you have to show your face. And it doesn't work if you are fully covered and you cannot be recognized. The only thing that can be seen are your eyes – it is just not enough. It is one the many problems. We have to recognize these people.
RT: And what about the banning of minarets?
HB: It is not exactly saying the ban of minarets. What we are trying to say is: we want to cut foreign money coming into Germany used to build mosques. We are not against mosques, they can be built – but these mosques have to be financed by money coming from Germany, like Austria has it. And it works perfectly well.
RT: And what about the Jewish community and synagogues? Where you draw the line there?
HB: The Jewish community in Germany is assimilated very well. They don't build parallel societies like the Muslim people in Germany very often do. They want to stick to themselves and don't mingle. They create areas where they try to implement the Sharia laws and the Islamic police system. This is not happening with the Jewish community.
RT: Isn't it better to try to integrate these people or at least give it a go?
HB: We have tried to give it a go. We made many offers: we are inviting these people to language courses to learn German; we are offering them any help in all sorts of areas. But we have to remember – it is not a one way street…These people have to be ready to be integrated. And if they refuse any help, if they stick to themselves, speak their own language even in the third generation…There is not so much you can do if there is no answer coming back. This is not what we want.
"We are defending the right of free religion for each person living in Germany – both for the original Germans and for foreigners,"Hansjorg Mueller from AfD told RT. "We are defending completely the right of free religion. What we are against is Islam being not a religion but a political ideology undermining our political system and damaging our constitution."
The statements, views and opinions expressed in this column are solely those of the author and do not necessarily represent those of RT.