Merkel & Tusk throw EU values overboard to appease Erdogan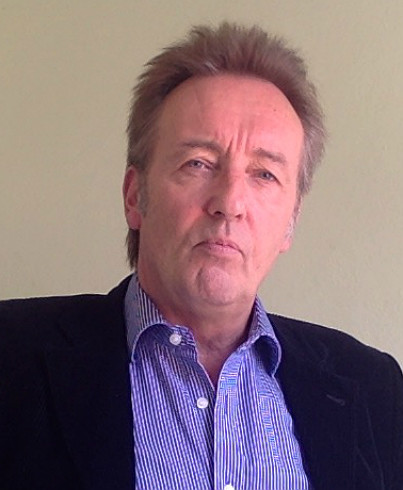 Finian Cunningham (born 1963) has written extensively on international affairs, with articles published in several languages. Originally from Belfast, Northern Ireland, he is a Master's graduate in Agricultural Chemistry and worked as a scientific editor for the Royal Society of Chemistry, Cambridge, England, before pursuing a career in newspaper journalism. For over 20 years he worked as an editor and writer in major news media organizations, including The Mirror, Irish Times and Independent. Now a freelance journalist based in East Africa, his columns appear on RT, Sputnik, Strategic Culture Foundation and Press TV.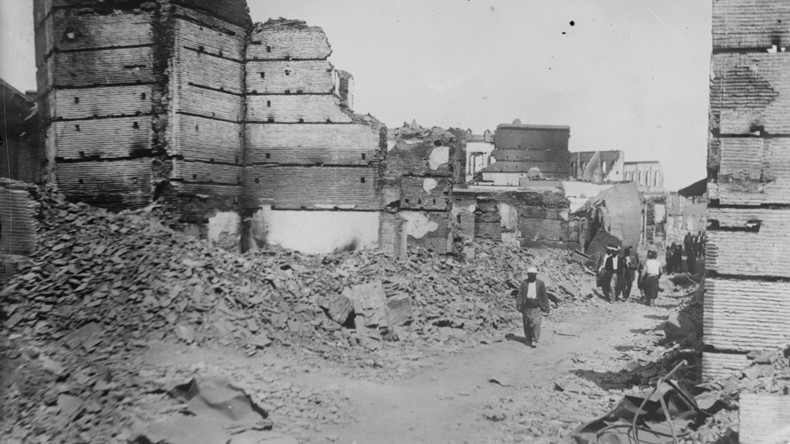 On the same weekend marking the Armenian genocide, European Union leaders Angela Merkel and Donald Tusk were in Turkey lavishing praise on Ankara for allegedly relieving the refugee crisis.
The coincidence was unfortunate but telling. The EU's silence on the historical Armenian issue is symptomatic of its muted stance on a range of contemporary concerns about repression under the Erdogan government.
Merkel and Tusk lauded Turkey for its part in managing the refugee deal with the EU, whereby mainly Syrian migrants arriving in Greece are shipped back to Turkey for "processing". But the fact that Merkel and Tusk made no reference to the weekend's official commemoration of the Armenian genocide and instead sought to bestow praise on Turkey – praise that many doubt is merited – will be seen as further proof the EU is a pathetic pushover.
Turkey denies its role in exterminating 1.5 million of its compatriots nearly a century ago was an act of genocide.
With this fawning by the EU is it any wonder wily Turkish President Recep Tayyip Erdogan is unrelenting in his accretion of repressive powers?
Donald Tusk, President of the European Council, may be viewed as the titular head of EU, while German Chancellor, Angela Merkel is the most powerful European national leader. Yet these two figures appear to be mere play things in the hands of Erdogan and his ruling AK Party.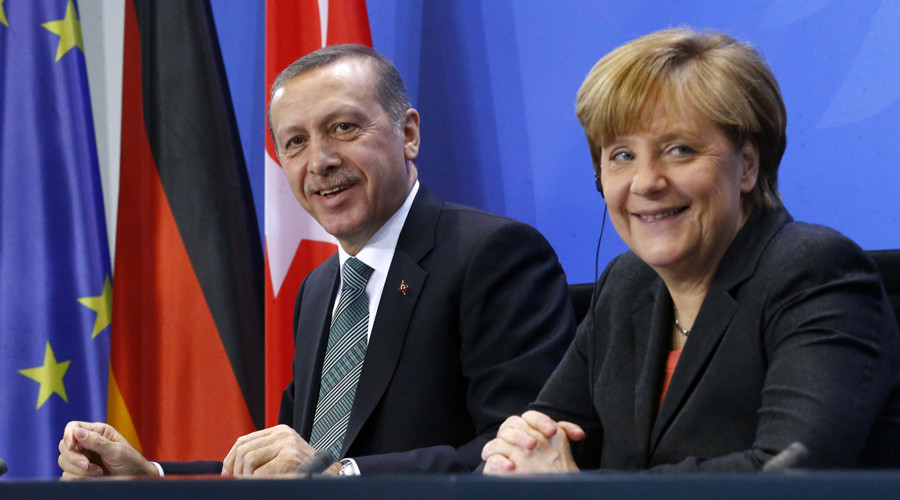 This year is the 101-year anniversary of the mass extermination of the Armenian minority that began in 1915 during the final days of the Ottoman Empire, and continued until the early 1920s under the modern state of Turkey. Remembrance Day is officially held each year on April 24.
For many historians across the world, the persecution of the Armenians by Turkish military rulers is an incontrovertible case of "genocide" when millions of the ethnic minority were dispossessed, starved and forced into "death marches". Countless executions were also carried out by Turkish state forces.
Turkish authorities do not deny that mass killings occurred but to this day they claim that no genocide took place. They claim "the events" were part of a civil war that stemmed from the First World War also raging at the time.
Russia, France, Italy and Sweden are among 29 countries that formally designate the mass killings of Armenians in Turkey as genocide.
The governments of the United States, Britain and Germany have not given formal recognition of the genocide, largely out of strategic concerns to not antagonize Turkey – a key NATO ally.
Barack Obama promised in his presidential election bid in 2008 that he would give official US recognition of the Armenian genocide. But he reneged on that promise, and declines to use the G-word.
More recently, however, it is the EU's refugee crisis that has added to Germany's reluctance to incur Ankara's ire. Earlier this year, the German parliament postponed voting on a resolution to declare the Armenian genocide in a move viewed as avoiding a diplomatic clash with Turkey and thus jeopardizing the refugee deal.
Erdogan's government has vociferously challenged countries that have officially recognized the Armenian genocide. When France declared recognition in 2011, there was a major diplomatic spat between Ankara and Paris.
Last year, Pope Francis was rebuked by Ankara when the pontiff referred to "the first genocide of the 20th Century".
A paid-for advertisement published in the Wall Street Journal last week explicitly denying the genocide is believed to have been prompted by the Ankara government.
The issue of the Armenian genocide is not a mere historical debate. It is a disturbing hallmark of the Turkish state and its incumbent government that it continues to deny the crime of genocide. Especially since this same state is now pushing harder than ever to join the European Union. Without facing up to its dark past, why should the rulers in Ankara feel obliged to be accountable about anything, including current allegations of violations?
What is perhaps even more disturbing is how the EU is willing to appease Ankara to alleviate its refugee problem.
While touring a refugee camp in Turkey at the weekend, Donald Tusk said Ankara was a "model for the world to follow." This is despite numerous reports by rights groups that the Turkey is not a safe country for refugees.
Read more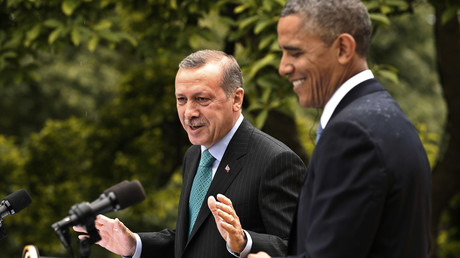 There have been credible reports of Turkish military firing live rounds at refugees attempting to cross the border from Syria.
Tusk tried to affect a principled manner when he was quoted as saying: "Our freedoms, including freedom of expression, will not be subject to any political bargaining. This message must be heard by President Erdogan."
Before his visit to Turkey with Merkel at the weekend, Tusk wrote in an op-ed for Der Spiegel: "We can negotiate money but never our values."
However, compromising on so-called "European values" is exactly what Merkel and Tusk are doing in order to curry favor with Erdogan's regime. Already, under Merkel's leadership, the EU is to ply Ankara with some $6.8 billion in financial aid to accommodate nearly three million refugees on its territory. Last month, Ankara demanded an earlier figure of $3.4 billion be doubled – and it was, without hesitation.
That's because as Erdogan cockily remarked last week: "The European Union needs Turkey more than we need them." And Erdogan is pressing his advantage to the hilt.
So much so that Erdogan's AK Party is cracking down mercilessly on the media, not only Turkish but now also on foreign outlets.
At the weekend a Dutch journalist based in Turkey was arrested on allegations that she insulted Erdogan in a recent article.
German newspaper Bild also disclosed that one its photographers was banned from entering Turkey at Istanbul airport, apparently because his name was on a blacklist of international journalists.
The week before that, the managing editor for Russian outlet Sputnik Turkey was also denied entry to the country.
The repression against international media under Erdogan is but the extension of draconian curbs on critical Turkish media. The infringement on free speech is in turn just part of a wider crackdown by the Turkish state that includes military assaults against ethnic Kurds and Armenians.
This weekend, the New York Times reported how the Ankara government is embarking on expropriations of Armenian property in the Kurdish city of Diyarbakir in a perplexing echo of "demographic engineering" that was a prelude to the genocide a century ago.
One of the properties is the historic Armenian church of Surp Giragos. Residents of Diyarbakir fear Erdogan's government is using "property development" as a cover for a hidden agenda of displacing ethnic minorities, not unlike the forced relocations in 1915.
The New Your Times quotes Turkish historian Taner Akcam as saying: "Solving ethnic and religious strife through demographic engineering is a policy of the Turkish government that goes back well over a century."
Merkel and Tusk's talk about standing up for EU "values" in the face of intensifying repression by Erdogan appears to be nothing but worthless platitudes.
Desperate to stem its refugee crisis, the EU is prepared to throw its own proclaimed principles overboard. And indulging Erdogan's genocide-denying regime is treacherously plumbing the depths of expedience.
The statements, views and opinions expressed in this column are solely those of the author and do not necessarily represent those of RT.