Obama's stance on Brexit – interference or advice by Britain's major ally?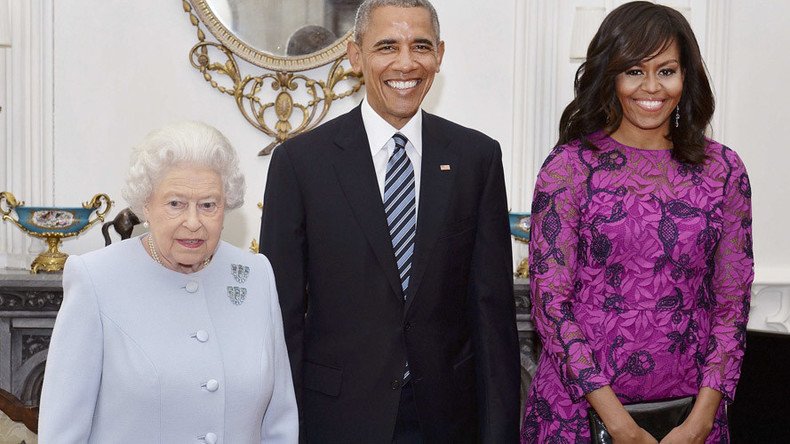 Will Barack Obama's visit to the UK really influence the British vote on EU membership? RT discussed with experts the climate in British society in the context of this visit.
The US president arrived in London for a three-day visit on April 22. Obama underlined the importance of the UK staying in the EU in his comments after a meeting Friday with UK Prime Minister David Cameron.
RT: President Obama arrived in the UK to "wish Her Majesty the Queen a happy birthday in person" but is that the only reason why Obama has decided to make the trip across the Atlantic?
Katie Hopkins, columnist for MailOnline: I think overall the sense here and certainly the sense that I am getting from people is there is really a question about interference. Why have we got an American coming over here to the UK to tell us how to vote on the EU, why is he splashed across the front of our newspapers telling us that he has a right to have a say because American blood was spilt helping defend us in WWII and why have we got him telling us that it is good for us to stay as a part of Europe because it is good for lawmaking, it is good for our financial systems and it is good for our sovereignty – whereas in fact we have given away our sovereignty: we don't have controls over our own laws here in the UK. And we certainly don't have any control over our borders. I think, people like me who want to vote to get out of Europe – we don't actually want Obama over here. I'd rather see someone like Donald Trump come over because at least he has a firm line on immigration.
RT: Stephen, Barack Obama is pretty much asking the UK to sacrifice its sovereignty. Should he be getting a vote in the first place here anyway?
Stephen Haseler, Director, the Global Policy Institute: Of course, he should. He is our major ally. They defended us in the Cold War. American blood has been spilt in Europe in defending Britain. And anyway, why do want to treat our major ally in such an offhanded manner? It seems that all these folks in this country, sort of bitter types, who are opposing American president even giving advice to us. I think they've now succeeded in annoying the Americans, annoying the Europeans and they are basically a bunch of Little Englanders who are not big enough to take advice. It is only advice, there is no interference and American president and Americans don't have a vote in this. We have a vote in it. But surely we can take advice from people like the president. Take advice from anybody who wants to give it to us. Let's be grown up about this.
RT: Katie, President Obama outlined why he believes Britain should stay in the EU: he cites new jobs, trade, economic growth and the Transatlantic Trade and Investment Partnership. These are all valid points, aren't they?
KH: I don't know if there are valid points, actually. I don't think it is about the idea that we are Little Britain and we are not prepared to take advice. I am certainly prepared to take advice, I've listened to people saying Europe is bankrupt, I've listened to the head of the European Commission saying: "We do interfere too much." I've just listened to advice from those controlling migration saying actually 150 people a day are now arriving again into Greece and into Italy… I've listened to people telling us that actually we are infiltrated by Al-Qaeda here in the UK. And the threat of terror at the moment remains severe. And I don't buy into any of the arguments why staying in Europe is a good idea when we can't control our borders, the threat of terror is severe and we are giving over 350 million pounds a day to an institution when our own NHS is bankrupt. And also why would I take advice from Obama when he has doubled the deficit in his own country during his shocking administration?
The statements, views and opinions expressed in this column are solely those of the author and do not necessarily represent those of RT.
You can share this story on social media: