Turkish prison for refugees? EU to accept only 70,000 migrants from Turkey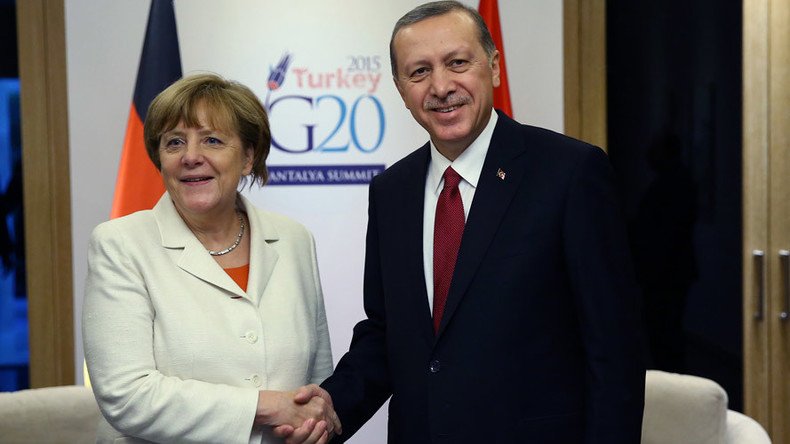 EU-Turkey relations are like cattle trading with the EU trying to turn Turkey into a prison camp for refugees and Erdogan using it to boost his popularity, says Firat Demir, Associate Professor in the Department of Economics at the University of Oklahoma.
Germany's Chancellor Merkel is heading to Turkey on Saturday to discuss implementing the migrant deal that was sealed with Ankara in March. Under it the EU will deport illegal migrants to Turkey while providing Ankara with financial aid and promises of a visa-free regime for Turks.
RT: Merkel's coalition partner the Social Democrats have urged the chancellor to send a message on freedom of speech during her visit. How do you think that will go?
Firat Demir: First of all, regarding the visa-free travel for Turkish citizens, that has been a disgrace for the EU since 1963. The EU agreed to visa-free travel for citizens of Turkey in 1963, and confirmed it in 1970 and even as recent as 2009 the European Council of Human Rights struck down it's restrictions against citizens of Turkey. What happens is because of such restrictions, meaning Europe as a whole; Turkey is one of the countries subject to such restrictions. It encourages the hands of anti-EU coalitions within Turkey and also it feeds into the hands of xenophobic and anti-immigrant sentiments within Europe. Having said that of course there are certain parts of the agreement between Turkey and the EU that Turkey has to fulfill. According to the latest reports from the European Commission, more than half of those 72 requirements have been met. So, 35 out of 72 have been met, but they are still significant parts that haven't been met.
RT: How much has the scandal with Erdogan demanding Germany prosecute a comedian affected the agreement and overall relations between Germany and Turkey?
FD: That's true. But I am afraid that we are mixing up apples with bananas here. You have quite a few countries within the EU right now which have quite authoritarian governments, and this includes the governments of Poland to Croatia and the entire Central Europe more or less. You may like or dislike President Erdogan and could criticize him, and I'm among those that criticize him quite often. But we are mixing that with the rights of the citizens of Turkey and there are 77 million of them. And they have to go through such strict visa restrictions to be able to travel to the EU. It includes businessmen, students, professors like me and those restrictions are not only unjust, they are anti-EU…
RT: In a recent interview with a French newspaper, Donald Tusk, the president of the European Council, said the EU shouldn't hand the keys to its security to Turkey. Has that not already happened?
FD: I am afraid this is turning into a cattle market. On the European Union side, they would like to present their constituencies that, because of the refugee flow, they will be able to stop that in Turkey and turn Turkey into a giant prison camp for refugees. On the Turkish side, President Erdogan and the AKP ruling party would like to present this success as a win for their supporters and this will be huge boost to their popularity in the possibly upcoming referendum on the change in Turkey of the presidential system. President Erdogan would like to use it as a big boost for his support. And European Union politicians who are already facing a backlash, I think unjustly, from their voters regarding the refugee flow. So both sides are playing with this. It takes two to tango. I don't think it is right to only blame the one side on this. That doesn't mean that Turkey doesn't have things to fulfill.
RT: Ankara has already threatened to walk out of the deal if it doesn't see visa liberalization by June. But the EU says Turkey has met only half of the conditions needed. How do you see that play out?
FD: The prime minister just this week threatened to walk away from this deal. But remember first of all there is more misinformation within Turkey regarding this. The refugee agreement between the European Union and Turkey involves only 70,000 refugees. So, the moment the European Union meets 70,000, they are not going to accept any more refugees from Turkey. They will stay in Turkey. And this is the big elephant in the room that is hidden from the Turkish public. And secondly the European Union never said that we will hand over free visas unless you meet those 72 conditions. So, the Turkish government knew this since 2013. The latest one was only an agreement to strengthen the effort; otherwise the latest debate is about an agreement that was signed in 2013 for visa-free travel for Turkish citizens. And we haven't done anything for three years. Now there are only a few months left and suddenly we would like to push and go ahead and do all those 72 changes. I don't think it is going to happen.
The statements, views and opinions expressed in this column are solely those of the author and do not necessarily represent those of RT.
You can share this story on social media: