Welcome to 'Walking Dead Europe' - Pepe Escobar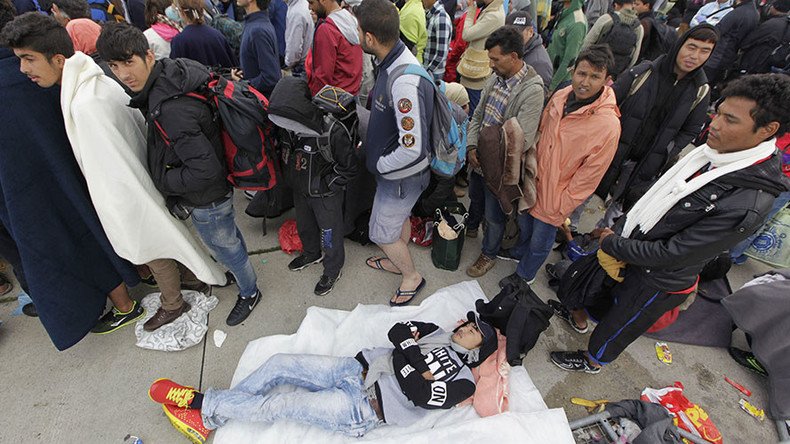 Citizens of the EU – as in vibrant civil society manifesting in an array of nations - are increasingly keen on ditching the political EU, whose only functioning trait remains its status as a giant market.
The rest is chaos: The euro is now synonymous with massive unemployment; Europeans aged 18-34 qualifying themselves as a "lost" or at least "sacrificed" generation; European "values" diluted by the rise of the populist extreme-right; "pacifism" transmuted into hot and cold war – from Syria to Russia; and European cities, from Paris to Brussels, under Salafi-jihadi assault.
Call it Walking Dead Europe
Walking Dead Europe manifests itself in myriad ways - from a "No" to a referendum in the Netherlands to the creeping possibility of Brexit. Now add to this the ultimate insult a stark fact: What could the EU possibly offer to the world as a vision when it subcontracts the security gates of Fortress Europe to the wily, carpet-dealing antics of Turkey's Sultan Erdogan?
Even avowed Europeanists such as Le Monde – a former great newspaper turned Empire of Chaos-cheerleading rag – are now distilling long essays about the malaise.
As much as the fascination with declining empires may still hold sway (it's so chic to digress about it, Death in Venice-style, sipping Cristal and eating Iranian caviar), seasoned veterans at the European Commission (EU) in Brussels cannot but avow their perplexity when confronted to the EU machine's death wish.
It's always easy to forget that the EU project was born in May 1950 as a common market; common coal and steel rendering impossible a new war between France and Germany, everything guaranteed by the American protector. This de facto American security protectorate implied NATO, from the start, was the real deal - much more than the budding mini-EU expanding under the aegis of Pax Americana and the largely manufactured fear implicit in the Cold War.
After the fall of the Berlin Wall, the EU incrementally opened its doors to virtually every European newcomer. The official spin was the dissemination of "peace" and those Enlightenment "values". In practice, it meant NATO expansion coupled with zillions of euros to "rebuild" and "modernize" mostly Eastern Europe.
The expansion dementia even reached Turkey and Ukraine – everything micromanaged under NATO's Mob-style protection racket, of course, which now imposes the official Brussels narrative that the New Cold War was launched by "Russian aggression".
And what about those "values"? Germany has just demonstrated, instructively, how they now lie in a funeral pyre - as Chancellor Merkel first opened the doors to the refugee flood unleashed by Ankara just to abruptly close it by de facto killing the right of political asylum.
Cynics are right to argue whether this is in any way any different from Donald Trump and his Wall of Mexico.
Hop on the Thalys to doom
The enlightened debate – say, in Brussels, Berlin and Paris - is whether the Brussels supranational institutions have been rendered terminally inefficient by unruly nation-states. Yet the next minute blame is apportioned en masse to the Eastern Europeans – especially Hungary, Poland and Slovakia – and their practice of "illiberal democracy". Wealthy liberal Western Europe is of course spared.
A practical consequence of this logic, sooner rather than later, would be Berlin deciding to curb aid to Eastern Europe; 15 billion euros a year for Poland alone.
What Eastern Europeans know for sure is that they'd rather go down, but the last thing they want is to leave the EU. In the Polish case, for instance, it would be unrivaled masochism to want to be immolated in a rack controlled, on each side, by historical enemies Germany and Russia.
So the dream of a federal Europe may be dead; what is the EU good for, apart from allowing a proliferation of EasyJets to Club Med destinations? It's true that the system of production in Europe is now too integrated; unraveling it would be immensely costly. Every morning the Thalys trains from Paris continue to be crammed with players who come to do business with the EC. Yet even if the EU survives – two-speed, even three-speed – the euro is a different proposition. If the euro collapses the common market would be destroyed.
According to the Maastricht Treaty, every member-nation pledged to police its own finances. It's not exactly what happened. Now the EU is trying Maastricht upside down – from a creaky banking union to the European Central Bank (ECB) addicted to "massive interventions".
Sharp minds in Brussels admit the euro is on a Catch 22. Without a federal budget, and without "massive aid" from more flush members, austerity – not diamonds – is forever; and the victims will always be the poorest members. So even as Europe cannot get rid of the euro – European banks would be incapable of setting up a rational dissolution – the only way out, that is, further integration, is paralyzed.
Sleepwalking to mediocrity
The tragic Greek financial crisis demonstrated that the troika could impose what amounted to welfare and education "reforms" with absolute impunity over a sovereign state. That represented, in practice, some form of "integration" – but always under the aegis of the troika's "enlightened" despotism. In consequence, Brussels could not but lose even more of its political legitimacy.
Sharp minds at the EC, off the record, admit that the battle over Europe will be, in fact, juridical. The EC is now immersed in a Dadaist make-believe exercise of convincing everyone the Schengen rules still apply. Even if they don't. Even if there's no free circulation inside Schengen anymore. Even if Hungary and Slovakia, for instance, directly contested the decision by the Council of Europe dividing migrants among member states.
And further trouble looms ahead if Germany decides against further eurozone integration in case the German taxpayer must carry an "out of proportion" burden.
Former European commissioner Pascal Lamy is among those deeply vexed by the EU's loss of influence, the erosion of those prized "values", the loss of identity face to face with Americans, Russians and Chinese.
Well, for the War Party in the Beltway, Europe is irrelevant anyway; a sweet and pliable Venus unable to influence Mars. As for the Russians and Chinese – now embarked in a strategic partnership – what matters is to do plenty of good business with Europe, assuming Europeans still know how to identify a win-win. Usually they can't because of many reasons, including ideological myopia, mediocrity and/or plain stupidity displayed by the EU's political leadership.
What lies ahead is not pretty. There is an element of The Sleepwalkers – Christopher Clark's masterful account of how Europe marched to war in 1914. But mostly, a low-budget American show gave away the game. This is Walking Dead Europe.
The statements, views and opinions expressed in this column are solely those of the author and do not necessarily represent those of RT.
You can share this story on social media: