Ukraine's Petro Poroshenko: The biggest loser from the Panama Papers?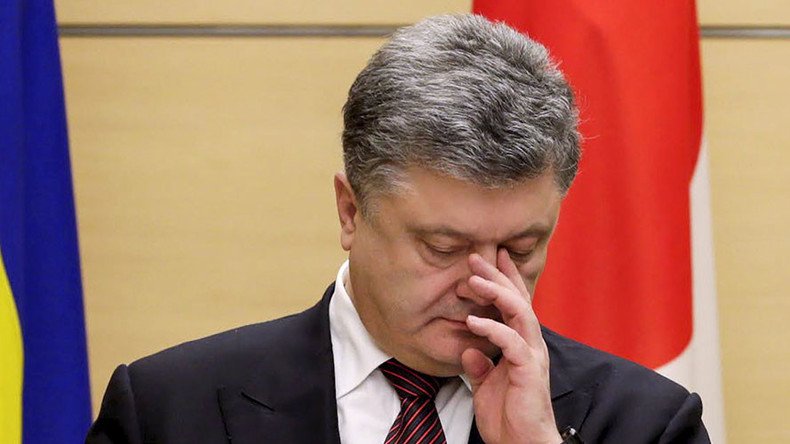 The media hype has focused on Vladimir Putin (who was actually not named) and David Cameron (who wasn't either). However, the biggest loser from the Panama Paper's fallout just might be Ukraine's President Petro Poroshenko.
By now, you've endured more than two years of the Western popular press ranting and raving about "Euromaidan," which they describe as Ukraine's "revolution of dignity". You've consumed endless op-eds and profiles white-washing Petro Poroshenko as some kind of noble protector of democratic values in the "New Ukraine." You've also been exposed to endless propaganda about Ukraine's "European choice" and misled to believe that the country is united in its desire to re-orientate westward.
By contrast, Russian media has consistently labeled Maidan, a "coup." Lots and lots of folk on the Western think-tank circuit and opinion pages - which are often indivisible - are angry about that. They've long accused the Russians of trying to hoodwink people. 'Weaponizing' nouns, if you like.
In reality, the Russian media is right. Maidan was not a revolution. The term revolution implies that there was a dramatic structural shift in Ukraine. But there wasn't anything of the sort. In a real transformation, the entire elite are replaced. For example, a new civil service is created and probably a fresh police force.
A Fake Revolution
In Ukraine, this didn't happen. The same state structures still exist, like before. More or less the same people run the security services, for instance. And the media remains, broadly, owned by the same bunch of oligarchs who controlled it two years ago. The President, Poroshenko, served as Trade Minister under Viktor Yanukovich, who was deposed in the coup.
According to polls, his biggest current rival is Yulia Timoshenko. She was Energy Minster when Leonid Kuchma ran the show. In fact, none of the principles are raw greenhorns, new to the scene. Rather, the situation is quite the opposite. It's Back To The Future, with bullet proof Porsche Cayenne's instead of cute little Deloreans.
So, Ukraine didn't experience a genuine revolution. Instead, there was a minor change, equivalent to shuffling the deck chairs on the Titanic. A group of, nominally "pro-Russian" (although many would venture "pro-themselves" and "pro-money") oligarchs from the eastern regions were replaced by a group of ostensibly "pro-Western" oligarchs from the central and western areas. The new crew speaks better English and practices more skilled PR. That's about all that has changed.
Poroshenko came to power promising the sun, the moon and the stars. But not the plough and stars, which he removed from Ukrainian society by banning the Communist Party, in a (hardly democratic) gesture ignored by the West.
Life is like a box of chocolates
During his campaign, the then billionaire pledged to divest himself of his Roshen confectionary business."If I get elected, I will wipe the slate clean and sell the Roshen concern. As President of Ukraine I plan and commit to focus exclusively on welfare of the nation," Poroshenko told Germany's Bild tabloid before the election. He never did this.
Despite his assurances, it now appears that Poroshenko has been more concerned with his own welfare than Ukraine's over the past couple of years. He hid money offshore, thereby depriving the struggling country of vital taxes, at the same time that a civil war has raged there. While conscripting youth from poor families to serve in an underfunded army, he's not only been unwilling to commit his own massive wealth to the cause, he's even refused to pay his own fair share.
Poroshenko's attitude is best summed up the events of September 1, 2014. That day, the 'Chocolate King' alleged that Russia had openly attacked Ukraine. Many governments and opinion-formers took his information at face value and it led to a serious deterioration in relations between Russia and the West. Meanwhile, Poroshenko's mind was very far away from Donbass. Now, the Panama Papers reveal that the same day, he supplied Mossack Fonseca, the Panamanian law firm at the centre of the scandal, with a copy of a utility bill to prove his home address. This is damning.
You never know what you are going to get
Last weekend, Poroshenko bemoaned the timing of this week's Dutch referendum on Ukraine's controversial association agreement with the EU. Back then, his reasoning was that "the real purpose for the internal Dutch discussion is about the future of the European Union and internal political clashes." The oligarch suggested Ukraine's chances of a favorable outcome would be damaged by Dutch domestic issues. He also, rather bizarrely accused the New York Times of "hybrid war" against his country for exposing rampant corruption. We can now assume that he was fully aware of the imminent publication of information about his own dealings, when making these statements.
As it happens, nothing has done more to kibosh Kiev's EU prospects than the Panama Papers. Even the Kremlin's greatest minds couldn't possibly conceive of something so damaging. Ultimately, Poroshenko only has himself to blame here. If he'd kept his campaign promises, his white knight act might have been believable. However, his grubby financial dealings expose him for what he is, a relic of the 1990's oligarch culture which helped to destroy much of the ex-USSR, both economically and socially, bringing untold misery to millions.
Campaigners for a Dutch 'No' vote have warned against admitting another large, poor and systemically crooked eastern European nation to the EU. Ukraine's supporters continuously countered that Maidan had changed all that. This week's revelations prove one thing. Regardless of the endless spin, Ukraine's fundamentals remain the same. Nothing has changed.
If Dutch voters return a negative verdict in this week's referendum, Poroshenko can't blame "hybrid war" or Russian meddling. He can instead stare at one of his, undoubtedly expensive, mirrors and blame the figure he sees there.
The statements, views and opinions expressed in this column are solely those of the author and do not necessarily represent those of RT.
You can share this story on social media: