'Perilous Turkish-Syrian border forcing refugees into hands of smugglers'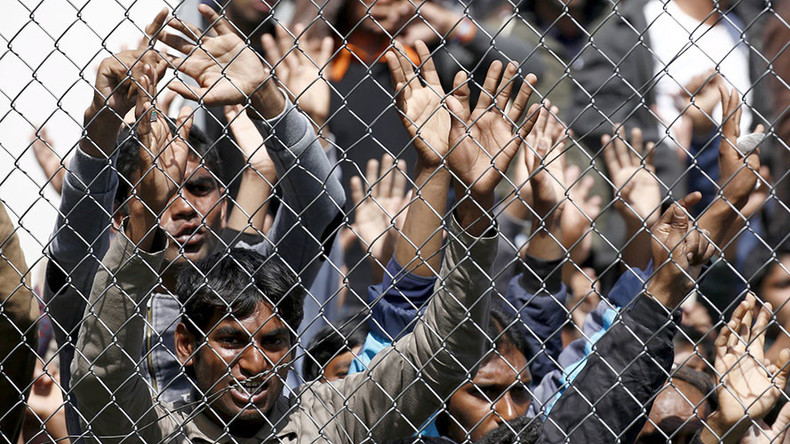 The international community dodged its responsibilities towards refugees fleeing Syria, including the EU with this latest deal with Turkey, says Andrew Gardner from Amnesty International.
Amnesty International has accused Turkey of illegally forcing thousands of refugees to return to Syria. The group claims a hundred Syrians have been sent back daily since January. The Turkish Foreign Ministry refutes the allegations, saying they "do not reflect reality."
RT: What do you make of Turkey's response? And how do you think the flaws highlighted by critics will impact on the implementation of the agreement?
Read more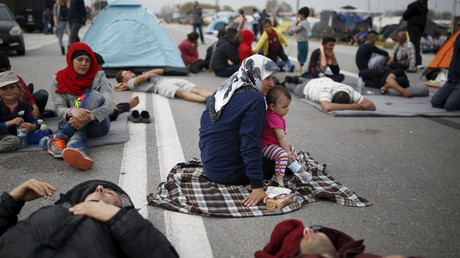 Andrew Gardner: There are questions over the implementation of the agreement. Is Greece prepared to implement? Is Turkey prepared? Does it have facilities to deal with the people coming across? Obviously, the answer is no. The UNHCR said clearly there aren't the necessary safeguards in place. But the deal itself is wrong. The deal is illegal, the deal is immoral. It means returning refugees back to Turkey, the country which is already the biggest host to refugees in the world; it already has more than 2.7 million refugees.
Although Turkey has taken many positive steps to accommodate refugees - positive initiatives on the issue of housing, keeping people in camps, and also trying to give people access to health and education – there are still major gaps, but the biggest problem is that there is a continuing pattern of forced returns from Turkey, not just for Syrian refugees but for Iraqis and Afghans and others as well.
RT: The crisis needed an urgent response from the EU. What other options were available to them, if any?
AG: What EU leaders should be doing is replacing the irregular returns with safe and legal routes to access asylum within the European Union. It is clear that where you don't have safe and legal routes you get people trying to use irregular channels; people are forced into the hands of smugglers. Now we see that on the Turkey-EU border increasingly people using the sea border after the EU authorities sealed effectively the Greek and Bulgarian borders with Turkey. And you now also see it increasingly on Turkey's border with Syria. Now the border has become very difficult and dangerous to cross, this is again forcing people into the hands of smugglers. So, there is a real need to replace these irregular routes - forcing people into the hands of smugglers - with safe, regular routes to access asylum.
RT: Turkey has been accused of having links with jihadists, something that Ankara strongly denies. But how safe is it sending migrants back to Turkey at the moment?
AG: I think the big consideration for refugees and asylum seekers going back to Turkey is firstly that they could face being forcibly returned back to their home countries without access to the asylum procedure. And secondly it is more the situation with huge gaps in provision of health services, education, and many refugees are living in the country in pretty miserable conditions with nothing like adequate housing. I think those are the biggest dangers facing refugees and asylum seekers going back to Turkey.
"In these hot spots on the islands in Greece, conditions have been very difficult over the last few days. There are several thousand people still there. I think there's a lot of anxiety amongst people, a lot of other problems there. That needs addressing. We are working with the Greek authorities on seeing if improvements could be done to that environment and whether alternatives to detention can apply..." - Adrian Edwards, UNHCR Spokesperson

RT: We've heard from a Turkish mayor who's said that his town isn't ready for the newcomers. Many residents in areas affected by these newcomers will also oppose the deal. If not Turkey, then where else could all the refugees be sent?
AG: It is clear that the vast majority of the responsibility of receiving Syrian refugees has been taken by Turkey, Lebanon and Jordan. The neighboring states are accommodating the vast majority of Syrian refugees, and it's really the international community that has dodged the responsibility - including the EU with this latest deal and their responsibilities towards refugees fleeing Syria. Countries within the EU of course need to resettle far more refugees than they are doing at the moment. Certain countries like Germany and Sweden have taken a significant number of Syrian refugees, but almost all the other countries have not. So it really falls upon the rich states and the states neighboring in the region - including North America, and also states like Russia as well that hasn't done anything to resettle Syrian refugees - for those countries now to step up and start receiving and accommodating Syrian refugees.
The statements, views and opinions expressed in this column are solely those of the author and do not necessarily represent those of RT.