Will EU-Turkey migrant deal work?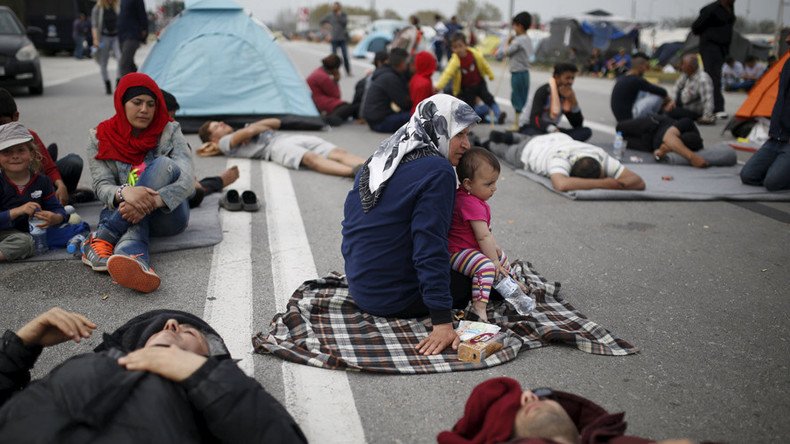 The root cause of the refugee crisis hasn't been resolved, says Joaquin Flores of the Independent Journalists Association for Peace. Until countries such as Turkey actively curtail the inflow of terrorists into Syria, there will be no end to the conflict, he adds.
In recent weeks, thousands of migrants have become stranded in Greece since the EU brokered a deal with Turkey to stem the flow. Under the deal, refugees and migrants who arrived on the Greek islands after March 20 will be sent back to Turkey starting on Monday, April 4.
RT: Lots of EU countries are relying on the deal with Turkey. Do you think it is going to work?
Joaquin Flores: I don't think that this kind of deal can work. The direct cause of the refugee crisis has not been resolved. There is still a conflict raging in Syria, which has claimed the lives of half a million to quarter a million people, depending on reports. Twelve million have been displaced. It is just catastrophic. Until countries like Turkey and Saudi Arabia can really become a proactive force for curtailing the inflow of terrorist fighters from their countries into Syria, then there will be no end to this conflict –a political solution becomes very difficult.
RT: At the same time, Amnesty International accuses Turkey of illegally forcing migrants to return to Syria. What should EU nations be doing as they broker this deal with Turkey, to ensure the human rights of refugees are respected?
JF: I do agree with those concerns. You, of course, have issues relating to the human rights of refugees. One of the problems in these reports is that…you have countries like Macedonia, which has an open border with Albania. As people know the western part of Macedonia has almost a border free zone with Albania, because of the Albanian minority in the country of Macedonia, and they really control the border. They also have the resources in the access to a lot of what is known about human trafficking, drug trafficking, white slavery. While refugee trafficking may be more connected to human rights and might be something that needs to happen for a lot of reasons. Certainly Albanian cartels will be able to circumvent a large part of the efforts to close the borders in the Balkans. That adds a little complication to attempts to this now. Of course, the EU is saying that they will be restoring Schengen at the end of this year – that is doubtful.
RT: The so-called Balkan route refugees had been using to get into Europe is closed, stranding thousands in Greece. What are your fears for them?
JF: The biggest problem is that the Greece economy is in shambles. It has no method, no way of providing employment, or a way of life to these people if they are going to be permanently stuck in Greece. Greece has played no role in the distractions of Syria. There is no basis by which to hold Greece accountable for a lot of the things, which Germany, the US and Turkey along with Saudi Arabia have been complicit in; they have really been responsible for it. It is a shame for Greeks as well that this burden, this economic cost might be shifted to them. Meanwhile, many refugees stuck in Greece will have no way of life. Returning them to Syria would be a bigger problem. It is a non-solution.
RT: Mass deportation seems draconian to some, but is it the only solution to a migrant crisis, which has now reached epic proportions?
JF: I reject the framework of thinking that a solution has to be made within the context of an aggressive pro-war alliance, which Europe and Turkey have taken a part in Syria. That is what needs to come to an end. Journalists, analysts, pundits need to focus their attention on the countries that are financing and fueling the terrorists in Syria. Once that stops then the process of reconstructing Syria can begin: recreation of millions of new jobs; there will be a need for capital influx from other countries, perhaps BRICS countries, to restore and rebuild Syria. There will be employment for millions of engineers, shopkeepers and all the other people once you have people returning to work.
The statements, views and opinions expressed in this column are solely those of the author and do not necessarily represent those of RT.
You can share this story on social media: