While US talks terrorism at nuke summit in DC, Russia fights terrorism in Syria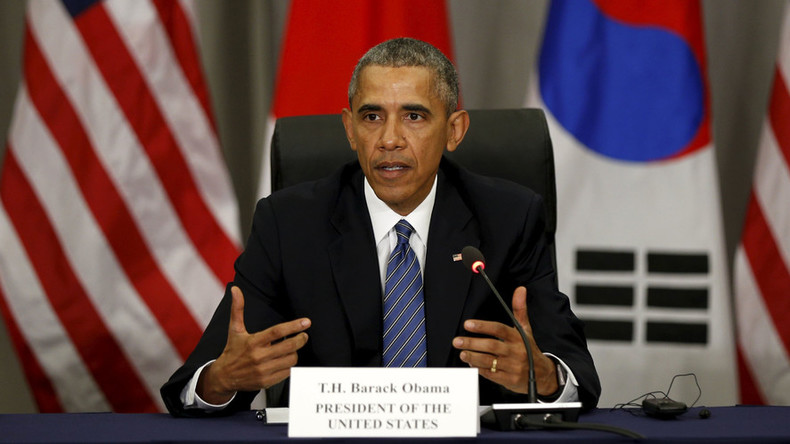 Obama's nuclear summit in Washington has been overshadowed by the absence of Russia. It is an absence that stands as an indictment of the lack of harmony and cooperation that continues to exist despite the growth of international terrorism.
The threat to nuclear security posed by global terrorism is one of the most dangerous the world has ever faced. The potential consequences of radical extremists getting their hands on a nuclear device, or being able to manufacture their own – i.e. a dirty bomb – are catastrophic. With this in mind, and given the proliferation of terrorism and the need to defeat it, never has it been more important for the world's major powers to work in close cooperation and harmony to meet a threat that is no respecter of borders or cultures, as the mounting series of atrocities we have witnessed attests. Yet still there remains a staggering lack of will on the part of the US Government to treat the threat with the seriousness it demands.
The two-day summit in Washington, bringing together about 50 heads of state, is the fourth nuclear summit hosted by Obama. They are the brainchild of his administration and as such completely arbitrary and shorn of international legitimacy, undermining in the process the role and status of the International Atomic Energy Agency (IAEA), the UN's official nuclear agency. It constitutes further evidence of Washington's attachment to the outdated and antiquated belief in a unipolar world, in which its interests and leadership are divinely decreed as paramount.
"We have to do even more to prevent the flow of foreign terrorist fighters...we all have a role to play" —@POTUS to global leaders

— The White House (@WhiteHouse) April 1, 2016
The absurdity of the economic sanctions that continue to be in place against Russia at the behest of Washington, over the Ukrainian crisis, are rendered even more absurd when placed alongside Russia's effective leadership when it comes to confronting the menace of Islamic State (IS, formerly ISIS/ISIL) in Syria. Moscow's role in this struggle, which bore fruit most recently with the liberation of Palmyra, stands in contrast to the double dealing and malign role played by NATO member and US ally, Turkey, when it comes to IS and other terrorist groups that have descended on Syria.
This is an important point to make in light of the statement made by senior White House National Security Council official, Ben Rhodes, to the international media in response to Russia's non-attendance. "Frankly, all they're doing is isolating themselves in not participating," he claimed.
You would find it hard to find a more elastic interpretation of the word "isolated" than this. Rather than isolated, Russia could not be anymore engaged in world affairs if it tried. In Syria, as mentioned, it is leading from the front in conjunction with the Syrian, Iranian, and Iraqi governments in taking the fight to IS and other terrorist groups. It is a military campaign that has been combined with a peace process that has succeeded in securing a ceasefire between pro-government forces and elements of the Syrian opposition, taking the first crucial steps towards a negotiated settlement to the conflict with an eye on Syria's reconstruction in the months and years ahead.
The aforementioned are not the actions of a country that exists in isolation. On the contrary, they are confirmation of Russia's commitment to meeting the threat posed by terrorism with action rather than words. Palmyra's liberation, it should be recalled, was an event that met with deafening silence in London and received grudging acknowledgment in Washington.
When it comes to the issue of nuclear weapons or material falling into the hands of terrorist groups, the news that in February the authorities in Belgium uncovered surveillance footage of a top Belgian nuclear official while searching the home of a man connected to the terrorist attack in Paris last November, serves as a chilling warning of the folly of allowing ourselves to lapse into complacency. Taken together with the revelation that the security measures currently in place at some of the airbases and facilities in Europe that are hosting US nuclear bombs are woefully inadequate, we are entitled to concede a growing sense of alarm. Placed alongside the determination of IS to turn Europe into a second front in its attempt to alleviate the huge pressure it is under in Syria, the fact that US nuclear weapons are being housed in less than secure circumstances does nothing to instill confidence in the status quo.
In 2016, the need for international cooperation on the issue of nuclear weapons and materiel has never been more pressing. However, before this cooperation can become an accomplished fact, the on-going attempt to isolate Russia with economic sanctions is untenable.
With this in mind, President Obama's use of the word "madmen" to describe the kind of people that would like nothing better than to get their hands on a nuclear bomb, homemade or otherwise, is a word that could also be reasonably applied to leading figures in Washington – people for whom the enemy isn't so much Islamic State as it is Putin.
The statements, views and opinions expressed in this column are solely those of the author and do not necessarily represent those of RT.
You can share this story on social media: