Blow up Brussels; you are a 'terrorist.' Blow up Moscow; you are an 'insurgent.'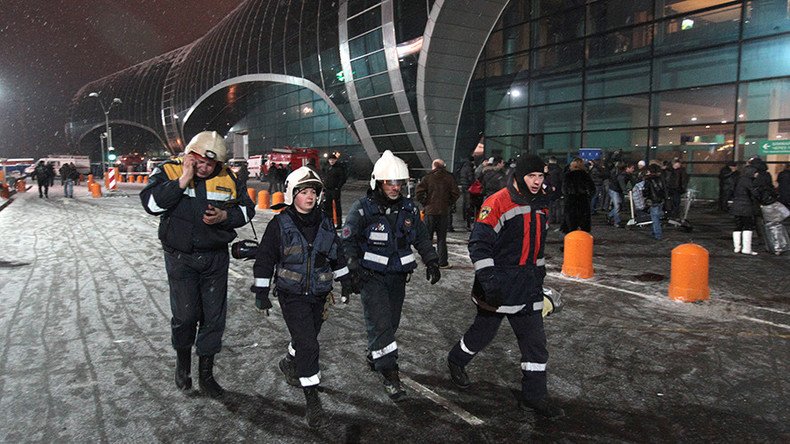 Words matter. The Western media response to two airport bombings, five years apart, offers an insight into how atrocities in Russia and the West are treated very differently.
Domodedovo, Moscow. Monday 24 January 2011. At 16.32 local time, a suicide bomber detonated a massive explosion in the International Arrivals Hall of Moscow's busiest airport. The attack left 37 people dead and 173 injured.
Tuesday's horrific events in Brussels brought flashbacks of that dreadful day. Except the death toll appears to have been significantly lower at Zaventem airport. As I write, eleven are confirmed to have lost their lives there and over 100 are reported hurt. Of course, the Maelbeek metro outrage had a greater impact, with estimates of 20 innocents butchered there. These tallies may rise.
Personally, Domodedovo impacted me more. For the simple reason that at 11.32 that morning, I landed at the airport following an eight hour Transaero flight from Khabarovsk. Sure, I arrived at the domestic terminal and had already safely made it to central Moscow by the time of the blast, but relative proximity to such destruction does serve to concentrate the mind. Naturally, "what if" scenarios tend to raise their ugly head.
Radio Ga Ga
That evening, I did two live reports on Irish radio. What struck me as odd was both presenters' strong insistence that the bomb was retaliation by Chechen rebels for Kremlin 'aggression' in their region. I countered by asking why target 'International Arrivals,' if the objective was to avenge domestic grievances? The explosion could easily have hit 37 Americans off a flight from New York or 37 Koreans, arriving from Seoul. It just didn't really make sense. Eventually, it was revealed that citizens of Austria, Germany, Ukraine and the United Kingdom were among the dead.
Later, when I digested the Western media response, the penny dropped. The radio hosts, though both great professionals, wouldn't have much knowledge of Russia. Thus, they were totally reliant on American and British sources for research.
Sadly, most of the initial Western reports were wildly speculative and, ultimately, way off the mark. ABC News pinned events on Chechen 'black widow' operatives, for instance.
Meanwhile, the Huffington Post insisted that "suspicion is likely to fall, however, on Islamist separatist insurgents from Chechnya."
Eventually, the assailant was identified as Magomed Yevloyev from Ingushetia. Yevloyev was a man and he wasn't Chechen. Overall responsibility was claimed by Doku Umarov's 'Caucasus Emirate,' a terrorist group linked to Al-Qaeda. The 'Caucasus Emirate' hopes to expel the Russian state from its southern regions and establish an Islamic emirate there. This is similar to ISIS's ambitions in Iraq and Syria. Also, investigators discovered that the bombing "was aimed 'first and foremost' at foreign citizens. That explained why the International terminal was selected.
Bias and deceit
The following morning, I had another radio slot, on Dublin's Newstalk Breakfast. Before going on air, the researcher raised some strange points. I asked him where he got his information and he replied that he'd used The Guardian's report as a reference.
Immediately after my appearance, I accessed the Guardian's website and digested their coverage. Written by Luke Harding and Tom Parfitt, it was astonishing in its bias and deceit. The only saving grace was that unlike the American reports, it actually mentioned the 'Caucasus Emirate.'
Nevertheless, the, far-from-dynamic, duo explained that "across its mountainous southern frontier the Russian state is fighting a group of determined and well-organized insurgents." They continued by alleging that "the Kremlin has responded to this threat to its integrity with characteristic brutality."
Rather than describing an extremist terrorist organization as "an extremist terrorist organization," The Guardian pair designated them as "insurgents." This is absolutely the same as calling ISIS "insurgents," "rebels" or "freedom fighters" - something no rational media outlet would ever do. Harding and Parfitt also accused the Kremlin of "brutality" in fighting the crazed loons. What would they have suggested?
That (then) President Medvedev dispatched a negotiating team to appeal to the thug's better nature? Has the Guardian ever suggested that the West attempt mediation with ISIS?
At the time, I had no idea who Harding was. A few years later, I interacted with him on Twitter. He published a Guardian interview with the virulently anti-Russian Finnish writer, Sofi Oksanen. As I found it oddly interesting, I tweeted it.
Soon after, a follower pointed out a major factual error, which I had missed.
In his copy, Harding alleged that "she began writing When the Doves Disappeared in 2007. President Putin had declared Estonia an enemy state." I searched and searched online but I simply could not find (in Russian or English) any reference to Putin describing Estonia as an "enemy state." So, an hour later, I decided to directly tweet Harding myself to see could he provide evidence to back up his allegation. I discovered he'd already blocked me.
It's pretty fair to say that his lack of professionalism, and pettiness, was quite astounding.
Double standards
Since I began covering Russian affairs, the chicanery in how Russia's actions are portrayed in the Western media has never failed to amaze me. Journalists in Moscow believe they can write any old nonsense and suffer no consequences. Thus, much of what is dispatched from this country is complete baloney. The same goes for analysts, who can suggest the most outlandish hogwash, while nobody bats an eyelid. Even more remarkably, some people used by Western broadcasters as "Russian experts," have never actually been to Russia.
I can't think of anyone who has ever suffered serious damage to their career for being hopelessly wrong about Russia. In fact, it seems to have the opposite effect. Of course, this translates to horrendously poor journalistic standards.
Yesterday in Brussels, the perpetrators of the attacks were rightly described as terrorists. Indeed, as ISIS has accepted responsibility, Belgium is now well within its rights to tackle the organization. What makes this different from 2011, is that Western media reports have not sought, for instance, to justify ISIS' actions by drawing attention to NATO's 2011 assault on Libya (in which Belgium participated).
It's also fair to argue that Brussels has become something of a jihadist capital. The fact that it houses the headquarters of both the EU and NATO is perhaps very relevant in this context. There is probably a debate to be had about whether NATO's security efforts have much value, when the very city that hosts the alliance is so vulnerable. But these are issues for another day. It's simply not appropriate to raise them in initial coverage, even if that didn't stop Western outlets from doing exactly that after Domodedovo. That's because there is no justification for what ISIS did in Brussels.
There was also no rational vindication for the Domodedovo bombing. Yet, the same media attempted to somehow defend the act as understandable in light of other factors. Thus, when you attack Russia you are a "freedom fighter," but when you attack the EU, you are a "terrorist." This is morally heinous.
The statements, views and opinions expressed in this column are solely those of the author and do not necessarily represent those of RT.
You can share this story on social media: