Erdogan 'the wrong ally': Voices rise against Turkish repression of Kurds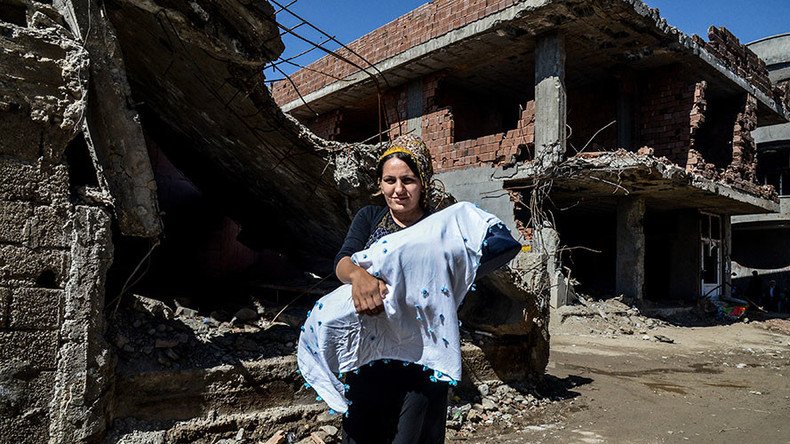 How will the UNHRC respond to RT's call for an investigation into allegations of Turkish atrocities in the Kurdish region? Why has Ankara so far escaped international condemnation? How can the situation in the region be improved?
RT has started a petition urging the UN to look into alleged Turkish atrocities against its Kurdish population.
RT's petition on Change.org: We urge UNHRC to investigate alleged mass killing of Kurds in Turkey
Last month, Kurdish activists accused Ankara of burning alive up to 150 people in the city of Cizre in Turkey's southeastern Sirnak province.
An RT team went to the city to examine the situation on the ground. Correspondent William Whiteman witnessed scenes of complete destruction in the area.
RT contacted a number of international organizations asking whether they were planning to investigate the claims of atrocities by Turkish forces against civilians, and if any statements would be made. None of them have responded in detail, citing a variety of reasons.
Turkey denies targeting civilians, and officially describes its mission as an "anti-terror operation," insisting it will continue its action against the outlawed Kurdistan Workers' Party (PKK).
According to Kurdish human rights activist Azad Dewani, "many human rights organizations are influenced by policies of states and are not independent in their reports."
In his words, the Ankara's approach to the Kurdish region "is not different from any repressive military regimes," and "it has always blocked any kind of independent reporting from" the area.
"The international community never felt responsible for the plight of Kurds in Turkey," he told RT. "The EU is busy with its migrants to deal with Turkey and it seems that some EU members have already made concessions to Erdogan regarding human rights.The US also considers Turkey as an important ally and has so far distanced itself from annoying the Turks with actual criticism regarding the crimes against humanity in the Kurdish region," he told RT.
Belgian MEP Gerolf Annemans says it was a mistake for the West to "get into the same boat" with Turkey and it's time to halt that alliance.
"The link of the West - let it be NATO or the EU - with the Turkish regime shows that we have the wrong friend. We see not only what they [Erdogan regime] do with the Turks, but also with journalists, with freedom of speech, with all kinds of Western values. We clearly can see now that it was a failure to go into the same boat with Mr. Erdogan and his regime. He is the wrong ally," he told RT. "Also knowing that Erdogan doesn't respect any Western values, I say: stop this alliance with Turkey, let Mr. Erdogan pay the price for the way he treats human beings."
The MEP suggests that "Kurdistan will be an independent state someday – that is historical inevitability that it happens."
Leading UK Labour Party member Ken Livingstone says the Turkish government should give Kurds a choice and allow them to decide on their future via a referendum.
"We've had basically 100 years of the Kurds being in Turkey and not wanting to be in Turkey. Often it has been fairly peaceful and quite, but they often weren't represented properly in the Turkish Parliament. It is the legacy of the Ottoman Empire," he said. "I think the Turkish government should do what we did here in Britain, when a lot of people in Scotland said they wanted independence. We allowed them a referendum to make that decision. And the Kurds should be given a choice about whether to stay in Turkey, or have their own Kurdish Republic."
The trouble is, Livingstone told RT, "a lot of people are now desperate to support Turkey" as they see it as a "frontline in the wave of Syrian refugees" escaping from the war.
"They see Turkey as a potential stabilizing force. Both governments and some of the media will turn a blind eye to this," he added.
Dr. Nidal Kabalan, a former Syrian ambassador to Turkey, says Turkey should "for once" play a positive role "in controlling the ongoing flow of terrorists through its borders."
He proposes "it is for Erdogan and Ahmet Davutoglu and their government to resume peace talks with the Kurds of Turkey and to reassure them as a major component of Turkish society."
"Then Turkey and Syria hopefully can cooperate positively after Turkey stops supporting, and financing and smuggling terrorists through the borders; to find a solution to accommodate the ambitions and goals of the Kurdish minorities both in Syria and in Turkey," he said.
Former US congresswoman Cynthia McKinney wrote in a comment for RT: "If Turkey doesn't want the Kurdish 'card' played against it, it should render Kurdish complaints moot by changing its policies so that Turkish Kurds are accorded recognition and the dignity and respect experienced by other Turkish citizens. Turkey's failure to do so, choosing instead to massacre Kurds living within its borders, places Turkey in breach of international law for crimes against humanity and under serious scrutiny for genocide."
The statements, views and opinions expressed in this column are solely those of the author and do not necessarily represent those of RT.
You can share this story on social media: