Ankara blast: Convenient excuse for Erdogan to hunt Kurds 'everywhere'?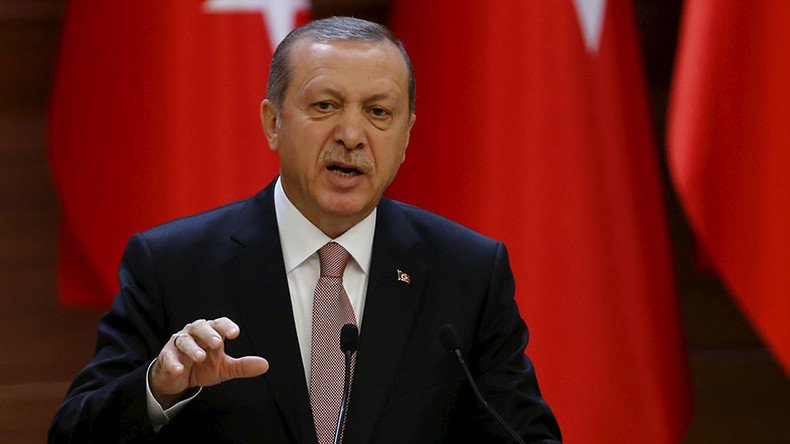 Hours after the deadly bombing in Ankara, Turkey vowed to "exert more efforts" to punish the perpetrators, rushing to suspect the Kurds. However, experts suggest that accusing the PKK is a "politically convenient" move for Turkey to intensify its crackdown.
A large explosion hit three military vehicles near parliament buildings in the Turkish capital, claiming the lives of at least 28 people and leaving 61 wounded. Speaking after the terrorist attack, President Tayyip Erdogan said his country is now more than ever determined to "defend itself."
"We will continue our struggle against these pawns, which carried out these attacks that had no moral or humane boundaries and the powers behind them every day in a more determined manner," he said in an official statement, avoiding any direct accusations.
Erdogan promised to retaliate "everywhere" possible to avenge the deaths of those killed on Wednesday and in previous attacks.
READ MORE: At least 28 dead, 61 injured as blast hits military bus in Turkish capital Ankara
"It must be known that Turkey will not hesitate to use its legitimate right to defend itself always, everywhere and under any circumstances," he said. "The losses we suffered during the last attack and in previous attacks and clashes tear our hearts out, but also sharpen our resolution and impel us to exert more efforts."
Several hours after the bombing, no group has claimed responsibility, leaving the door open for speculations and accusations.
An unnamed Turkish security official told Reuters that the bombing had the "initial signs" of a Kurdistan Workers' Party (PKK) attack. Other sources suggested that Islamic State militants (IS, formerly ISIS/ISIL) were to blame.
"Let's not forget that whenever something like that happens inside Turkey, the first place that they are going to point the finger is going to be the PKK," Daniel Wagner, CEO of Country Risk Solutions told RT. He believes that Islamic State is "the likelier root of the cause."
"If you look at some of the previous attacks, how successful they've been, the number of casualties that they've had in the recent months, it certainly seems to have a hallmark of Islamic State," Solutions said. Yet, he adds, the Turkish government is quick to point the finger at the PKK.
"Of course, it is politically convenient for them to do that as they are waging an enhanced war against the PKK," he said.
Thus last year, roughly two weeks after a twin suicide attack, allegedly ordered by IS killed 102 people during a peaceful rally in Ankara on October 10, the Turkish military shelled Kurdish fighters in northern Syria.
"Turkey has been waging an aggressive war against Kurdish civilians, not just Kurdish military personnel – they have been doing it for over 20 years, so there is a lot of long-standing bad blood between the Kurds and the Turks," former CIA intelligence officer, Larry Johnson, told RT, stressing that the PKK's involvement in Wednesday's attack, even if turns out to be true, would not be surprising.
"In any event, Turkey is going to use this as a justification for more aggressive military action outside of Turkey," Johnson thinks.
The bombing on Wednesday in Ankara is the latest in a cycle of violence that has hit Turkey since July 7, 2015, when an IS attack killed 33 in the town of Suruc. The latest bombing came a little over a month since an attack in Istanbul, which killed 11 German tourists. According to the Anadolu agency, by last October, terror acts had claimed the lives of 145 Turkish security forces and 137 civilians in 98 days.
"After the four bombings that happened and it was announced by ISIS that it was staged, the current government was again busy putting the blame on Kurds," Firat Demir, an international political expert, told RT.
Turkey has been facing harsh criticism over its ongoing shelling of Kurdish and Syrian government forces in the vicinity of Azaz. Ankara says it wants to create "a secure strip, including Azaz, 10km deep inside Syria and this zone should be free from clashes."
However, President Erdogan mentioned on Wednesday that Ankara does not intend to stop shelling Syrian Kurdish YPG militia.
"They tell us to stop shelling" the Kurds in Syria, Erdogan said over a televised address. "Forgive me, but there is no question of us doing such a thing."
READ MORE: 'We have proof' Turkey backs ISIS & other terrorists – Kurdish commander
"Today, the rules of engagement may only cover responding to armed attacks on our nation. But if needed, tomorrow the same rules can be expanded to include all sorts of threats to our country," he said, warning "no one should doubt that."
The statements, views and opinions expressed in this column are solely those of the author and do not necessarily represent those of RT.
You can share this story on social media: