UK's Cameron covertly helping House of Saud's military offensive in Yemen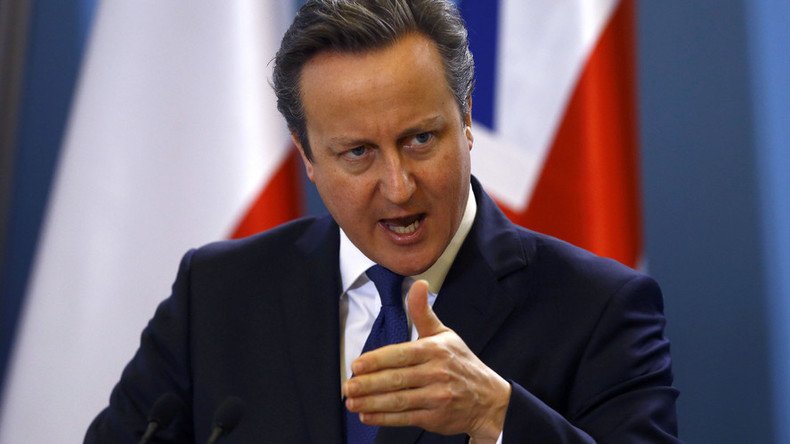 Britain's veneer is cracking. If ever anyone was left to believe that London still stands for all things fair and democratic, PM David Cameron's love affair with al-Saud should have long dissolved any such naivety.
An oligarchy in civil clothing, Britain's inner political nature came out to play. Powered by Saudi billions, the UK has become a war enabler, a mercenary army and somewhat of a military proxy sold to the will of al-Saud absolute monarchy.
A self-proclaimed advocate for civil liberties and human rights, PM Cameron has had no qualms in backing, propping and powering Saudi Arabia's illegal war in Yemen, on account London and Riyadh have entertained a long-standing friendship, sealed in multi-billions military contracts.
But if Britain Establishment thought itself clever in Yemen – acting not on the military front, but the covert power behind al-Saud war machine, the little jest was outed by the press this January, as claims surfaced Cameron could indeed be breaking international law, notwithstanding common decency.
Ever the loyal friend and ally, Britain offered Saudi Arabia both its military expertise and technology, to secure Riyadh's victory against impoverished Yemen: this one nation in Southern Arabia which for the past 10 months has withstood the assault of several regional powers: Saudi Arabia, Egypt, the UAE, Kuwait, Sudan, Qatar, Bahrain… the list goes on!
The most unreported conflict of the past decade, Yemen's war remains nevertheless profoundly illegal and amoral – an imperial effort spent towards the political enslavement of a nation by Wahhabi Saudi Arabia: the fountainhead of all things radical.
While I will admit that politics might require for certain sacrifices to be made as far as moral and ethics are concerned - it would be foolish and dangerously naïve to believe otherwise - there are lines which should never be crossed: i.e. the engineered genocide of a people on account of faith.
It was ISIL, I believe, which made its agenda against Muslims extensively clear this month when it published in its magazine a painfully long essay on those factions within Islam which Wahhabism considers a waste of space – mainly all. And since Wahhabism is the faith professed by Riyadh, the only faith worth having if one wishes to keep one's head on one's shoulder, it can therefore be assumed that Yemen is actually serving as a eugenicist blueprint, the institutionalization of terror by a state.
Thank you, Britain, for being instrumental in Saudi Arabia's religious cleansing!
Newly-published Department for Business, Innovation & Skills figures show that in the third quarter of last year, the UK granted over £1bn worth of arms export licenses for Saudi Arabia, despite overwhelming evidence of massive human rights violations committed by the Saudi-led coalition in its aerial bombing campaign in Yemen. During this period the UK granted 49 export licenses to the kingdom, amounting to a whopping £1.08 bln. If that's not war profiteering I don't know what is.
But the crazy train does not stop here. Britain did much more than just arm the kingdom against Yemen; it offered its war expertise and even sent its officers to sit in Riyadh's war rooms.
So much for the grandiloquent and impassioned speech Cameron delivered to the European Court of Human Rights on January, 25, 2012. "Human rights is a cause that runs deep in the British heart and long in British history. (Britain is) Driven by a belief in fundamental human rights and a passion to advance them," he declared.
Looking at Britain's policies, I think not! As Felicity Arbuthnot noted in her own commentary of the Establishment: "The British government under Prime Minister David Cameron's leadership can claim absolute consistency in just one policy: towering, jaw dropping hypocrisy."
According to Amnesty International UK's Head of Policy and Government Affairs Allan Hogarth, the UK is de facto enabling war criminals – driving a handsome profit too.
"The UK continued to dispatch huge amounts of weaponry to Saudi Arabia despite overwhelming evidence that the Saudi war machine was laying waste to Yemeni homes, schools and hospitals. As officials were signing off these sales, hundreds - possibly thousands - of Yemeni civilians were dying in a terrifying barrage of indiscriminate Saudi airstrikes in the country. Just this week we've had the prime minister complacently saying the UK has 'stringent controls' on arms exports - a completely hollow claim when you look at these figures.
The law is crystal clear: any Saudi attack, whether deliberate or not, that fails to adequately protect civilians is a violation of international law. And our obligations are equally clear - as a major supplier of Saudi Arabia's weaponry, the UK is legally obliged to suspend arms exports," said Hogarth.
In keeping with a long line of neo-con premieres: Tony Blair, Gordon Brown and David Cameron have made a career at running covert military operations, rather than bother with such tedious details as a parliamentary mandate. Why battle with legalities when one can simply hide behind nebulous national security agreements?
But rights groups are not the only actors which have caught on to Cameron's activities – politicians too have recognized the political decay 10 Downing Street is promoting.
Angus Robertson, the Scottish National Party's leader at Westminster, called for political accountability during Prime Minister's Questions. He noted, "Thousands of civilians have been killed in Yemen, including a large number by the Saudi air force and they've done that using British-built planes, with pilots who are trained by British instructors, dropping British-made bombs, who are coordinated by the Saudis in the presence of British military advisers."
He then added, "Isn't it time for the Prime Minister to admit that Britain is effectively taking part in a war in Yemen that is costing thousands of civilians lives and he has not sought parliamentary approval to do this?"
Cameron of course is adamant his position is perfectly respectable and legal. "First of all, our relationship with Saudi Arabia is important for our own security. They are opponents of Daesh and the extremism and terror [they spread]," he defended in comments to BBC Radio 4.
In truth, Britain is really playing a game of semantics in Yemen. By its own admission it has powered, trained and supported Saudi Arabia's war machine.
"We support Saudi forces through longstanding, pre-existing arrangements," an MoD spokesman was cited as saying by The Telegraph, adding that the training is necessary to ensure "best practice" and compliance with international humanitarian law.
Enough said!
The statements, views and opinions expressed in this column are solely those of the author and do not necessarily represent those of RT.
You can share this story on social media: