Anti-Semitic video uploaded by Ukrainian MP branded 'despicable and heinous'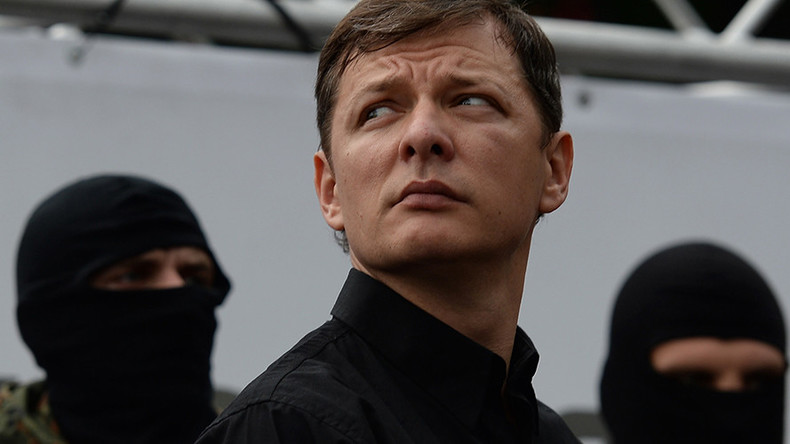 The fact that a member of the Ukrainian Radical Party has been filmed singing a song saluting Adolf Hitler is not surprising, considering the rise in anti-Semitism throughout Europe, including in France and Ukraine, Rabbi Ralph Tawil told RT.
Ukrainian lawmaker Artyom Vitko, who is on a committee to improve Ukraine-Israel ties, was filmed singing pro-Hitler songs. The video followed just days after Ukrainian President Petro Poroshenko had apologized to Israel for Ukrainian collaborators' role in the Holocaust.
READ MORE: Ukrainian lawmaker filmed singing along to neo-Nazi song, saluting Hitler
RT: A Ukrainian MP, who's on a committee to improve Ukraine-Israel ties, is filmed singing pro-Hitler songs. What was your reaction to that?
Rabbi Ralph Tawil: When I first saw it, I thought it was despicable and heinous, but I was not surprised because we see the rise of anti-Semitism throughout Europe, Ukraine included. And we are also seeing the rise of the radical right-wing parties like in France [the National Front]; and the Radical Party by Oleg Lyashko in Ukraine. So, I am not surprised by it, even though it is despicable.
RT: Will Tel Aviv let this lie?
RRT: I think that [Petro] Poroshenko made the apology and that took a lot of courage. In order to really prevent another Holocaust or another mass genocide - if necessary - not only to apologize, but to make sure that it doesn't happen again. So I think that Tel Aviv will make an issue of it and request that such incitement be not allowed in [the] Ukrainian parliament. And that would really be a courageous act for Poroshenko, for the president, but one that should be done.
RT: Could this incident affect Ukraine's hopes to improve ties with Europe?
RRT: Europe is dealing with this problem or not dealing with it – it is widespread throughout Europe. Every European country has its own racist and right-wing movements that are gaining power. So I think that Europe unfortunately will not react to it. However, they should react to it as part of their attempt to make sure such a genocide of any people does not recur.
RT: How concerning is the fact that the man praising Hitler is a member of the Ukrainian parliament? What kind of backlash do you expect?
RRT: The real problem is that Vitko, being a party lackey, is doing what Lyashko, his party leader, said and just continuing. The fact that it is with music, that it was raised to YouTube, shows that there is a following, shows that there are people that want to hear this. The fact that it's played on the radio and on YouTube and that he uploaded it shows that there is a following for this. And the fact that it's music also touches an important chord. We know that, for example, that DAESH/ISIS/ISIL uses music in all their videos to inspire these atrocities. I am afraid that if more music like this gets uploaded, with Ukrainian parliamentary members singing it and performing it, it would lead to a strengthening of the anti-Semitic, racist parties like the Radical Party [of Oleg Lyashko] in Ukraine.
The statements, views and opinions expressed in this column are solely those of the author and do not necessarily represent those of RT.
You can share this story on social media: