Ukrainian lawmaker filmed singing along to neo-Nazi song, saluting Hitler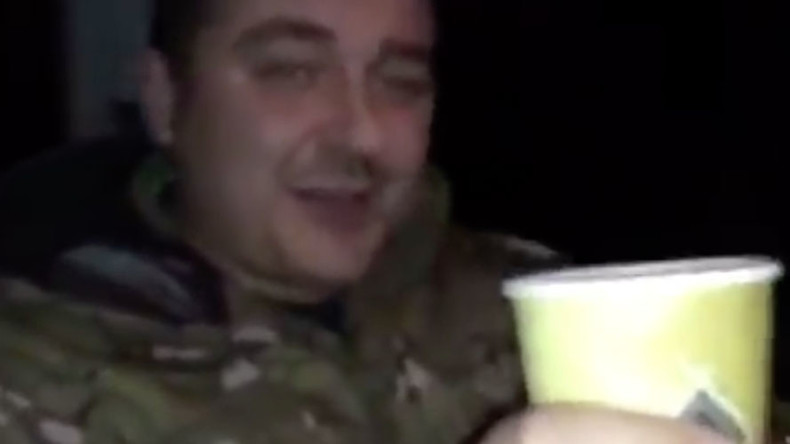 Days after Ukraine's President Poroshenko apologized before the Israeli parliament for the role of Ukrainian collaborators in the Holocaust, a video emerged showing a far-right Ukrainian lawmaker singing along to a neo-Nazi song and saluting Adolf Hitler.
The footage, which appeared online over the past weekend, shows Artyom Vitko, a member of Oleg Lyashko's Radical Party, wearing camouflage fatigues and singing along to a song praising the Nazi leader.
"Adolf Hitler is together with us, Adolf Hitler is in each of us, and an eagle with iron wings will help us at the right time," the song goes. Vitko, the former commander of the Kiev-backed Lugansk-1 Battalion in eastern Ukraine, is then seen saluting Hitler with a bottle of water.
Efraim Zuroff of the Simon Wiesenthal Center told the Jerusalem Post that "the sight of a member of the Ukrainian parliament singing a song praising Hitler underscores the extremely deep problem in today's Ukrainian democracy …to rewrite the narrative of World War II and the Holocaust."
"The fact that the Ukrainian authorities honor groups which actively participated in the murder of Jews during the Holocaust and glorify their leaders sends a message that delegitimizes the accurate historical narrative, and paves the way for disgusting scenes like this one," he added.
The controversial video was released just days after Ukrainian President Petro Poroshenko spoke before the Knesset, apologizing for the role Ukrainian collaborators played in the Holocaust.
"We must remember the negative events in history, when collaborators helped the Nazis seek the Final Solution," Poroshenko said last Wednesday.
Following its establishment, Ukraine asked for forgiveness, and I am doing it now at the Israeli Knesset in front of the children and grandchildren of victims of the Holocaust, who experienced that horror first hand. I am doing this in front of all the citizens of Israel."
However, not everyone in Ukrainian Parliament supported such stance. Oleg Lyashko, the leader of the Radical Party that Vitko belongs to, lashed out at the Ukrainian president for his apologies before Israel, saying that "this kind of humiliation of Ukrainians has not been recorded in our history yet."