'Turkey's porous border lets ISIS & Taliban profit from heroin trade'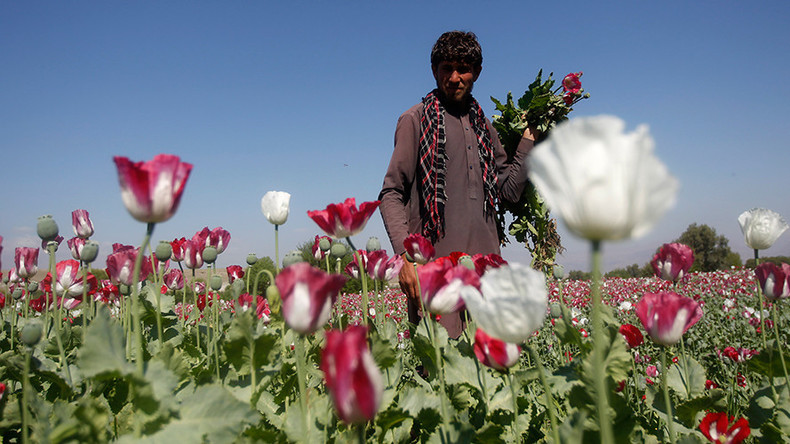 Russian and Afghan authorities have conducted an investigation and it appears that opium, the raw material in heroin production, is making its way to Turkey, says defense analyst Ivan Eland.
Russian and Afghan drug police have conducted a joint operation in north-eastern Afghanistan. Authorities seized 600 kilograms of opium which Russian officials say was on its way to Turkey via Iran. Moscow claims Turkish labs are processing opium into heroin for distribution in Russia and Europe.
RT: Why is Russia so sure that the opium was bound for Turkey?
Ivan Eland: It seems that they've done an investigation with the Afghan authorities and that seems to be the route that they are taking. Of course, we have to keep in mind that there is also a dispute now between Turkey and Russia over the air defense thing. The air defenses of Turkey shot down a Russian aircraft, so it's all in the mix of the Turkish-Russian dispute, I think.
RT: Is the Turkish government doing anything to stop the flow of drugs?
IE: I think, yes. I think there has been a lot of criticism that they don't monitor their southern border very much and that enables ISIS to make money off drugs and, of course, anybody else going through there could have a drug route as well.
RT: Will Islamic State try to control the opium production in Afghanistan now that the group has a hold on the country?
IE: Yes, a lot of these insurgency movements still make money off drugs, and the Taliban has been one of the kings of doing that. So I think Helmand province had a lot of symbolic meaning for British and American forces, and also the drug trade and its strategic location as well.
The real problem is if you eradicate the drugs the farmers just support the Taliban. And if you don't eradicate the drugs the Taliban get the revenue. So, no matter what you do it is probably going to end up helping the Taliban. The more control they have of the territory of the province, the more they are going to be able to profit from the drug trade which, of course, fills their coffers with money and makes them stronger. And they have gotten stronger over the last year.
RT: What measures can be taken by the West to prevent ISIS benefiting financially from the drugs trade?
IE: Probably, it is intractable. We're now trying to fight the war with much fewer troops than we had before the US coalition forces; a lot of them withdrew and there are still some there but they are fewer. The Afghan forces – the US and coalition have trained them for a decade or so - and they are still not that good. They still have a problem fighting the Taliban, so it looks pretty grim actually as far as preventing the Taliban from making a lot of gains in various regions of the country. Even in the north the Taliban took over Kunduz for a while, and that's been an area that hasn't been affected by the Taliban in the past.
RT: Do you see more troops being sent to Afghanistan in response to this?
IE: I hope not, but we have the same problem like when the US went back into Iraq. Once you go into one of this places - "if you break it, you bought it" – the famous saying of Colin Powell, but I think that it is really true. There probably will be some pressure to put troops back in if things keep going the way they are. I hope that doesn't happen because I think we just have to cut our losses in places like this - in Iraq and in Afghanistan – that we've lost. In Iraq, we haven't done that. We're ramping up the escalation train again. In Afghanistan it could happen as well.
The statements, views and opinions expressed in this column are solely those of the author and do not necessarily represent those of RT.