Merkel: Person or 'Un-person' of the Year'?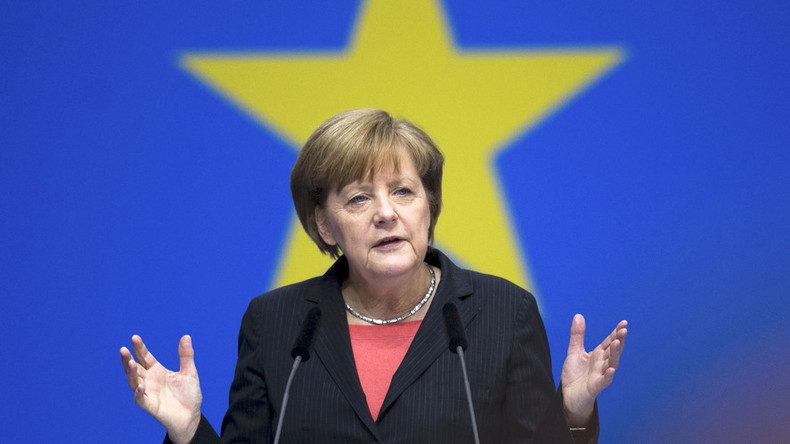 Angela Merkel separates Germany into those who support her on immigration policy and those against, says Hugh Bronson of the Alternative for Germany Party. The gap is widening because people who don't agree are not heard and their concerns are not taken seriously, he adds.
German Chancellor Angela Merkel was named Person of the Year by Time Magazine. Amongst the reasons the magazine cited is her role in solving Europe's crisis over Greek debt and the Chancellor's handling of the refugee crisis.
RT: Does a title like this really mean anything?
Hugh Bronson: No, it doesn't really mean very much. If you just look at who else is on the list: number two is the IS warlord, number three is Mr. Donald Trump. I think Person of the Year only means how much you've moved people - that can be for the better or for the worst.
RT: The magazine says Chancellor Merkel had provided "steadfast moral leadership in a world where it is in short supply." Do you agree with that?
HB: I am afraid I completely disagree with that. If it is moral leadership, why didn't she ask the German people if they really want to accept one million migrants into this country? This has happened in the last month, 300,000 migrants have not even registered. They are in Germany, somewhere, we don't know where, we don't know what they are doing. People are distressed; the communities have to deal with this. And they are at a breaking point. So, moral leadership - I don't think so.
RT: Her immigration policies haven't exactly united Germany, have they?
HB: Ms. Merkel separated the country into those who support her on this issue and those who don't. And this gap is widening. Because those people who don't agree on this kind of policy are not being heard, their concerns are not being taken seriously. The Germans don't really see Angela Merkel as the Person of the Year. Well, from my point of view, and from the point of view of the Alternative for Germany. Merkel has been in power for 10 years - 10 years is enough. I say, Merkel is not the person of the year; she is the 'un-person' of the year. She should pack her things and go.
RT: How successful were the Chancellors' policies implemented during the Greek economic crisis?
HB: You can only pray so if you don't take it into account the sheer numbers. The Greek debt is about 320 billion; 240 billion in total was paid as bailout money. The vast amount of that money comes from Germany. In the end it will be the tax payers, the small earners who will actually have to foot the bill. There is no question about that. On a footnote so to say, I don't really understand why Merkel truly is the Person of the Year. I mean, TIME Magazine is an American magazine. On the Statue of Liberty it says: "Bring me your poor, bring your tired, bring the huddled masses…" So, why doesn't TIME magazine take Ms. Merkel to America, because it is exactly what she will do. She will open the gates, there is no control, throw away the passports, then you can't be sent back, "here is $500, if it is not enough - here is $700, bring your friends, bring your family." And one million refugees will turn into five million. I know that Donald Trump is not exactly a friend of this kind of policy. I'd love to see Angela Merkel and Donald Trump as a circus act. And I am sure people would pay to see that.
The statements, views and opinions expressed in this column are solely those of the author and do not necessarily represent those of RT.