The Warsaw Pact is dead, so why is NATO still alive?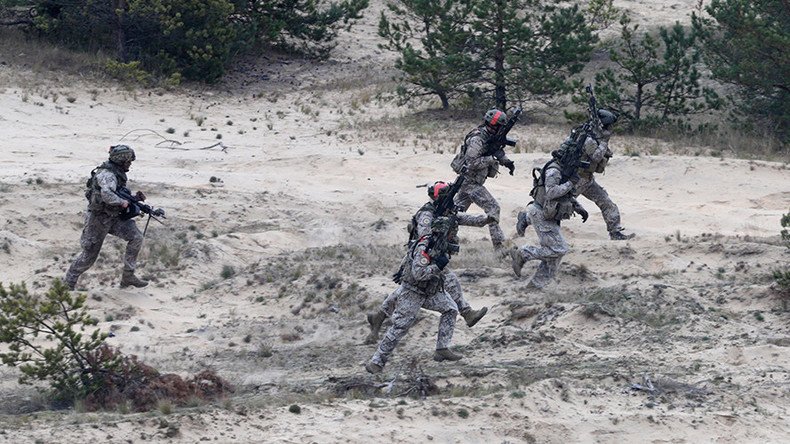 The North Atlantic Treaty Organization has no defined purpose other than to continuously engage in conflict and antagonize Russia. With the Soviet Union a distant memory, the Western military bloc should be disbanded.
Imagine a kitchen fully equipped with the latest cooking gadgets, stocked up with the freshest and best quality produce and staffed with the most highly trained chefs on the planet. Now imagine these passionate cooks, whose lives revolve around the art of gastronomy, are told that while they have to stay in that kitchen, they cannot cook... not unless there is a dinner party to cater for.
Wouldn't these chefs, eager to use those groceries and cooking appliances be tempted to find any excuse to host a party which would lead them to live out their passion? When the world is at peace, the men and women of NATO, a military outfit entirely dedicated to warfare, must feel like these skilled chefs left redundant in a professional kitchen.
Their raison d'être is war; they need it to justify their existence.
Unlike state armies that exist to protect the integrity of the nation, NATO has no defined purpose other than to continuously engage in conflict. This explains the organization's eagerness to go to war, when so many times, diplomacy is the answer.
What is NATO?
In the aftermath of the World War II, the North Atlantic Treaty Organization was formed as a bulwark against Soviet expansion. In response, the Warsaw Pact was signed, aimed at giving equal protection to Soviet Russia and its allies against Western imperialism.
When the Soviet Union collapsed in 1991 it became apparent that the Warsaw Pact would no longer be necessary and was consequently declared 'at an end' in February of that year. In the spirit of buried hatchets and a return to normalized relations, dismantling NATO should have been the natural response.
Instead NATO was not only maintained, it was expanded.
The months and years that followed the fall of the Soviet Union were characterized by economic hardship for the smaller, resource-dependent nations that were once dependent on the Soviet Union for their survival. These struggling economies struck deals with Western nations in the hope of economic benefits that would extract them from the likely specter of severe economic breakdown.
Tragically, however, the aid packages came with hefty price tags and, in a bid to be welcomed into the now more prosperous Western fold, the former Warsaw Pact countries were lured into the membership of the US-led military bloc. The move was not only crass. In light of the difficulties faced by these small nations coming to terms with massive changes, it was a very blatant and hostile act towards a Russia that no longer posed a threat.
Hungary, Czech Republic and most notably Poland were the first to join NATO, soon followed by Estonia Latvia and Bulgaria some five years later. By 2009, NATO bases were all around Russia. Since then, NATO has been involved in a number of wars around Europe and the Middle East with devastating long term consequences for those bearing the brunt of its formidable bombing capabilities.
One of NATO's first victims came in 1999 in Yugoslavia, which eventually disintegrated thanks to the US, which was keen to operate the age old rule of 'divide and conquer' over an already fractured Eastern Europe. When the conflict between the forces of the federal republic of Yugoslavia and the newly formed Kosovo liberation army erupted, NATO rapidly stepped in to support the essentially Muslim Kosovars. NATO attempted to justify its actions, saying the military offensive sought to stop human rights abuses in Kosovo. It also marked the first time NATO used military force without the approval of the UN Security Council.
Rising tensions between warring parties could have been mitigated, in particular from a committed Europe supposedly keen to stop yet another massacre and ethnic cleansing operations on its continent. Instead, NATO bombing raids led to hugely controversial operations that caused great loss of civilian life and destruction of vital infrastructure.
Supported by the much-discredited former British PM Tony Blair, the war would become instrumental in selling NATO to Muslim peoples as a Muslim friendly outfit working for its benefit.
Propping up rampant nationalism and feeding into tribal and religious divisions among the various ethnic/religious groups of the once non-aligned nation, Yugoslavia collapsed and the US was eager to fuel the next conflict that would propel NATO further into Eastern Europe.
This of course despite the ongoing sanctions on Iraq by NATO American leadership which by 1999 were causing up to 3,000 deaths a month. Or in Palestine, a major sore spot for Muslim public opinion, which remained occupied by US-supported Israel and despite the lauded Oslo Agreement signed on the back of the first Gulf War.
In the years that followed the Kosovo War, whenever Muslims expressed oppositions to wars in Muslim countries - namely Afghanistan and Iraq - US and UK officials would reply that Kosovo was proof that NATO did step up to help Muslims when necessary.
That Kosovo is now a major hub for human traffickers is always absent from the positive spin pushed in favor of the US lead military intervention.
As for neighboring Albania, since 2009 it has played host to one of Europe's largest NATO bases.
The way in which NATO has gnawed into Eastern Europe has naturally incensed Russia and begs the question of how Britain would react if, say Ireland, were to host a major Russian military base. Somehow the other side's perspective is never taken into account and instead western public opinion is goaded into seeing wrong-doing in Russian interventions while downplaying its own.
Perhaps NATO's most catastrophic intervention to date, as well as its most illegal would have to be its onslaught on Libya back in 2011. What initially started out as an imposition of a no-fly zone backed by a UN mandate quickly transformed into a blatant regime-change operation.
NATO war planes were initially tasked at stopping Libyan jets from bombing the rebel city of Benghazi, where French-backed militias spoke of an upcoming massacre at the hands of the Libyan leader Muammar Gaddafi. Facts were distorted and such a massacre never occurred. Even Western-based NGOs such as Amnesty International and HRW spoke of 100 protesters and police officers killed in the first few days of protests, as opposed to the 10,000 victims being broadcast in the mainstream media.
Nevertheless, Western capitals, this time lead by France, were clamoring for another conflict. A coalition was rapidly formed and within three weeks, NATO war planes were pounding the Libyan coast destroying what took over forty years to build.
Once again courting peace brokers in the hope of averting war was set aside. NATO officials hadn't had a war in far too long and were keen to test out their latest equipment.
Speaking to the Guardian in May 2011, a British defense analyst casually dismissed the operation as an opportunity to test out military capabilities against real targets: "A lot of what they are doing out there, the analyst said, is a substitute for training that would have cost anyway."
Never mind that between 30,000 and 50,000 Libyans lost their lives according to Libyan sources, that much of the eastern coast line of the country was turned to rubble and that the power vacuum left by Gaddafi transformed Libya, once a major rampart against Al Qaeda groups operating in sub-Saharan Africa, into an ISIS powerhouse.
Once again, no chance was given to peace talks and NATO's military personnel, keen on engaging in another conflict, resorted to blind bombings until the capture and cold-blooded killing of the Libyan leader. During that time, public opinion was lead to believe that all of Libya opposed Gaddafi and that the Libyan rebels supported by the Gulf sheikdom of Qatar, were the better alternative.
And yet it took six months of continuous bombing by NATO to finally bring the leadership to its knees. Had all Libyans been in support of the NATO-backed rebels, Tripoli would have fallen within a week, a month at best. Instead, it took all the military might of the world's most sophisticated and well-equipped army to bring about the Libyan leader's demise.
Today, Syria is faced with a similar prospect. In the wake of the terrorist attacks that rocked Paris on November 13, 2015 and attributed to ISIS, Western capitals are once again baying for Arab blood. Never mind that Syrian government forces are at the forefront of the fight against the ISIS network, France is forging an alliance that will endeavor to do to Syria what it did to Libya four years ago.
No long-term strategy is being discussed but the veiled aim is to bring down the Assad government. NATO wants its war, and like the petulant child in need of its toy, its bosses in Paris, London and Washington won't quit til it gets what it wants.
The vampire outfit known as NATO that feeds on innocent blood will find it in abundance in the Middle East.
The statements, views and opinions expressed in this column are solely those of the author and do not necessarily represent those of RT.
You can share this story on social media: