Holy smoke Batman! Erdogan has to go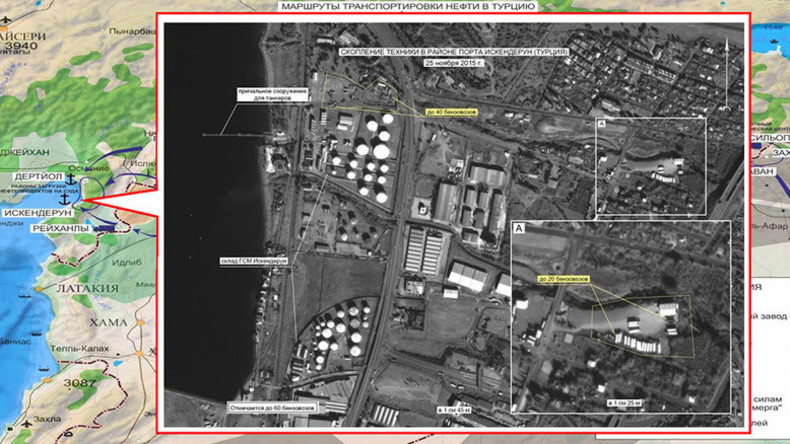 Turkish President Recep Tayyip Erdogan has been shooting from the lip over the past week since the fatal shooting down of a Russian fighter jet. He truculently denied accusations of supporting terrorism, challenging Russia to prove it. Well, holy smoke Batman!
Yes, Batman. Not the caped screen hero. Instead, we're talking about the city of the same name, located in Turkey's southeastern region. It is where Turkey's state-owned oil industry is centered.
Batman is also where the oil smuggling routes run by the Islamic State terror network are centered, according to surveillance images released this week by the Russian Defense Ministry.
Air reconnaissance photos show thousands of trucks running stolen oil from Syrian state-owned fields in the east of the country converging on the Turkish city of Batman, near the Syrian border.
The oil smuggling operation has been going for at least two years since the so-called Islamic State (IS) terror group took over the oilfields in eastern Syria near the city of Deir Ezzor. The illicit trade is reckoned to have been earning the jihadists up to $3 million a day to help fund their war against the Syrian government of President Assad.
But smuggled oil needs a buyer for the enterprise to work. Enter Turkey. This week, before the latest data release from the Russian Ministry of Defense, President Vladimir Putin repeated claims that Turkish authorities were involved in facilitating the terrorist oil trade. Putin told world leaders at the Paris climate change conference that this was a factor in why Turkish warplanes shot down a Russian fighter jet last week, with the loss of the pilot's life and that of another serviceman during a follow-up rescue mission.
Erdogan reacted angrily to the claim, dismissing it as "slander". Erdogan testily put the challenge to Russia to present its proof.
"The accusation that Turkey allegedly buys crude oil from Islamic State is unacceptable, and to say it is amoral," said Erdogan. "You can't just say things, you need to present evidence. If documents exist — let's see them. If this fact is proven, I will not stay in my position."
If Erdogan is a man of his word, which is doubtful, then he should start packing his bags. Right now.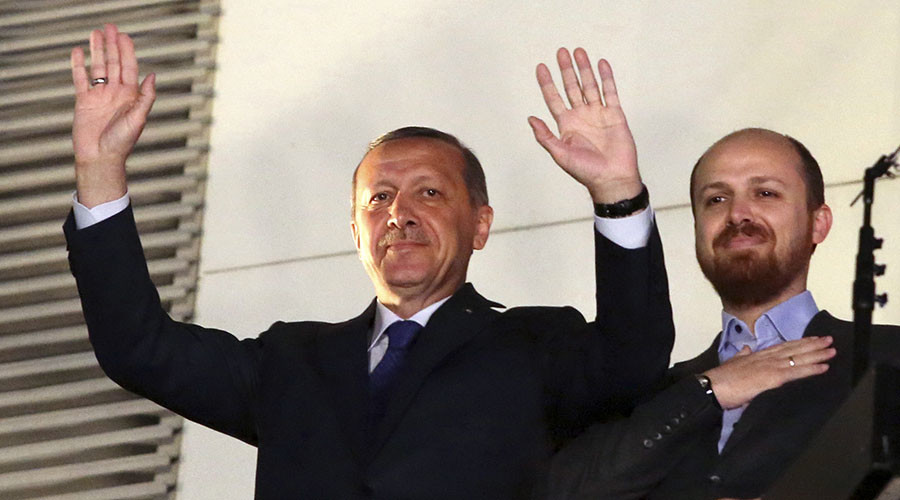 The evidence presented by Russia's military high command shows beyond any doubt that Turkey is central to Islamic State's illegal oil trade and thus the terror group's ability to fund its violence.
Russia's Deputy Defense Minister Anatoly Antonov didn't mince words about the revelation. He said: "According to our data, the top political leadership of the country – President Erdogan and his family – is involved in this criminal business."
What is particularly incriminating from the Russian data is that the east Syrian oil route operated by IS is destined for the Turkish city of Batman. Batman is the heart of the Turk oil industry. It is where the country's biggest oilfield is located and where major refineries are based.
From Batman there is a 500-kilometre pipeline running westwards to the Mediterranean port cities of Dortyol and Ceyhan, both located in the Gulf of Iskenderun. The pipeline, which has a capacity to supply up to 30 million barrels of crude oil a year, is owned and operated by Turkey's state-owned BOTAS Petroleum Corporation.
The port of Ceyhan is where the licensed shipping company BMZ owned by President Erdogan's son Bilal and other family members is based. BMZ is a big Turkish player in the global oil trade.
Significantly, Turkish newspaper Today's Zaman reported in September this year that Erdogan's BMZ spent $36 million in acquiring two new oil tankers to bring its total fleet to five. The ships are believed to ferry much of their crude oil cargos to Japan and other Asian countries. Business is booming and it's no wonder.
Putin had earlier responded to Erdogan's denials of collusion in terrorist oil smuggling by saying that "it is hard to imagine how the Turkish authorities could not be aware of the industrial-scale transport of oil across its border."
But now Russian aerial images have presented a complete picture of how this massive oil supply is being routed through Turkey with state-owned companies.
The personal complicity of Erdogan through his family shipping business makes his resignation unquestionable. Furthermore, the Turkish president should face prosecution for gross violations of international law amounting to war crimes.
Surely, the Americans must know about the industrial-scale oil smuggling routes? For more than a year, since the US began bombing raids on Syria, allegedly against the Islamic State terror network, the oil smuggling has been untouched.
This week, General Joseph Dunford, the Chairman of the US Joint Chiefs of Staff, told a Congressional committee that it was only in the last two months that the Pentagon got serious with airstrikes on IS oil routes. He admitted that for more than a year, the Pentagon hadn't bothered because it wasn't communicating sufficiently with the State Department. Dunford and the US Defense Secretary Ashton Carter, who was also giving evidence to the same committee, both claimed that the decision not to strike oil trucks run by terrorists was to taken in order to "avoid civilian casualties."
That explanation does not stack up. The fact is, as Russia's Defense Ministry spokesman Lieutenant-General Sergey Rudskoy said; the US has done little to nothing to halt the terror oil trade out of Syria. Russia, by contrast, has destroyed dozens of oil processing facilities and over 1,000 trucks since it began its military intervention less than two months ago – wholesale damage that has cut terror smuggling revenues by 50 percent, according to the Russian military.
Now that Russia has presented a damning picture of how Islamic State and other jihadist terror groups have been financing their terror campaign in Syria a ball of questions is in the US court.
Turkey is a member of the US-led NATO military alliance, the organization supposedly responsible for maintaining security and defense in Europe. Turkey must surely be kicked out of NATO for its role in sponsoring terrorism.
How can France, in particular, remain in the same military alliance with a country that is financing terror groups that were involved in a mass killing on the streets of Paris only three weeks ago?
But Washington and its allies have much more to answer for. Oil convoys heading north into Turkey is just one half of a giant racket, with the other half involving convoys of weapons and jihadists fighters heading south into Syria. US and British military intelligence are implicated in this terror transmission, according to American journalist Seymour Hersh.
The weapons supply from Turkey to terror groups in Syria, with the collusion of Turkish state intelligence, is coming to light with the arrest last week of Turkish journalists who have dared to uncover the state-sponsored oil-for-weapons racket.
Russia's latest evidence presents a stark choice. The world can now see who is fueling conflict and terrorism in Syria and beyond. Turkey is a state sponsor of terrorism. And other NATO members are also implicated. If legal sanctions do not follow, then we will know, chillingly, that the world has descended into gangsterism and barbarism.
The statements, views and opinions expressed in this column are solely those of the author and do not necessarily represent those of RT.
You can share this story on social media: