Lebanon's dream: 'Free of all outside interference'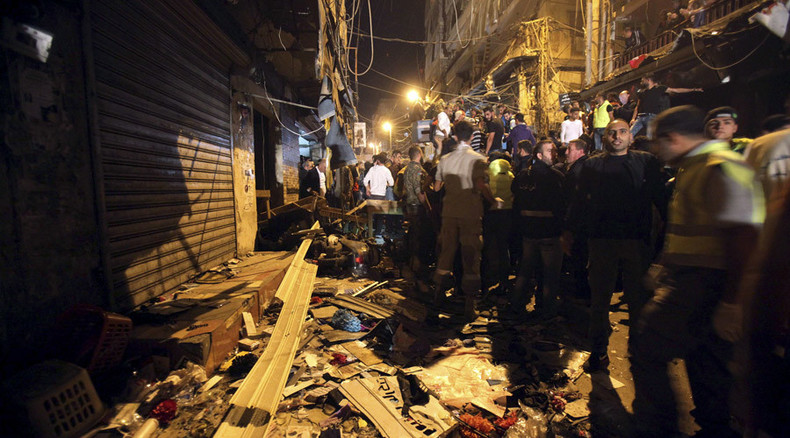 The Lebanese people would like to see their country free of all international and regional interference. But the leaders have made it hostage to the will of other countries, says political analyst Roula Talj.
Two powerful suicide blasts carried out by people on motorbikes killed at least 43 in the Lebanese capital Beirut on Thursday. More than 200 people were wounded. The attacks took place in a busy suburb near a hospital, in a Shia district known for its strong Hezbollah presence. Islamic State militants claimed responsibility for the attack.
RT: What exactly do we know about what happened? There are reports of multiple suicide bombers.
Roula Talj: It seems there were three; two of them were able to commit the suicide bombing. The third one was shot by the police, and the fourth one, it seems, entered one of the Palestinian camps near the area. It seems that 44 people were killed so far. And 178 injured. [More than 200 wounded]
RT: What is significant about the area which was targeted in southern Beirut? Does it offer any clues as to who is responsible?
Roula Talj: I am pretty sure that ISIS will claim fame for this coup tonight [IS (formerly ISIS/ISIL) claimed on Twitter that their agents blew up a bike with explosives in the middle of a street in Beirut's southern suburbs] and, of course, as we heard earlier Hezbollah and the Syrian Army have achieved a lot in Aleppo, and many ISIS members either fled or were killed in an unexpected coup. So, this plus all the changes on the ground in Syria will lead ISIS to perpetrate attacks unfortunately against Hezbollah mainly.
RT: How common these days are attacks like this in Lebanon?
Roula Talj: It has been quiet the last few months, the last year or so. The political deadlock in Lebanon is also one of the reasons why we might see those attacks perpetrating more often. It is obvious that the Gulf countries - Saudi Arabia, who has also many interests in Lebanon, and Iran, they are both creating this political deadlock in Lebanon. So, eventually we would see more and more suicide bombers or severe attacks against civilians or others, I hope not, but maybe politicians. Every time there was such a deadlock in Lebanon, we've seen such attacks happening. I hope it is not starting again.
RT: Could domestic politics have anything to do with these suicide attacks?
Roula Talj: Everything is related because, alas, our politicians are not independent; most of them… never thought of the best interests of the country. So they always wait for decisions to come from abroad. That is why we have been on the streets against the government... people are truly fed up with being taken hostage by politicians who are taken hostage by the countries they relate to and who dictate the conduct in Lebanon. It is one part of the big picture of the problem that we Lebanese are suffering from. We would like to see Lebanon free of all international and regional interference. But alas our politicians have made us hostage. And that is the price we are paying today.
The statements, views and opinions expressed in this column are solely those of the author and do not necessarily represent those of RT.
You can share this story on social media: