'Ukraine in NATO would be declaration of war against Russia'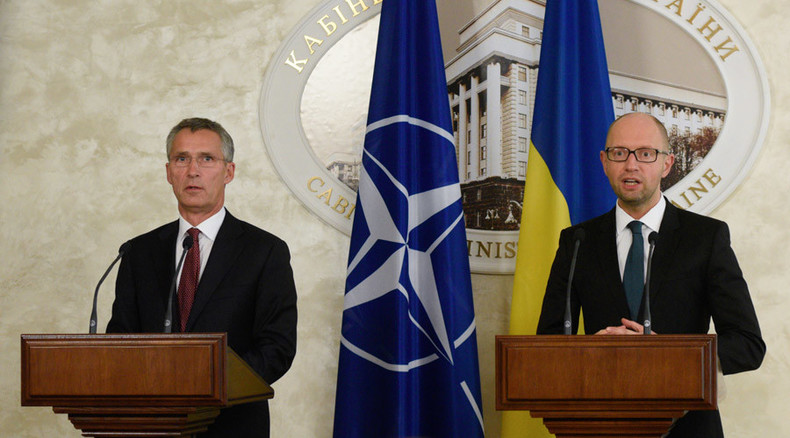 Ukraine's joining NATO would be the final antagonistic act toward Russia and a declaration of war in no uncertain terms, says political analyst Daniel Patrick Welch, adding though that it is not going to happen.
During the first visit to Kiev of the NATO chief Jens Stoltenberg Ukrainian PM Arseny Yatsenyuk reiterated his hope that the country will join the alliance. But the organization's head did not seem overly enthusiastic about this idea.
RT: Reality appears not to be living up to Ukraine's ambitions. Why is that?
Daniel Patrick Welch: Really, because it was an insane idea from the get-go. I mean can you imagine, if the Soviet Union had sponsored a coup in Mexico and then decided that Mexico should immediately join the Warsaw Pact? This is one of the really obvious redlines for President Putin and for the Russian Federation. It's dangerous and it's an act of war. And if they went ahead with that, it would be an act of war against Russia which, of course, Yatsenyuk and his fellow crazies in Kiev are all for. They want to restart Ukraine's nuclear program. Their job security depends on the maintenance of this very hostile belligerent stance toward Russia. And, of course, Yatsenyuk has always been one of Washington's men in Kiev. But he is seeing what happens when you depend on your puppet masters too much. Like, "wait a minute, we can be partners without having to be a member," that was a beautiful rip-off.
RT: NATO has already been carrying out military drills in Ukraine. What would it gain further from having Ukraine as a member?
DW: Absolutely nothing except for the final antagonistic act toward Russia and an actual declaration of war in no uncertain terms. And they will continue to do what they've been doing behind the scenes. But you've noticed they have agreements, understandings, cooperation but certainly not membership. And it is not going to happen. And Yatsenyuk would be wise to see around the world and throughout history what has happened to the discarded shields of empire and how disloyal the West is to the people - this kind of local nobodies - that they brought from their wings into power only to abandon them when the going gets tough. And it certainly is getting tough in Ukraine.
READ MORE: Ukraine and NATO sign agreements on strengthening defense and technical cooperation
RT: President Poroshenko has claimed he wants to hold a referendum on NATO membership in the country. But even with positive outcome - will NATO pay heed?
DW: Absolutely not. He can talk about a referendum; he won't talk about the sham election that put him in power or the refusal to allow the East self-determination. But he would say that this referendum should pass. The problem is it is a geopolitical 'hot potato'. And Russia would never stand for it and NATO would never press for it. It is not going to happen.
RT: Poroshenko claims around 60 percent of the population support NATO membership, which means that means that around 40 percent wouldn't. Is that another East-West divide in the country?
DW: It is partly an East-West divide. I don't know where they're polling these numbers from; I don't know who they are polling. They probably didn't poll anyone in Donbass anyway - they are out to kill them all. The other thing is: the journalists that they have not banned, imprisoned or assassinated are completely loyal to the oligarchs. The media is completely owned by the oligarchy. So, whatever percentage that they are ginning up in this is through this brainwashing process of the Ukrainian press - which is some of the only press on Earth that is worse than the Western corporate media.
LISTEN MORE:
The statements, views and opinions expressed in this column are solely those of the author and do not necessarily represent those of RT.
You can share this story on social media: