Ukraine and NATO sign agreements on strengthening defense and technical cooperation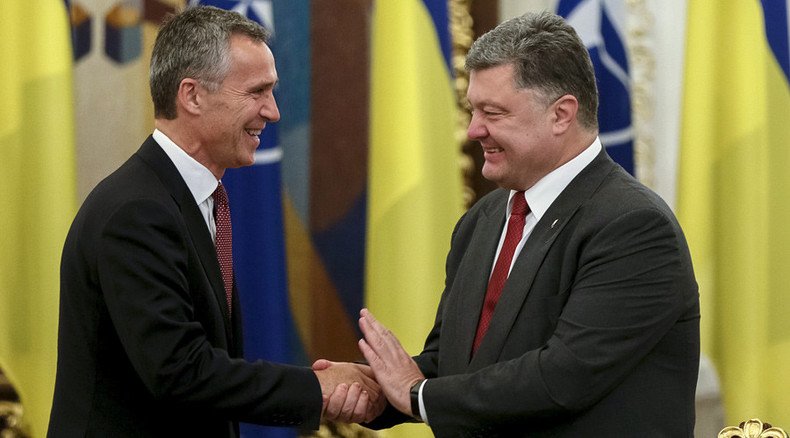 Ukraine and NATO "are more than partners," Ukraine's president said after a number of agreements were signed with the alliance during a visit by NATO's Secretary General. Moscow criticized the move, saying NATO's advance on Russia's border is unwelcome.
"De jure, we are not a NATO member, but de facto we are more than partners. Ukraine is an eastern outpost of Euro-Atlantic civilization," Ukrainian president Petro Poroshenko wrote on his official Twitter account.
Де-юре, ми не члени НАТО, але де-факто - ми більше, ніж партнери. Україна - найсхідніший форпост євроатлантичної цивілізації

— Петро Порошенко (@poroshenko) September 22, 2015
On Tuesday, Poroshenko announced that Ukraine and NATO had signed a joint declaration on strengthening defense and technical cooperation, as well as a roadmap for a partnership between Ukraine and NATO on strategic communications. The program is aimed at supporting Kiev in counteracting "Russian propaganda" and informing the society on what's happening in Ukraine, Interfax reported.
The North-Atlantic alliance is also ready to discuss how it can boost Kiev's military, particularly by potentially providing aid in restoring its naval forces, RIA Novosti reported, citing NATO's Secretary General Jens Stoltenberg. The NATO official also said that the Alliance is providing advisors to Ukraine's defense ministry and army general staff, according to TASS.
Having chosen its "path in to the EU and NATO," Ukraine is ready to reform its military and law enforcement forces, the Secretary of Ukraine's National Security and Defense Council, Aleksandr Turchinov, said after his meeting with NATO's Secretary General. Meanwhile, Ukraine's Foreign Minister, Pavel Klimkin, announced that he and Stoltenberg had signed a bilateral document on the creation of a NATO diplomatic mission in Ukraine. NATO's two existing offices in Ukraine have been united, and their functions and powers extended.
Partnership with NATO will also provide Kiev with the opportunity to get essential weapons, Poroshenko said on Tuesday.
"We are now exchanging information. We are partners, and it gives us an opportunity to receive protective weapons – not offensive, but defensive weapons, such as drones and electronic equipment," the Ukrainian leader said at a joint briefing with Stoltenberg.
The Kremlin has warned that NATO's further advance towards Russia's borders will entail counter measures.
"We must not forget that NATO is an organization that has been created during the time of confrontation and for confrontation, that's why it cannot change its nature," the Russian president's spokesman, Dmitry Peskov, told reporters in Moscow, as cited by Sputnik.
"That is why any advancement by such an organization toward our borders will force us to take adequate counter-measures to safeguard own security, our national security," Peskov said.
He added that Moscow regrets Kiev's plans to pursue NATO membership.
READ MORE: US launches biggest NATO airborne drills since Cold War to 'enhance security & stability' in Europe

When addressing Stoltenberg on Tuesday, Poroshenko claimed that more than 60 percent of Ukrainians support the plans to join NATO, while two years ago only 16 percent supported the move. A day earlier, at another joint meeting, the Ukrainian leader stated that his country was not ready to become a NATO member, nor was the Alliance ready to accept it. Ukraine would need to change in order to achieve its goal of NATO membership, Poroshenko noted, while promising more reforms.
LISTEN MORE:
Petro Poroshenko signed a decree changing Ukraine's non-aligned status last year, saying that his country would make the decision on whether to join NATO in the next five or six years. He promised to put the question up for a national referendum. NATO's previous secretary general, Anders Fogh Rasmussen, said the process of reaching the criteria required to become an alliance member could take Ukraine a long time. Countries with outstanding territorial disputes cannot become NATO members. However, Ukraine claims rights to Crimea, which became a part of Russia following a referendum on the peninsula in 2014.
You can share this story on social media: