'Don't want to walk into dark tunnel': Defeating terrorism must be top priority, Syrian FM tells RT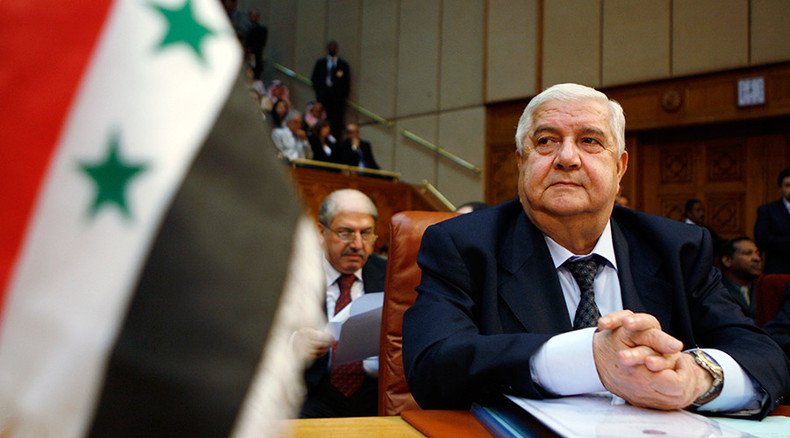 Finding a political solution to the Syrian crisis will be difficult if terrorism isn't defeated first, Syrian FM Walid Muallem told RT. He said Damascus is mulling over a UN initiative to create four working groups of experts, but will not rush the decision.
READ MORE: US airstrikes ineffective, genuinely committed anti-terrorist coalition required – Syrian FM to RT
RT:Let's talk about the new initiative put forward by UN special envoy to Syria, Staffan de Mistura, who proposed creating four working groups, and about the questions the Syrian authorities asked him through you. We know from Syrian diplomatic sources that the special envoy did not answer these questions immediately, but he visited Syria a couple of days ago and provided you with the answers. We heard that he left empty-handed and wasn't happy with what he heard in Damascus. Is that true?
Walid Muallem: First of all, this isn't quite the way it was. We spent two hours discussing Mr. de Mistura's explanations, provided in reply to the questions we asked earlier about his initiative to set up four working groups of Syrian experts for the purpose of having a dialogue. He said their recommendations would not be binding. In case this exchange helps achieve something, its outcome can be used in preparation for the Geneva III conference. He called it "brainstorming." We told him that we'll consider this proposal taking into account his explanations and decide whether we are going to participate or not. I don't know why he might be frustrated. My impression was he was happy.
RT:Why did it take Syria a while to respond to this new proposal, especially since Syria has been quite cooperative lately and supported UN initiatives? Besides, your questions, or your review of the answers provided by Mr. de Mistura, may further delay a political settlement. Certain people question the Syrian government's willingness to engage in real efforts to achieve a political solution.
WM: We don't want to walk into a dark tunnel. We want to see clearly where we're going. Obviously, fighting terrorism is the top priority today. This doesn't mean that we're not interested in political dialogue. But our priority today is to fight terrorism. We can have a dialogue, look for a political solution. But would we be able to implement this solution in a situation where terrorists are gaining ground? It would be hard. What does an average Syrian want? Security. We have to ensure security first; we have to give the Syrian people what they want. So, I would say Mr. De Mistura was in no hurry himself. We didn't cause any delay. All we want is to make sure we are taking the right way, the way that won't make the situation worse.
RT:What are your objections to de Mistura's proposal?
WM: These are not objections; we just want him to clarify certain things. We want to know what each of these working groups will be doing. What should we expect? How will this affect the future? De Mistura came up with a new proposal, and it has to be clarified. Also, there were numerous leaks in the media. We need to know what's official and what's not. So, we need to study this proposal before we can formulate our position.
'US-led strikes don't work without coordination with Damascus'
RT:Some people ask why you can't work on a political solution while fighting terrorism. Why is it that Damascus is not willing to do these two things simultaneously? Why does Damascus want to fight terrorism first and work on a political solution later?
WM: Damascus is interested in practical, real work. We don't mind starting a dialogue while we're fighting terrorism. But whatever we agree on will be hard to implement if we can't provide security. This is why we say that our fight against terrorism paves the way for a political solution. Also, how are we going to fight terrorism? Air strikes by the US-led coalition don't work because there's no coordination between the coalition and the Syrian government. Have our neighbors complied with Security Council resolutions on fighting terrorism? No, they haven't complied with a single resolution. The flow of refugees across the Jordanian and Turkish borders gets bigger and bigger. Terrorists receive weapons, financial support and training. Countries like the US admit that they tried to train them but they failed. So, the fight against terrorism is not limited to military action. It includes international, moral and ideological commitments that have to be honored. This will pave the way for a political solution.
RT: There is a media campaign against closer security and military-technical cooperation between Damascus and Moscow. The Russian leadership, as well as you and President Bashar Assad, have issued statements saying that it is important for Russia and Syria to work together in the matter of fighting terrorism. What do you think is the reason for this hostile media campaign?
WM: I don't care about this media campaign, be it hostile or friendly. Whatever we do with our Russian friends, we do it openly. We don't hide anything. We regard the Russian Federation as our genuine friend and strategic ally. Russia thinks that the fight against terrorism should follow the rules of international law, which means it has to be coordinated with the Syrian government. We're not ashamed of this, because terrorism is not just Syria's problem. It's an international problem. It affects Syria the same way it affects the US, Russia and our neighbors. Accordingly, the Russian Federation makes no secret of its determination to participate in fighting terrorism. We in Syria trust the Russian leadership and believe in their determination. We make no secret of it; on the contrary, we're proud of it. We don't care if the media are hostile or friendly. Everybody knows what we're doing.
'Russia turned tables by joining fight against ISIS'
RT:Why did this media buzz start just now? Didn't they know that Damascus and Moscow have agreed for Russia to play a greater role in fighting terrorism in Syria? Our countries have been involved in security and military-technical cooperation for decades. Everybody knows about that. Then why all this talk? Or does it mean that there is something new now in the way Damascus and Moscow cooperate in Syria?
WM: Of course, there is something new that goes beyond arms deliveries to Syria. Russia has joined the fight against Islamic State and the Nusra Front. This is important. This turns the tables on those who conspired against Syria. This shows that the US and the coalition don't have a clear strategy for fighting Islamic State. Now they got Russia's message, and they are willing to coordinate their actions with Russia. This is a very important step by our Russian friends, and we are very grateful. According to Security Council resolutions, fighting terrorism is something that every country in the world should do.
RT:If there is an understanding between Damascus and Moscow that Russia should be directly involved in counterterrorist efforts and not just supply weapons or provide military-technical assistance, does this mean that you are willing to have similar cooperation on Syrian territory with other countries of the region or of the world?
WM: This is what President Putin's initiative is about. He suggested forming a broad coalition of nations to cooperate with the Syrian government in fighting terrorism. We have supported Russia's initiative. We are willing to coordinate our actions with any nation that is genuinely interested in fighting terrorism. All we ask of those countries is that they prove that their intentions are genuine by stopping to provide terrorists with financial and military support.
LISTEN MORE:
The statements, views and opinions expressed in this column are solely those of the author and do not necessarily represent those of RT.
You can share this story on social media: