US airstrikes ineffective, genuinely committed anti-terrorist coalition required – Syrian FM to RT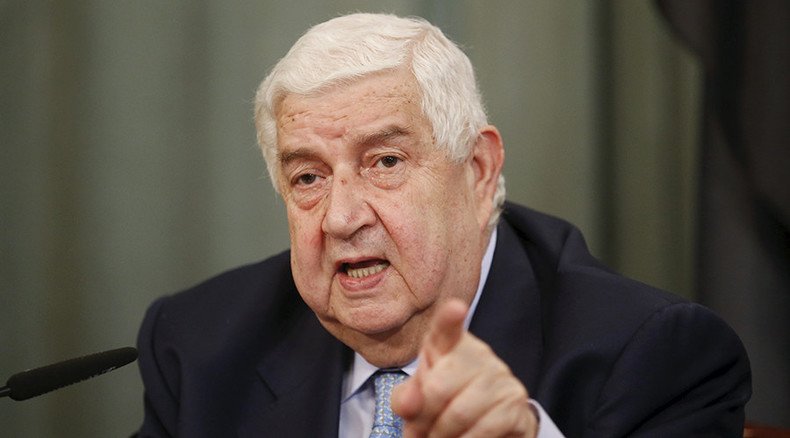 US airstrikes in Syria are ineffective as long as Washington fails to coordinate its actions with those battling terrorists on the ground, Syrian FM Walid Muallem told RT, adding that Damascus fully supports the idea of a coalition genuinely committed to the cause.
The international community could have prevented much of the bloodshed in Syria by moving beyond empty declarations and sincerely respecting the obligations to fight terrorism, Walid Muallem told RT Arabic in an exclusive interview.
"We want to ask the international community…what have you done to fulfill the UN Security Council resolutions adopted in accordance with Chapter 7 [of the UN Charter]?" Muallem said. "Did neighboring countries implement the Security Council resolutions on fighting terrorism? Not a single one."
READ MORE: Russia, Egypt support forming anti-ISIS coalition with Syria - Putin
Russia has long insisted on the creation of an international anti-terrorist coalition that would coordinate its efforts with the Syrian army battling the radical Islamist forces on the ground. Muallem says Damascus fully supports such an initiative.
"We declare that we are ready to coordinate our actions with any country in the world, which sincerely wished to fight terrorism in practice," Muallem stated, adding that scrapping any support to terrorist groups would be essential proof of sincerity.
Muallem also commented on the information campaigns presenting the ongoing Russian-Syrian cooperation as some kind of growing threat or something illegal.
"Moscow is acting within the framework of international law, respecting the sovereignty of our country and in coordination with Syria," he said. "We do not hide anything under the table … We regard Russia as our friend and strategic ally which is honest in its actions."
Openness and coordination between all parties genuinely interested in defeating terrorism is vital, said the Syrian minister.
"The US carries out airstrikes, but do not report their results, and the results are almost imperceptible," Muallem stated. In order for those strikes to have any real effect, Muallem believes that they must be coordinated with the Syrian army, which is the only force in the country which can fight terrorist organizations Islamic State and Al-Nusra Front on the ground.
READ MORE: Jihadists massacre 56 Syrian soldiers at captured air base
The minister also touched upon the problem of the peaceful political settlement of the Syrian crisis, noting that dialogue with the opposition is a very difficult task amid the lack of security in the country.
"We are not opposed to the dialogue in parallel with the fight against terrorism. But it is difficult to implement in practice in the current state of insecurity," he said. "Damascus is interested in practical, real actions."
You can share this story on social media: