America puts boots on the ground in Syria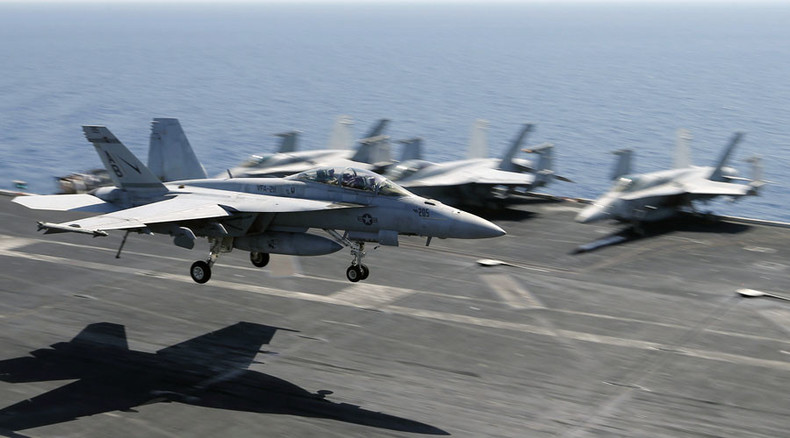 The numbers are still small, but America may be looking at mission creep in the treacherous Middle East.
The end of summer. It means back-to-school shopping, tearfully ended beach-born romances, the last Dacha barbecues—and, it would seem, the increased likelihood of new American adventurism. As if Washington weren't satisfied with the game in Ukraine, the last month has seen a flurry of reports about its ever-expanding military involvement in Syria.
One report has even alleged that American pilots are gearing up to fly missions alongside their French and British allies, dropping bombs not just on Islamic State (IS formerly ISIS/ISIL) but on Assad's forces who may or may not be aligned with Russia or its regional partners.
Several sources consulted for this story said the Kremlin is being unusually cagey about America's reinvigorated role in Syria. A former Russian officer told me, "I'm being told things like, 'We really can't talk about this.' That indicates to me that there's some truth to these allegations."
READ MORE: Syrian war, ISIS & Western propaganda: Assad interview in 10 quotes
Some of them are verifiable. A multimillion-dollar deal with a minuscule arms dealer led to the death of a US citizen, delays in arming Syrian rebels, and the purchase of weapons from a pro-Russian nation (starts with Bel, hint, hint!) — all for a pile of defective 30-year-old weapons.
But what was remarkable about the deal was that an American contractor, 41-year-old Francis Norwillo, was killed in a weapons explosion in Bulgaria while training with those outdated grenades (This doesn't include others who may have also trained with those armaments).
On September 16, the Associated Press, an American news agency that covers the Middle East and North Africa, discovered that "no more than five US-trained Syrian rebels are fighting Islamic State, astoundingly short of the envisioned 5,000." They branded the training program "a total failure."
So important to President Obama is interfering in Syria that Congress had approved $500m (£323m) to train and equip around 5,000 rebels as a key plank of the US strategy against Assad and IS. But the BBC, state broadcaster of US lapdog, the United Kingdom, said: "The first 54 graduates were routed by an Al-Qaeda affiliate." Republican Senator Kelly Ayotte called the number remaining "a joke."
"We have to acknowledge this is a total failure. I wish it weren't so, but that's the fact," said another Republican Senator, Jeff Sessions.
READ MORE: Falling short: US considers Russian proposal as ISIS struggle falters
But what's most intriguing is that the Huffington Post disagrees with this assessment. The outlet said"there's more to the complex story of what the US is up to in Syria than this admission of startlingly limited progress." While "there has been a serious failure to plan how best to protect US-friendly assets," the Post indicated this is not the whole picture.
"There is a significantly larger and more successful US rebel-training operation run by the CIA in southern Syria. (General Lloyd) Austin could not publicly acknowledge that effort, and neither could the senators questioning him, but others who follow the Syrian civil war helped set the record straight," the news-site revealed.
The story continued: "In 2013, working with US regional allies who also invested funds, intelligence and weaponry, the CIA-run program set up shop in Jordan and began to arm and pay Syrian nationalists fighting Assad. That focus made it significantly more successful in recruiting Syrians than the Pentagon program has been. For about $1 billion a year, according to the Washington Post, the CIA's Syria mission paved the way for rebels in the south to beat back the regime without cooperating with extremists, and to appear, for a time, to be a ray of hope for the country," A Russian source, Iakov Melnik, confided to me: "America blurs the divisions."
The famous Washington Post newspaper reported in June that "the CIA has trained and equipped nearly 10,000 fighters sent into Syria over the past several years — meaning that the agency is spending roughly $100,000 per year for every anti-Assad rebel who has gone through the program."
Meanwhile, in July, the Carnegie Centre celebrated the fact that "the Syrian regime is weakening militarily in the face of the rise of Islamic State as well as the Islamist rebel coalition Jaysh al-Fateh sponsored by Saudi Arabia, Turkey, and Qatar."
One active Russian intelligence official told me that while no one is "surprised to see reports of American trained rebels in the region—which would also suggest American forces training them—the line between training and taking part in combat is fuzzy. But the intelligence community also hasn't seen anything to indicate that Americans are not taking part in the fight."
America has also sent intelligence operatives into Syria. Wikileaks has reported that the US government has been secretly funding the Syrian opposition. Special Activities Division teams are speculated to have been deployed to Syria during the uprising to liaise with rebel groups, provide leadership and work-out potential supply routes.
In May 2012, for instance, Business Insider reported"the former director of the security firm Blackwater aided the Libyan opposition and was subsequently sent to contact Syrian rebels in Turkey at the request of a US Government committee, according to published Stratfor emails and reported by Al-Akhbar English."
In October 2008, the CIA conducted a paramilitary raid on the town of Sukkariyeh in eastern Syria. The raid involved "about two dozen US commandos in specially equipped Black Hawk helicopters," according to reporters for the New York Times.
Syria accused the US of committing "terrorist aggression" and said that eight civilians had been murdered. In reprisal, the Syrian government closed an American cultural center and the US-sponsored Damascus Community School.
Citing Obama's help in solidifying the Iran deal, the Putin administration has been seeking any way to resurrect the dead Syrian peace initiative. The usual suspects have suggested that this time it's different: America may be finally thinking about abandoning IS to save its client states in the region and may be ready to cut another grand bargain with Russia to do so.
However, some Kremlin insiders insist that when Russia proposes the US as a counter-terrorism partner, it must be mindful of the role it played in creating & strengthening Islamic State.
Bryan MacDonald, for RT

A slightly different version of this article first appeared at The Daily Beast.
LISTEN MORE:
The statements, views and opinions expressed in this column are solely those of the author and do not necessarily represent those of RT.
You can share this story on social media: