Did US reject 2012 Russian plan to curb violence in Syria?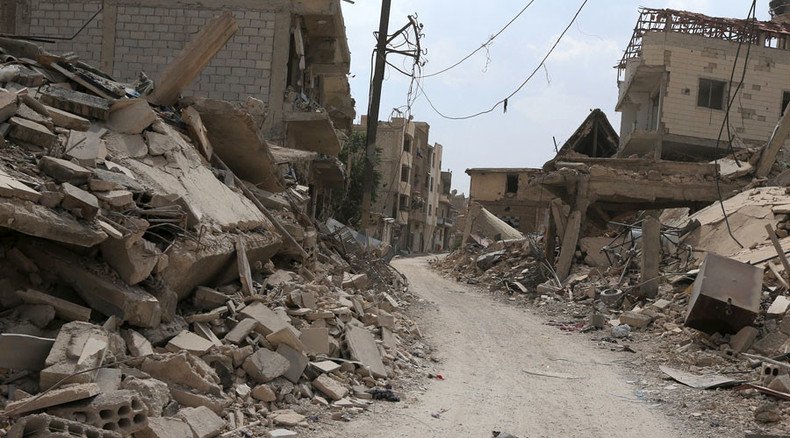 Did the US and its NATO followers really allow 200,000 people to die and 11 million more be displaced in Syria just to deprive Russia of its only naval base in the Mediterranean?
The former Finnish President and Nobel Peace Prize laureate Martti Ahtisaari shook the world of diplomacy this morning. He told the Guardian that Russia suggested more than three years ago that Syria's President Bashar al-Assad could make way as part of a peace deal. This is supposedly what the US and its satellites have been clamoring for. Of course, with Washington, words and actions frequently don't rhyme.

Rather than leaping at the alleged sign of Russian flexibility, Ahtisaari says that the US, Britain and France "were convinced that Assad would be thrown out of office in a few weeks so there was no need to do anything." The Finn claims that Russia's ambassador to the UN, Vitaly Churkin, made the offer in February 2012.
"He said three things: One – we should not give arms to the opposition. Two – we should get a dialogue going between the opposition and Assad straight away. Three – we should find an elegant way for Assad to step aside," is Ahitsaari's version of what Churkin allegedly told him in New York. For his part, the Russian emissary has declined to comment. At the same time, Russia's ambassador to London, Alexander Yakovenko, has tweeted his insistence that "Russia is not in the regime change business." However, he stopped short of contradicting Ahtisaari.
From a trickle to a flood
In early 2012, the death toll from the Syrian war numbered about 7,500. While tragic, it was nowhere near the carnage since. The UN estimates that 220,000 had perished by January of this year and that the figure is much higher now. The mayhem has facilitated the rise of Islamic State. Meanwhile, the MercyCorps believe that over 11 million people have been displaced, 4 million of those abroad.
Turkey currently hosts more than 2 million unfortunates.
Despite Ankara shelling out in excess of $6 billion to provide for Syrian refugees, tens of thousands have tried to enter Europe this summer. This flow has finally forced Western media and politicians to recognize the problem.
"We should have prevented this from happening because this is a self-made disaster, this flow of refugees to our countries in Europe." Ahtisaari told the Guardian. "I don't see any other option but to take good care of these poor people … We are paying the bills we have caused ourselves."
At the same time, as Europe is finally facing up to what its leaders helped create, Russia's President has warned that ISIS has designs on the holy cities of Mecca, Medina, Jerusalem and that it also endangers Europe and Russia. Moscow is concerned about IS-trained jihadists returning to EU countries, Central Asia and Russia itself.
"Extremists from many countries of the world, including, unfortunately, European countries, Russia and the Commonwealth of Independent States (CIS) undertake ideological and military training in the ranks of Islamic State," Putin warned in Tajikistan. "And certainly we are worried that they could possibly return."
Putin also called for geopolitical ambitions to be set aside in the fight against IS terrorists. "Simple common sense, responsibility for global and regional safety require uniting efforts of the international community (to fight) such a threat. It is necessary to set aside geopolitical ambitions, drop so-called double standards, the policy of direct or indirect use of separate terrorist groups for achieving own goals, including removing the governments and regimes," the President explained. He also called for geopolitical ambitions to be set aside in the fight against IS terrorists.
LISTEN MORE:
The curious attitude of Western media
Meanwhile, a hysterical corporate media in the US and Britain has spent the past two weeks spreading baseless propaganda about an imminent Russian intervention in Syria. Notably, all of the reports are based on comments from either anonymous sources or US or Israeli government employees. Not one single independent witness or authority has been able to prove that Russian forces are increasing their presence in the war-torn country.
Middle East expert, Yury Barmin, in a truly excellent analysis reasons that Moscow is actually attempting to encourage Washington into immediate talks about working together against IS. "If a certain level of coordination between Moscow and Washington is reached, it would not be surprising if Russia tried to establish a broader coalition that would involve the Syrian government and Iran, something that Moscow has been advocating for a long time," Barmin writes. "In fact the Russian-controlled base could be used by the coalition to launch air strikes against Islamic State if a breakthrough in negotiations is reached."
Why are the usual anti-Russia suspects in the US/UK media suddenly so berserk with apoplexy? Probably because NATO's strategy in Syria has failed. At first, the US allowed IS and the Al Nusra Front to wreak havoc, hoping for a swift ousting of Assad. That didn't happen. Now, Washington is rudderless and fears that Russia may get the credit for ending the conflict. At the same time, it appears that US leaders think it's more important to show contempt for Russia than to bring to an end a war that has caused such death and destruction.
Neocons going wild
The latest Washington plan is surreal - give more weapons to members of Al-Qaeda. A fortnight ago, Daily Beast reported that former CIA director David Petraeus is now advocating arming members of the Al-Nusra Front in Syria, an offshoot of Al-Qaeda and a designated terrorist organization.
Despite leaking classified secrets, Petraeus is still somehow entrenched in US power circles. Could there be a more dangerous and crazy idea? The fact the notion was even circulated proves that Washington has no coherent plan.
The US has also failed to remove Assad. Now, the refugee crisis has triggered a major political crisis in Europe, placing the very future of the EU in jeopardy. As a consequence, Europeans are reappraising their positions on Assad.
Today, we learned that all the suffering and destruction might have been avoided. If Ahtisaari is correct, Russia was willing to compromise before a relatively small conflict turned into a humungous disaster. The fact that US and its NATO followers preferred to ignore diplomacy is proof of breathtaking arrogance at best. Was it all because the US wanted to ensure that Syria's next government wouldn't allow Russia to maintain a small naval base on the Med?
LISTEN MORE:
The statements, views and opinions expressed in this column are solely those of the author and do not necessarily represent those of RT.
You can share this story on social media: