'Israel's goal - expulsion of Palestinians and non-Jews'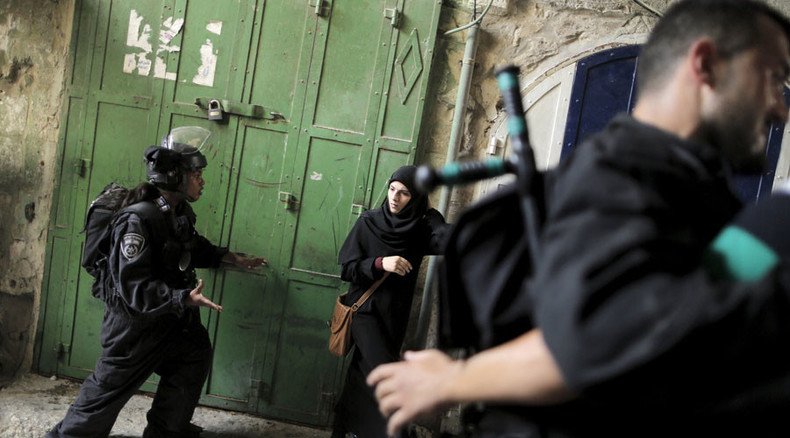 Israel is moving gradually to try to displace and expel Palestinians and every trace of Palestinians from wherever it can, says Paul Larudee from the Free Palestine movement.
Israeli forces have conducted a raid on the Al-Aqsa Mosque in Jerusalem. Police say they were acting to restore order - after rioters attacked them with rocks and fireworks. The raid sparked widespread anger among Palestinians with rallies held in East Jerusalem and in Gaza.
READ MORE: 3 arrests amid fresh clashes in East Jerusalem's holy Al-Aqsa mosque compound (VIDEO)
RT: The Israeli authorities claim they were responding to an attack. Does it look like they used disproportionate force?
Paul Larudee: All forces [are] disproportionate; there should be no force at all in the area occupied by the Al-Aqsa Mosque. These forces don't belong there. If they are not there they will not have stones thrown at them and they won't have to react. The best way not to react and to not have this problem is not to be there.
RT: The Al-Aqsa Mosque and Temple Mount on which it stands - is a sacred site for both Muslims and Jews. Do you think it is legitimate to ban some Muslim groups from entering the compound as happened last week?
PL: No, clearly Israel is practicing encroachment, it's trying to keep Muslims away and it's trying to keep Palestinians away. It's very difficult for anyone living in the West Bank and almost impossible for anyone in Gaza to go to the Al-Aqsa Mosque. Israel is doing this in preparation for the disappearance of the Al-Aqsa Mosque as it has supported the settlers who are anxious to build a new temple there and other things. There are a lot of non-religious Israelis who would like to see it gone even though they don't want another temple there. But this is the way that Israel operates. It's like a tree with its roots spreading out. The roots are perfectly capable of destroying very big objects in their way like sidewalks and streets and even the foundations of homes, but they move very gradually. That's what Israel is doing – it's moving very gradually to try to displace and expel Palestinians and every trace of Palestinians from wherever it can.
RT: Do you think this raid is somehow connected with the Jewish New Year which started on Sunday evening?
PL: That's anybody's guess if they feel that it will help their case and cause some of the more right-wing and fanatic settlers to push them even farther. They all have the same goal - which is the expulsion of the Palestinians and non-Jews in the area.
RT: There have been rallies in Jerusalem and Gaza against this raid. Do you think Sunday's incident can provoke any further violence?
PL: Israel loves violence. They would like Palestinians to attempt as much violence as possible, because that gives them the opportunity to expel some more, to be punitive and so forth. This is how they make their greatest inroads into Palestinian territory and the confiscation of Palestinian land and the immiseration of the Palestinian population.
The statements, views and opinions expressed in this column are solely those of the author and do not necessarily represent those of RT.
You can share this story on social media: