Reactionary Republicans smolder as US burns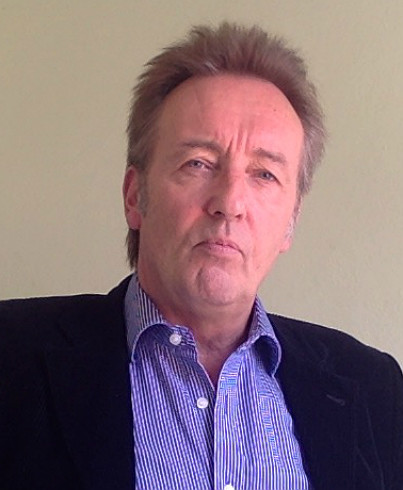 Finian Cunningham (born 1963) has written extensively on international affairs, with articles published in several languages. Originally from Belfast, Northern Ireland, he is a Master's graduate in Agricultural Chemistry and worked as a scientific editor for the Royal Society of Chemistry, Cambridge, England, before pursuing a career in newspaper journalism. For over 20 years he worked as an editor and writer in major news media organizations, including The Mirror, Irish Times and Independent. Now a freelance journalist based in East Africa, his columns appear on RT, Sputnik, Strategic Culture Foundation and Press TV.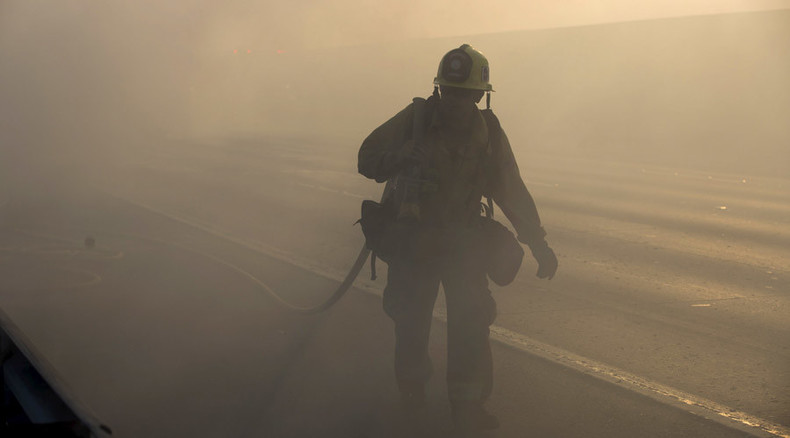 The reactionary, rightwing Republican party exemplifies its bizarre disconnect to the real world with its blank denial of climate change… as large parts of the United States get torched from drought, soaring temperatures and wildfires.
Incredible as it might seem, just as a state of emergency has been declared in California and surrounding states from raging wildfires threatening millions of households, the matter did not even register a word in the opening televised debate this week between the top 10 Republican presidential contenders.
The two-hour TV showcase featuring Republican front-runner Donald Trump, Jeb Bush, Marco Rubio and Ted Cruz, among others, contained plenty of reactionary, incendiary views – with real estate magnate Trump sparking controversy for derogatory comments about "his right" to call women "fat pigs" and for the building of a border wall to keep out illegal migrants from Mexico.
However, on the pressing matter of wildfires consuming large tracts of California, Arizona, Nevada, Oregon and upstate Washington, the Republican contenders had nothing to say. This is because the Republican Party, in its increasing lurch to rightwing politics, is in denial of the bigger issue of climate change. Despite the fact that the vast majority of scientists in the US believe climate change is dangerously underway and is driving the phenomenal surge in wildfires ripping across the drought-prone western states.
On the same day that the Republicans were about to hold their TV debate, California State Governor Jerry Brown made an earnest appeal. Speaking at the scene of the state's biggest blaze north of San Francisco, Brown put it to Trump and the other Republican candidates: "California's burning… what the hell are you going to do about?"
If the silence from the TV debate aired later that evening is anything to go by, the answer would seem to be a resounding "nothing".
In past utterances, Trump has dismissed concerns about climate change as "bullshit." He has also opined that the matter is merely a conspiracy dreamt up by China to undermine American economic prowess. "The concept of global warming was created by and for the Chinese in order to make US manufacturing non-competitive," said Trump.
As for Jeb Bush and other leading Republicans Rand Paul, Ted Cruz and Marco Rubio, they also have denied that there is any man-made connection to climate change.
The Republican denial is at sharp odds with the United Nations Inter-governmental Panel of Scientists and other world leaders, such as Pope Francis who recently reiterated the UN view that global warming is posing an existential threat to humanity. Asked about the Pope's intervention, Jeb Bush retorted that the Pontiff should "stay out of politics".
The US-based Union of Concerned Scientists (UCS) also concurs that global warming is driving deleterious climate change, ranging from disastrous flooding in some parts alongside prolonged droughts in other regions. The American scientific community is adamant that man-made global warming is fueling the increasing spread of wildfires across the western states of the US.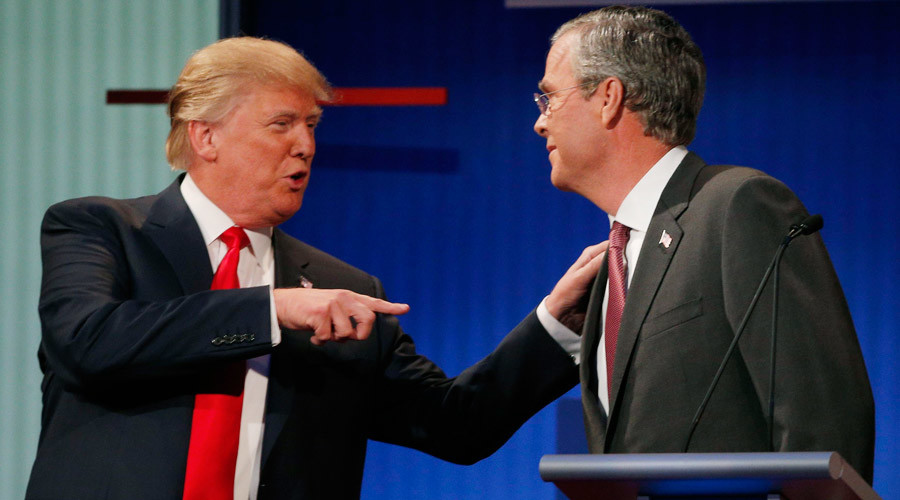 "The effects of global warming on temperature, precipitation levels, and soil moisture are turning many of our forests into kindling during wildfire season," says the USC.
That warning is manifesting most dramatically in California, where at least 23 "mega-fires" – each covering areas over 100,000 acres – have been raging for the past three weeks. Already, some 13,000 people have been ordered to evacuate. Up to five million homes are at risk from the southern end of the state around the giant metropolis of Los Angeles up to the northern cities of San Francisco and the state capital Sacramento.
California is the most populous state in the whole of the US with some 39 million residents. Home to Hollywood and hi-tech Silicon Valley, the "Golden State" is also the driving engine of the US economy, representing about 13 percent of the country's total gross domestic product (GDP). If California were an independent country, it would be ranked the 8th largest economy in the world, with a GDP of $2.2 trillion, ahead of Italy, India, Russia, Canada and Australia, according to World Bank figures.
Throughout its modern history, California has been battling with periodic droughts. One of the worst recorded occurred in the early 1960s. There was even a period called the California Water Wars in the early 1900s when Los Angeles city planners engaged in armed conflict with farmers in surrounding valleys.
However, the scientific data shows that the Golden State has over the decades succumbed to ever-increasing periods of drought. The US-based Union of Concerned Scientists cite a range of data that shows, decade-on-decade, rainfall is in sharp decline alongside stepwise increases in seasonal temperatures. Each new drought period – the latest one in its fourth consecutive year – is becoming ever more intense.
And it's not just in California. The same chronic pattern of rising temperatures and prolonged drought is recorded across 10 other states. Consequently, the western US is experiencing more destructive wildfires with each passing year. Large tracts of farmland are being abandoned to parched fallow fields owing to crippling water shortages. In California's famous and once fertile Central Valley, for example, farming is no longer viable.
The burning issue affecting the western US – a third of the country's entire territory – is not just a threat to farms and national treasures like Yosemite National Park and the forests of the Rockies; the underlying water crisis can be seen as a real threat to the US economy and its urban civilization for millions of people.
This is not unprecedented. Only 85 years ago, during the 1930s, millions of Americans were displaced from the panhandle states of Oklahoma and Texas due to the drought known as the Dust Bowl era. Many of those migrants would later end up in California to start new lives in the state's fruit and vegetable growing areas. Who is to say that another climate-induced calamity is not haunting California now and its neighboring states?
Meanwhile, the Republican troupe of presidential candidates remain ostrich-like in their views on climate change.
It is no coincidence that Republican contenders are being bankrolled by billionaire businessmen like Charles Koch and coal magnate Charles Cline, whose commercial interests are threatened by any environmental legislation to curb global warming. Cline has reportedly donated over $1 million to Jeb Bush's campaign funds, which may be why Bush has taken to panning the latest Clean Power Plan to cut emissions from coal-fired power stations unveiled this week by President Obama.
The climate-change debate – or rather lack of it – is only one of several policy disconnects for Republican politicians as they chase support from the extreme rightwing electorate. As well as racist, anti-immigrant chauvinism and reactionary views on gender equality, the Republicans seem to be trying to outdo each other on who can be most gung-ho in foreign policy towards Russia, China and Iran. To a man, they all want to kill the international nuclear accord with Iran in order to appease Israel and Saudi Arabia, even though such a retrograde move might end up inflaming all-out war in the Middle East.
But perhaps nowhere is the Republican "new normal" of disconnect more apparent than on the issue of climate change. The American national house is literally on fire, and yet these guys are busy twiddling their thumbs and boorishly demanding the right to call women "fat pigs".
The statements, views and opinions expressed in this column are solely those of the author and do not necessarily represent those of RT.