​'I will continue tweeting, I will continue criticizing' - Bahrain activist Nabeel Rajab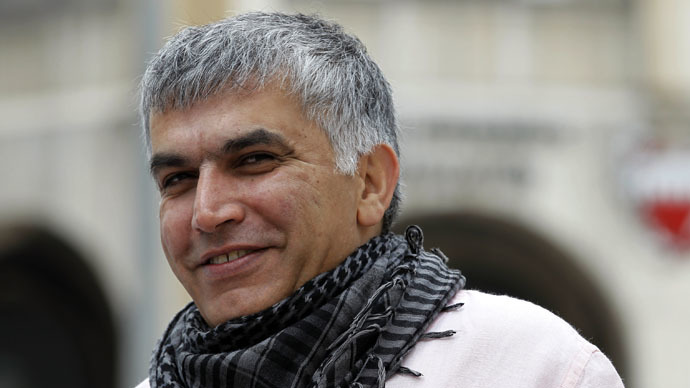 Bahrain needs to free its political prisoners to create an atmosphere for proper dialogue between the government and opposition to solve the ongoing political crisis, said Nabeel Rajab, Bahrain's rights activist who was just released from prison.
Bahraini authorities have freed the country's main human rights activist, Nabeel Rajab as he was pardoned by the Bahraini King. Rajab, the high-profile founder of the Bahrain Center for Human Rights and a vocal critic of the current regime, has spent the past four months in jail for insulting the authorities. He advocates on behalf of freedom of expression and debate.
READ MORE: Bahrain sentences leading activist Nabeel Rajab for tweet
RT:You have been in and out of jail on numerous occasions. How do you feel today after your latest release?
Nabeel Rajab: I'm happy to be out. Of course, I have first of all to start with thanking RT for the good work that you have been doing for covering the struggle of people for democracy in this part of the world, and at a time when a lot of media and the western governments have ignored our struggle for human rights and justice in this country. So thank you.
I spent 2/3 of my latest sentence of 6 months. I'm happy to be pardoned last night by the King of Bahrain. But to remind you also, I still have one more case to go which I could face a sentence up to 10 years for insulting the government institution and other cases are waiting for me. And I'm still banned from traveling. But after that all, I see my release last night as a positive step, and I'm looking forward to seeing all the prisoners.
This positive step towards me is a positive one, but you have thousands of other behind bars. They are behind bars just because of their struggle, or because they speak, because they criticize the government in a way or another.Those people have to be awarded and they have to be welcomed rather than to be put behind bars. I really look forward to see all the political prisoners to be freed out of the country to create atmosphere for proper dialogue between the government and the opposition to solve the crisis we are going through and to come out specially at the time with the country and the region under threat of extremism, and they are afraid of terrorism where we need unity in the country. But continuing such situation and such oppression, it will not help the government, nor the people of Bahrain.
RT:How were you treated in jail? Previous times inside have been quite traumatic?
NR: Frankly speaking, I was treated well by the police authorities, although I was kept in solitary confinement for the past almost 4 months. I was kept with myself, but in terms of treatment, personal treatment by the police, I was treated well, much better than the time where I spent the past two years. From the second week of my sentence I felt they would release me sometime soon because they tried to treat me very positively. But they released me just last night, which is almost after 4 months of my detention.
But again, treating me good doesn't mean that other prisoners are being treated good. ... [We] still receive complains from the prisoners that have been mistreated or tortured.So we hope to have an end of such attitude, of such behavior, or such violation. I will see my release as a positive thing, and I will urge the Bahamian government to release all the political prisoners and to create a positive atmosphere for a solution, for a dialogue, for reconciliation in the country.
RT:Will you continue to tweet messages on social media?
NR: It's becoming very difficult now. I have to remind you, at the beginning I was detained for tweeting. But for my second case it is not for tweeting, but for retweeting. It's not now only the problem if you tweet. Even if you retweet an article written in a newspaper the government doesn't like, or they think it is not good, that could be a crime that you could spend up to 10 years in jail. The level of tolerance towards criticism is very, very low, lower than before, and day by day it's becoming lower by creating a lot of laws in Bahrain: you can't criticize the Parliament, you can't criticize the government, you can't criticize the police...
So this is very difficult. But I can assure you; of course I'm going to continue my human rights work. I'm going continue my human rights struggle, and my struggle for democracy, and human rights in this part of the world. At the same time, I will try my level best to avoid breaking any of those laws, even those laws which doesn't meet international standard which violates international standard. I think being out of jail I can work to change much better and more than when I'm inside jail. I will continue tweeting, I will continue criticizing, I will continue doing my Human Rights struggle.
The statements, views and opinions expressed in this column are solely those of the author and do not necessarily represent those of RT.
You can share this story on social media: