'Greece is colony of Germany and EU'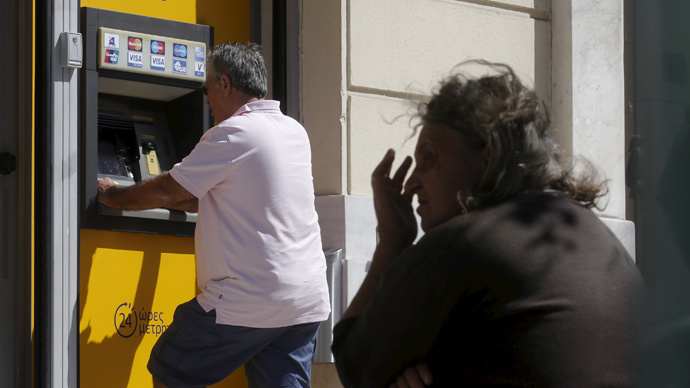 Decisions taken in Brussels were without the participation of the Greek people, that's why they are irrelevant. Greece has been basically mortgaged, says Leonidas Chrisanthopoulos, a former Greek ambassador.
An agreement has been reached on a Greek bailout after 17 hours of marathon talks in Brussels. It took the longest summit session in a decade for the debt deal between Athens and its European creditors to reach a conclusion and Greece to be granted up to €86 billion over three years.
RT:Athens was forced to make a lot of concessions - was it worth it?
Leonidas Chrisanthopoulos: It was not worth it. I listened to the statements of the heads of state and not once did I hear the words "Greek people". The decisions that were taken [on Monday] in Brussels were without the participation of the Greek people. That's why these decisions are irrelevant, because even if they are passed by Parliament they can never be implemented because the Greek people can no longer stand more measures to those that already exist.
Journalist and filmmaker Aris Chatzistefanou on Greek crisis: "The winner is of course Brussels, Berlin, and some big financial institutions. They will try to get the public sector of Greece, they will try to promote massive privatization, they will have an aggressive stance against the Greek population."
RT:It doesn't look like the new deal will put an end to austerity in Greece. What kind of reaction should we expect from those who voted 'No' in the referendum?
LC: I think you should ask the question about those who voted 'Yes'. Even those who voted 'Yes' – I spoke with some this morning – feel humiliated by the fact that Greece has been mortgaged. The price of Greece is €50 billion and of course the assets have to stay in Greece. You cannot move beaches and airports to Luxembourg, so what Mr. Tsipras said is a little bit irrelevant also. The other dangerous issue that's happening now is that both the government and the parliament lack democratic legitimacy. Discussions are already being held among certain people for creating a provisional government and a provisional parliament that will undo what has been done. Though this might create dangerous situations. Also PM Tsipras is no longer welcome in Greece and tonight we will have big demonstrations against this, and I think it's time that the Greek people show their strength to the European heads of state in solidarity with other peoples of Europe who have helped us a lot during these last weeks.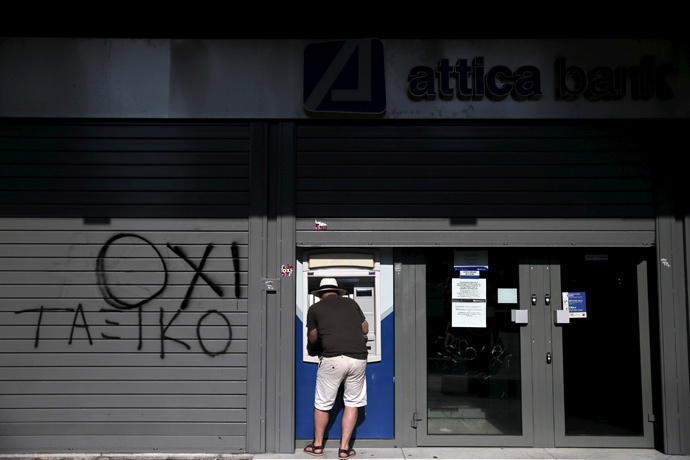 Aris Chatzistefanou: "I cannot find any other words to describe what Prime Minister Mr. [Alexis] Tsipras has done last night other than total betrayal of what the Greek people told him to do just a week ago at national referendum, where there was a clear message to vote "No" for any austerity measures. I believe we also have at the moment a problem of democratic representation."
RT:The Greek parliament has to pass legislation to implement the reforms by Wednesday. What happens if it doesn't?
LC: It will not, I can guarantee that 100 percent. First of all I don't think physically they can make it, but even if they do the laws will not be implemented. It's too much, it's too late and nothing can be done. One of the reasons why the Germans were saying to the Greeks that 'we don't trust you.' It's not that they didn't trust the Greek government; it's that they knew that the Greek people could no longer take these measures and that it is the death of the Greeks. Nobody will be able to pay taxes, plus a movement of civil disobedience is being created in order to protect the Greek people against all these absurd measures that do not reflect the EU that we entered back in 1981. Greece is a colony of Germany, not to mention the European Union.
Aris Chatzistefanou: "They [Greek people] understood there was no space for negotiation, and that we should follow our own path even if that means nationalizing banks, default to the debt or even exiting the eurozone."
The statements, views and opinions expressed in this column are solely those of the author and do not necessarily represent those of RT.